Michelle Obama Owns Up To Being A Real Housewives Fan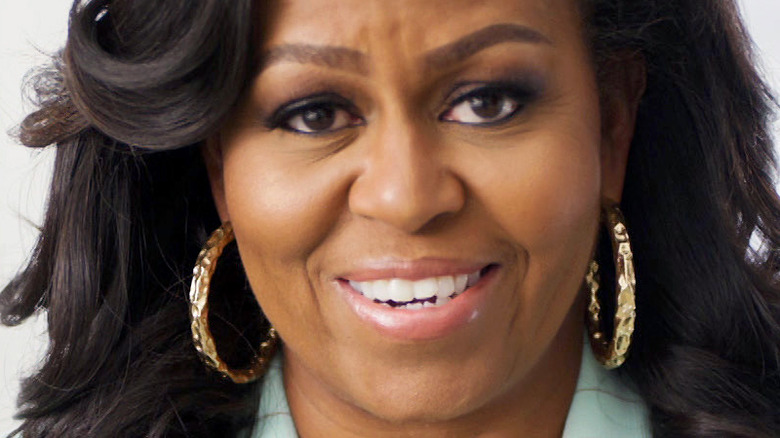 52nd Naacp Image Awards/bet/Getty Images
"The Real Housewives" franchise is not just for us regular folk. The Bravo reality television shows featuring wealthy housewives have become so popular, celebrities have become superfans. Chrissy Teigen is a self-proclaimed Bravolebrity expert and often tweets about her favorite housewives, per Bravo. Although Teigen is famous in her own right, when she met Aviva Drescher, the supermodel fangirled over the former star of "The Real Housewives of New York City."
Pop star Nicki Minaj is such a fan of "The Real Housewives" that she invited herself to host Season 6 of "The Real Housewives of Potomac" (via People). Although Andy Cohen took his usual place between the housewives, Minaj took over for Part 4 of the reunion and seemed to enjoy grilling the ladies. Lady Gaga is another superstar diva who is a superfan and told Andy Cohen in 2013 that her favorite housewives were Karent Sierra, NeNe Leakes, and Kandi Burruss, per Us Weekly. 
While it's unsurprising that celebrities have grown to love "The Real Housewives," many may be surprised to learn that Michelle Obama isn't above watching some juicy reality television.
Michelle Obama names her favorite Real Housewives show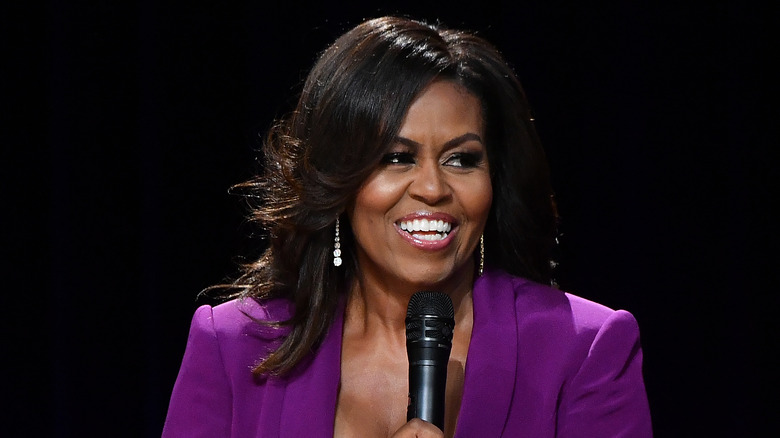 Paras Griffin/Getty Images
The former first lady is just like us! On December 12, Michelle Obama made an appearance on "Jimmy Kimmel Live" and the host revealed, "[President Barack Obama] says you watch too much lowbrow TV." Michelle quipped back with, "Well I think he watches too much SportsCenter, so I think we're even there. I keep telling him it's the same thing.'The Real Housewives' and the NBA, same kind of drama."
When Kimmel asked Michelle if she watches the reality franchise, the "Becoming" author replied, "Of course!" amid cheers from the audience. Kimmel then asked about her favorite city. "They all have their special lists. Atlanta gets me going. Beverly Hills, they're a little wacky." The former FLOTUS revealed that when her husband catches her watching the shows, he makes a sound of disgust. "He doesn't understand," Michelle bemoaned.
Since Michelle and the former president left the White House, they have understandably been relaxing and enjoying a life of leisure. In 2021, Michelle told People that she had taken up knitting, as well as swimming. She also joked, "Barack can golf too much, and I can tease him about golfing too much because he's got nothing else to do." If the former POTUS can have his golfing, Michelle can have her "Real Housewives" guilty pleasure as well!