The On-Set Romance Between General Hospital's Chad Duell And Kristen Alderson Explained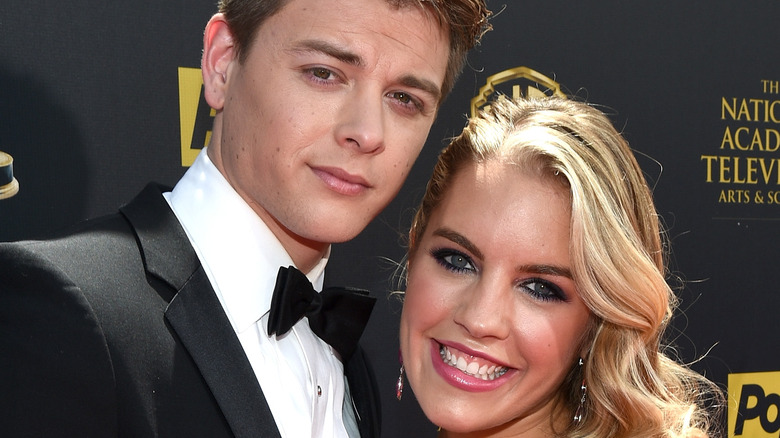 Michael Buckner/Getty Images
Because the three major soap operas on ABC existed in a shared universe, when "All My Children" and "One Life to Live" were canceled, some of the characters moved over to "General Hospital." According to the Hollywood Reporter, these included police officer John McBain (Michael Easton), Todd Manning (Roger Howarth), and his daughter Starr Manning (Kristen Alderson). After the two soaps were canceled, production company Prospect Park picked up the licenses for them and started to make online continuations. However, they engaged in a legal dispute over the characters that moved to "GH," and subsequently were written off the show (per Soap Central). Soap Opera Network reported that Alderson was recast as the character Kiki Jerome, daughter of Ava Jerome (Maura West), and a recast Howarth as Franco Baldwin, on "General Hospital."
Starr and Michael dated for a short time until she abruptly left town. Alderson later returned to the show as Kiki who had started dating Morgan Corinthos (Bryan Craig), but soon found she was attracted to his brother, Michael Corinthos (Chad Duell). Kiki married Morgan to keep her distance from Michael because the two believed they were cousins. When she learned Morgan knew all along that the two weren't related, she left him for Michael (via Soaps).
In real life, Alderson and Duell also became attracted to each other and began dating.
Alderson and Duell enjoyed spending time together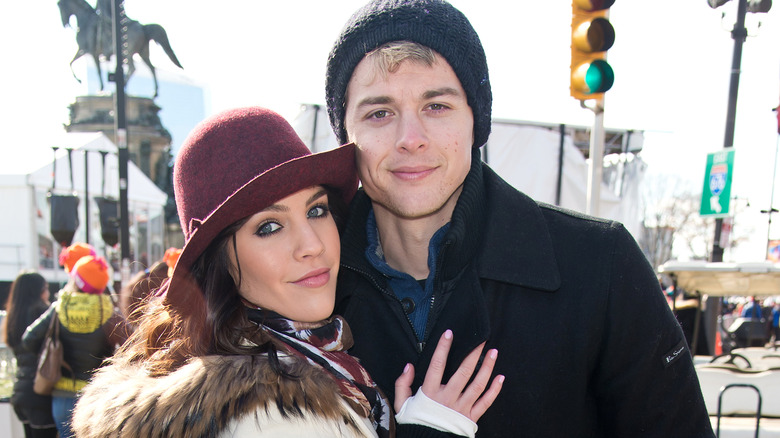 Gilbert Carrasquillo/Getty Images
The real-life romance between "General Hospital" actors Chad Duell and Kristen Alderson began after Duell got an annulment from his short-lived marriage to actress Taylor Novack in 2012, and Alderson joined "GH" in 2013 (via Showbiz Cheat Sheet). As they dated, the couple also participated in "General Hospital" fan events and notably appeared at the 2014 General Hospital Fan Club Weekend, per Soap Opera Network, and at the 2014 Billboard music awards in Las Vegas (via Zimbio). 
The cute couple participated in a hilarious video for "The List Show TV" in 2014 in which they appeared in front of a green screen to make it look like they were on the set of "GH." The two took turns giving funny soap opera acting tips and clearly had a great time together. Along the way, Alderson and Duell attended the Southwest Florida SoapFest Charity Weekend in May 2014, which was Duell's first time appearing there. Alderson told the Fort Myers Florida Weekly, "I'm so excited. Every year, it's just a blast. I'm excited to show Chad how much fun it is and to get to work with the kids." The pair had the opportunity to paint pictures with fans as part of the fundraiser. 
They later appeared at the 42nd Annual Daytime Emmys in 2015 when both were nominated for awards. The two explained to Michael Fairman TV that they were very relaxed going into the award show.
The end of an era for General Hospital's Chad Duell and Kristen Alderson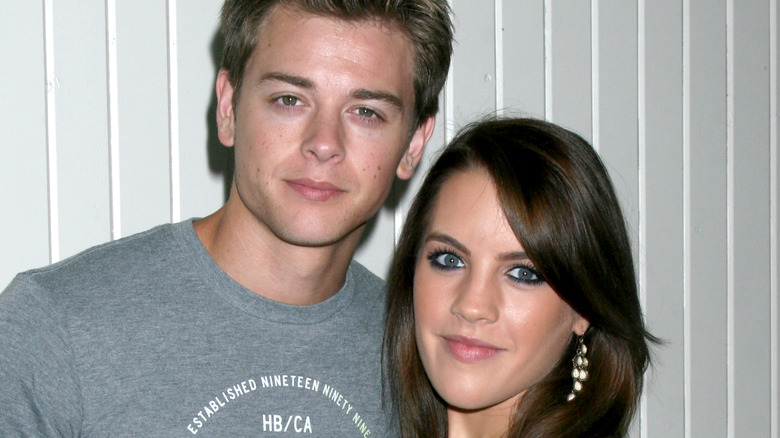 Kathy Hutchins/Shutterstock
"General Hospital" stars Kristen Alderson and Chad Duell dated from 2013 to 2015, when Alderson left the show, moving to Pennsylvania. As Showbiz Cheat Sheet recounted, they attempted to continue their relationship long-distance, but it didn't last and they broke up. In October 2015, Alderson posted on Twitter, "Goodbye LA & to a beautiful chapter in my life. I'll always love you @duelly87 thank you for being my best friend." She followed that up with another tweet directed to the fans a few days later, stating, "We appreciate all of the support we got as a couple from you guys. Sorry we've remained quiet about it all, just needed time ..."
Duell would later go on to have a short-lived romance with "The Young and the Restless" star Courtney Hope. Celeb Dirty Laundry reported that Alderson had moved on with "America's Got Talent" singer, Josh Page. While Duell continues to play Michael Corinthos on "GH," Alderson has re-invented herself as a successful online gamer with her Twitch show, "The Starr Squad." Recently, Duell was a guest on the show where they played the video game, "Dead by Daylight." She also did a short interview with Duell about "GH" and his time on the series, "Wizards of Waverly Place." 
The two had a blast and it's clear that while they're no longer an item, they're still good friends.