Fascinating Details About The Iconic Cate Blanchett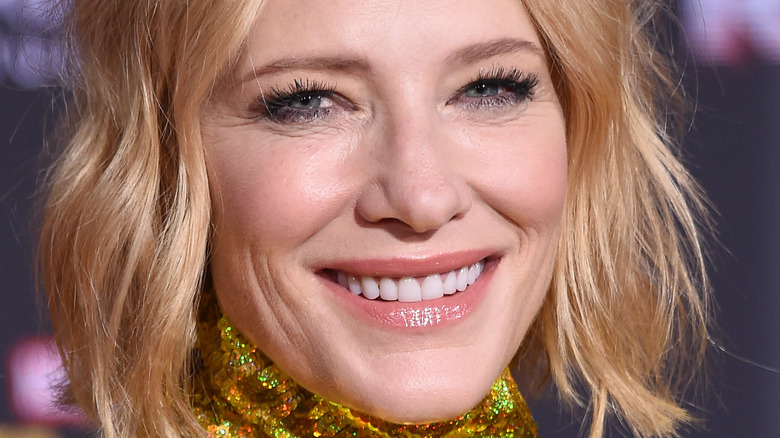 DFree/Shutterstock
Hollywood icon Cate Blanchett was at one point an up-and-coming actor. A famous export out of Australia, Blanchett first rose to international fame from the 1997 film "Paradise Road" alongside acting powerhouses Glenn Close and Frances McDormand. Blanchett then started to earn more praise for her impressive performances, putting her among other famous actors from Down Under, like friends Russell Crowe and Nicole Kidman. This made it even more impressive when she became the first person from Australia to win two Oscars — and her star is still rising. As of this writing, she's gaining praise for her performance as a music composer and conductor in the 2022 film, "Tár."
In 2017, Blanchett made her Broadway debut in "The Present," a reimagined version of Anton Chekhov's play "Platonov." This wasn't the first time Blanchett graced the stage. In fact, she developed her acting skills through theater productions starting from early in her career. "I think you become more fearless," she told The Herald about being a thespian. "I'd be an idiot if I hadn't got better," she added. Similar to the stories she depicted on stage, Blanchett endured moments of joy but also tragedies, both in her personal life and professional career. Here's a deeper look at some fascinating details about the iconic Cate Blanchett.
The early life of Cate Blanchett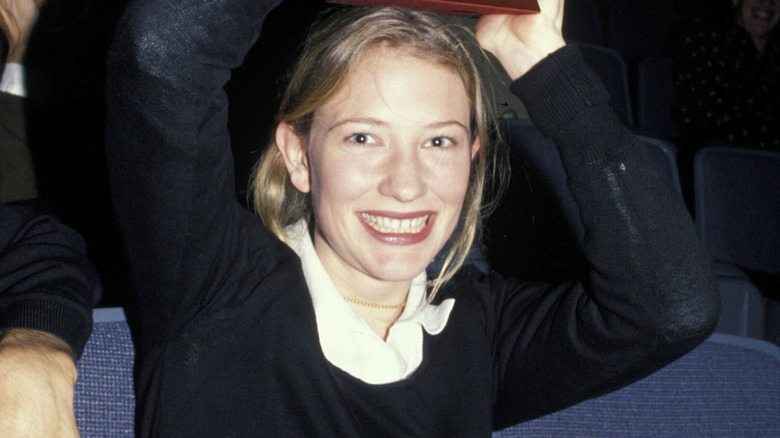 Patrick Riviere/Getty Images
Cate Blanchett was born in Melbourne, Australia in 1969. Her dad, Robert, was American, from Texas, and dropped out of school as a teen to later join the Navy. While serving, a naval ship that Robert was on broke down in Melbourne, which is where he met Blanchett's mom June, a local school teacher. Robert then returned back to Australia, where he and June got married. 
Blanchett grew up in the suburbs of Melbourne with "a lot of hidden communal spaces," she recalled to 1843 Magazine. According to the future actor, "my childhood was basically me trying to be Trixie Belden or Nancy Drew on my bike, dropping notes that I would then kid myself I hadn't dropped, treating them as clues." She is the middle child in the family, with an older brother Bob and younger sister Genevieve. Aside from some basic facts, Blanchett is hesitant to reveal much about her siblings. "I'm happy to talk about my life, but I feel bad for my family, talking about them, because they're all quite private people," she told Vanity Fair.
After becoming a serious actor, Blanchett still had a childish side to her at times. She admitted that providing the voice of a monkey for Guillermo del Toro's remake of "Pinocchio" was one of the highlights of her career. "You go back to being six years old," she told Porter.
The many early looks of Cate Blanchett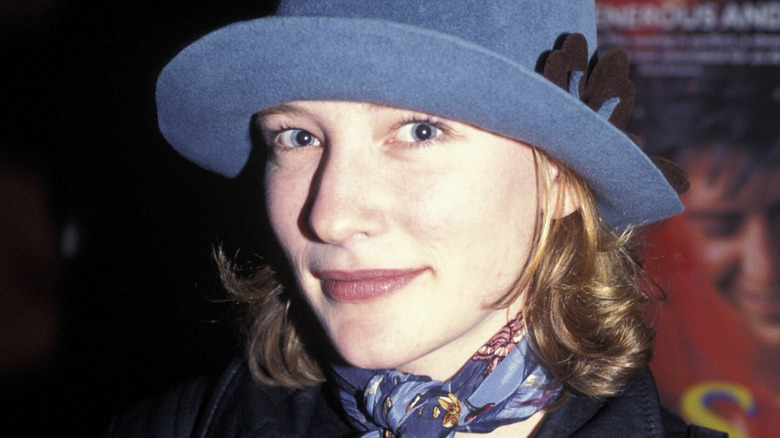 Patrick Riviere/Getty Images
In school, Cate Blanchett, who people would sometimes call Blanche, enjoyed studying and was a self-proclaimed perfectionist. Blanchett attended all women's schools, first at Ivanhoe Girls' Grammar School. In high school at the Methodist Ladies College, she was both creative and athletic, joining the theater program and playing on the tennis team. To make money, young Blanchett worked "in the kitchen of an old-age home," she revealed to Marie Claire.
For an image of what young Blanchett looked like, she preferred to dress in more masculine styles. Then, "I went through a big goth [phase] and then a punk period – I even shaved my head," she told The Herald. After graduating from MLC, she attended the Melbourne University to study economics and fine arts. "I really wanted to get to international relations, which was in fourth year, so I guess you could say it was sort of restlessness that led me to acting, because I just couldn't stand sitting through four years of the cattle runs in 1860," she told Vanity Fair. 
Similar to high school, Blanchett joined the university theater program and performed in the play "Byrthrite." Blanchett recalled a conversation with one of her castmates, admitting she didn't like her, but also changing her life by suggesting Blanchett attend a drama school. "I thought, I'll give it a go. I went to the audition and I got in," Blanchett said about the National Institute of Dramatic Arts.
She is closely tied with the theater world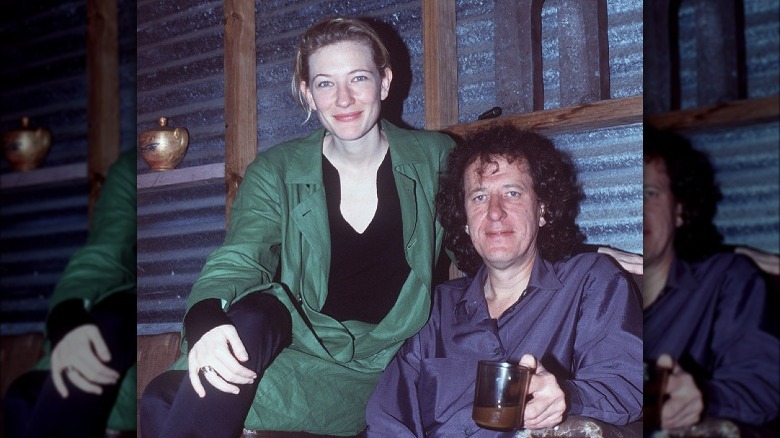 Patrick Riviere/Getty Images
Cate Blanchett appeared to be focused on becoming an actor after dropping out of the University of Melbourne after only a year to attend the National Institute of Dramatic Arts in Sydney. Still, she wasn't completely confident in her skills. "I still thought I'd go back and do architecture or something," Blanchett admitted to Vanity Fair. 
In her third year at drama school, a late cast change earned Blanchett the lead role in the play "Electra." As she recalled about the big opportunity, "For me there was no time to fear. You're focusing completely on something, and it doesn't matter whether it succeeds or fails – and that, in fact, is out of your hands." The show's director, Lindy Davies, lived with Australian actor Geoffrey Rush at the time, who remembered watching Blanchett's performance in amazement. Rush and Blanchett would unite onstage after she graduated for the show "Oleanna" by the Sydney Theatre Company.
After establishing herself as a leading woman in Hollywood in films like "Elizabeth" and "Veronica Guerin," Blanchett made the surprising move to return to Australia for the Sydney Theatre Company. This time, she led the company as a co-director alongside her husband Andrew Upton, starting in 2009. She stepped down from the role right before 2013, but admitted to Playbill that "you never really give it up." She added, "I've been working with these actors so long there they're all like family now."
Cate Blanchett shared her thoughts on women's rights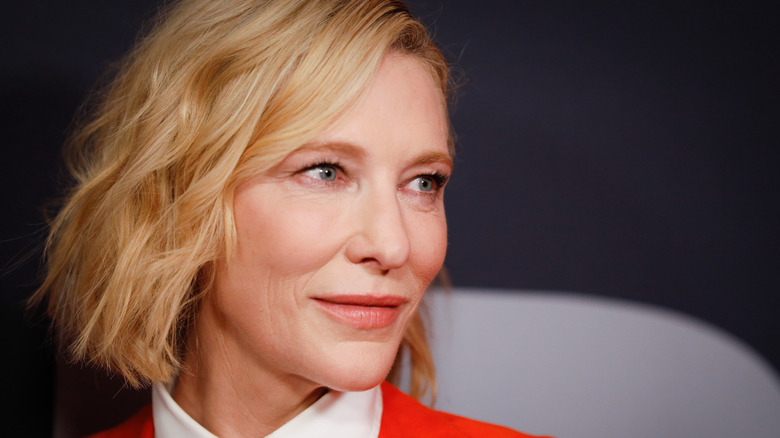 Hanna Lassen/Getty Images
With her massive presence in Hollywood, Cate Blanchett has been vocal about the treatment of women in the entertainment industry. "I've always identified myself as a feminist," she explained to Variety. "I think feminism, at its base, is about equality," she added. Having been in the industry for a long time, Blanchett revealed she and other women had to endure hardships. Fortunately, she believed a positive and permanent change took place. "In the best possible way, women have stopped being patient," she told Variety.
Blanchett revealed that when working with Harvey Weinstein on several films like "Carol," he was inappropriate towards her. "I think he really primarily preyed, like most predators, on the vulnerable," she told Variety. Blanchett also worked with the controversial director Woody Allen. She was the lead actor in his 2013 film "Blue Jasmine," and earned the Best Actress Oscar for her performance. 
A CNN host questioned Blanchett's public support of the #MeToo movement while simultaneously staying silent about allegations against Allen by his daughter Dylan Farrow. "I don't think I've stayed silent at all," Blanchett countered. According to the actor, "at the time that I worked with Woody Allen, I knew nothing of the allegations ... At the time, I said it's a very painful and complicated situation for the family, which I hope they have the ability to resolve." The actor revealed to resolve the allegations, "I'm a big believer in the justice system."
Cate Blanchett's beauty routine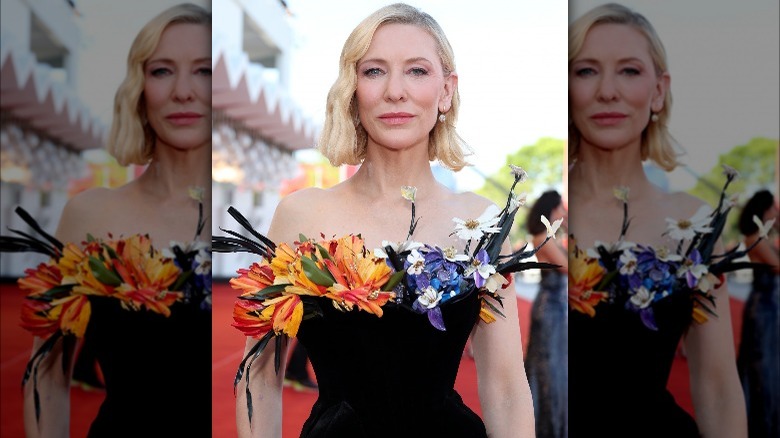 Pascal Le Segretain/Getty Images
To keep her face camera ready, Cate Blanchett revealed that her routine is not always easy, especially as a stage actor. "Because obviously doing eight shows a week [on Broadway], I'm taking my makeup on and off three times a night, eight times a week," she told Glamour. Some of her most-used products were cleansers, masks, and moisturizers. She even convinced the beauty brand SK-II to create a spray version of one of their products because "for nearly an entire decade, I was decanting the essence into a spray bottle." Blanchett was also aware of the unrealistic pressure on women's looks, especially as they age. "Anything you have to do to make yourself feel better or more confident, whether it's looking after your skin, getting a massage, going to the gym, or sleeping — anything! — you should do it," she declared.
In a more extreme routine, Blanchett joined fellow actor Sandra Bullock for a truly bizarre spa day. "Sandy [Bullock] and I saw this facialist in New York, Georgia Louise, and she gives what we call the 'penis facial,'" Blanchett told The Hollywood Reporter. According to Blanchett, "I don't know what it is, or whether it's just 'cause it smells a bit like sperm — there's some enzyme in it, so Sandy refers to it as the 'penis facial.'" Not that Blanchett needs wacky facials or fancy makeup to look beautiful, as she showed during a makeup-less photoshoot for Intelligent Life Magazine.
The charitable side of Cate Blanchett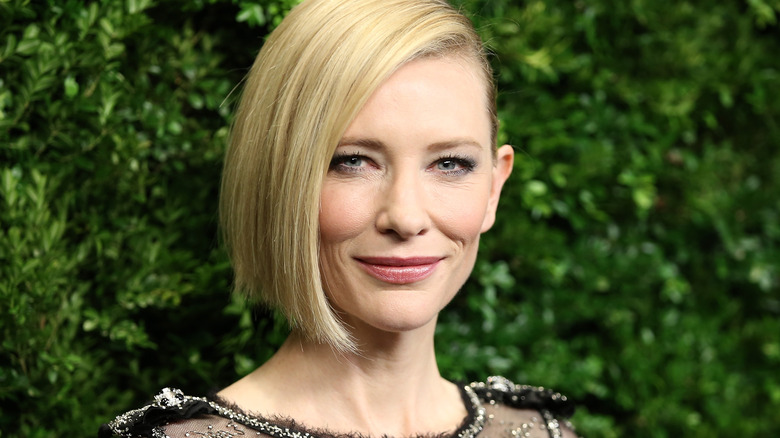 Neilson Barnard/Getty Images
In 2016, Cate Blanchett began working with the UN Refugee Agency, who then announced that Blanchett would be their Goodwill Ambassador. "I am deeply proud to take on this role. There has never been a more crucial time to stand with refugees and show solidarity," she said in a statement. The actor later co-created and produced a series called "Stateless" to bring awareness to similar issues she helped UNHCR with. "Through 'Stateless,' I hope to prompt people to rethink how we all are responding to the current displacement crisis," Blanchett said. While Blanchett showed her global commitment with the position, she also helped others in her native Australia. The Australian Wildlife Conservancy, the Australian Conservation Foundation, Sydney Children's Hospital, and Biennale of Sydney are charities she supported in the past.
Another charitable gesture by Blanchett was donating some of her acting salaries to charity. In the movie "Hot Fuzz," the second film in the Cornetto Trilogy with actors Simon Pegg and Olivia Colman, Blanchett appeared in an uncredited cameo. In one scene, she plays a forensic scientist and Pegg's ex-girlfriend, but audiences only see her eyes and hear her voice as she's wearing a hazmat suit and mask. Blanchett appeared in the role as a personal favor to director Edgar Wright and as a fan of his other film "Shaun of the Dead." She donated the paycheck from her cameo to charity.
How Cate Blanchett met her husband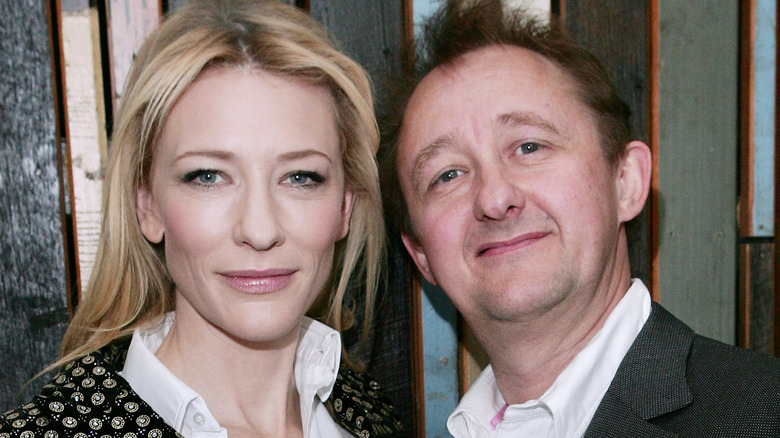 Gaye Gerard/Getty Images
Catherine Blanchett met the Australian playwright Andrew Upton when working on a short film in the '90s. As the actor remembers, she first spotted Upton with his head in an oven so, "the first part of your body that I actually met was your bottom," she told 1843 Magazine. Both were heavily involved in theater, but before becoming romantically interested, Blanchett recalled Upton acting like the first body part she saw of him. "He thought I was aloof and I thought he was arrogant," she told Vanity Fair. "And it just shows how wrong you can be. But once he kissed me, that was that," Blanchett admitted.
The two married in 1997 and lived together for ten years in Brighton, England. In 2022, they celebrated their 25th anniversary, though Blanchett admitted the milestone was casual from the very beginning. "My first wedding ­anniversary my ­husband gave me a vacuum cleaner and then he gave me a mixer," she told the Mirror. "Gone is the sense of getting to the gold and diamond anniversary. Now it's the microwave anniversary. It's so less romantic now and timeless," she added. Both went on to found a production company called Dirty Films, and while she might not get anniversary jewelry from him, Blanchett revealed one of her favorite things about Upton. "He's one of the few grounded people I know whose head is in the stars ... Those people are very rare," she told Vanity Fair.
Life as a mom for the actor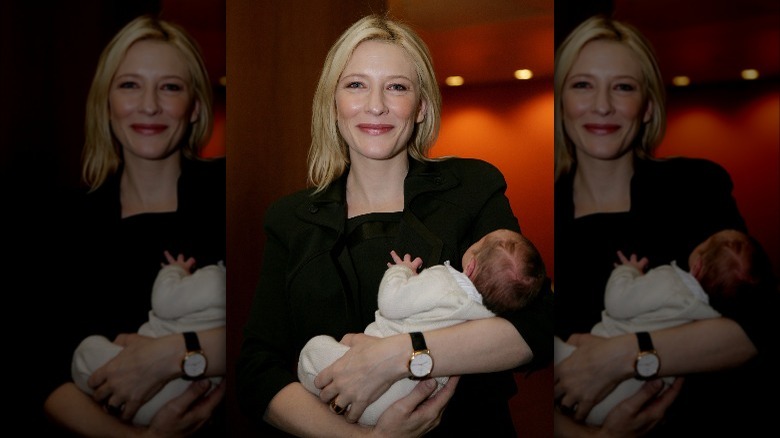 Mark Nolan/Getty Images
With her husband Andrew Upton, Cate Blanchett gave birth to three sons and a daughter, Dashiell, Roman, and Ignatius, nicknamed Iggy. "It's true you do get a bit demented," she told W Magazine about being a boy mom. Still, she thrives in the disarray. According to the actor, she wanted to raise her children, especially the boys, with certain manors. "As a mother of sons you have a responsibility to instill in them the need to respect and the benefits of respecting women," she told Glamour. Blanchett also admitted she was open to having another child, and sure enough, she and Upton adopted a daughter, Edith. After becoming a mom, she hoped that the experience of parenthood turned her into a different person. "I hope I've evolved. I hope I'm wiser. I hope I'm a better actor," she admitted to The Herald.
Blanchett explained that her role as a mom was one she became grateful for. "I find it's made me more economical, more focused, more generous, less self-centered," the actor told The New Yorker. "I think parenthood is knowing what cards you've got and then throwing them up in the air. You need to let go," she explained. As for what her children think about her acting career, she admitted to Page Six they are completely disinterested.
How a family tragedy affected Cate Blanchett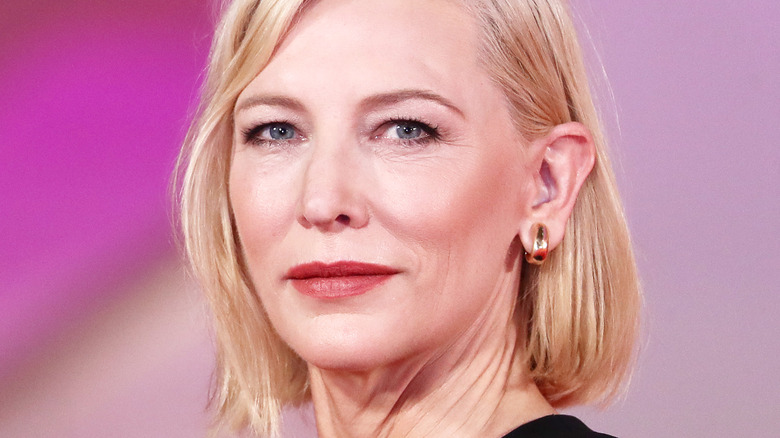 Vittorio Zunino Celotto/Getty Images
Cate Blanchett was close to her father as a little girl, remembering him as having "a very dry sense of humor," while speaking to The New Yorker. Sadly, he died when she was only 10. Recounting the tragic day, she remembered playing the piano when her father walked by. "I waved goodbye. He was going off to work. He had a heart attack that day. He was only forty," Blanchett explained. Looking back, she regrets not hugging her dad. As a result, Blanchett vowed she would never make a similar mistake with her family. "I developed this ritual where I couldn't leave the house until I could actually physically say goodbye to everyone," she said. According to her husband, Blanchett "will never forget to say goodbye."
Blanchett is quick to say losing her dad at a young age wasn't the catalyst for her to become an actor. "Life's not like that," she told GQ. Instead, she said about the moment, "when your parents die so young, you just incorporate it." She shared a similar sentiment before that it was perhaps easier to deal with her dad's death because it happened when she was so young. "I think kids are quite resilient," Blanchett told Vanity Fair. "I feel worse for my mother than I do for me," the actor added.
Cate Blanchett's hobbies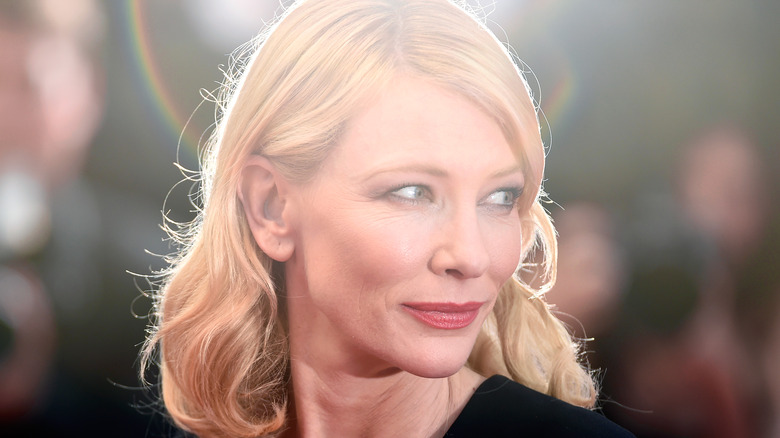 Ian Gavan/Getty Images
While Cate Blanchett is clearly a gifted actor, she is self-deprecating when it comes to her skills in non-theatrical activities. "I can't write. I can't knit. I'm not crafty. I can cook. I can't retire," she explained to GQ. While she might not be good at sports like golf, she admitted to staying busy as a full-time mom. In addition to taking care of her kids at home, Blanchett also helped take care of pigs that her husband suggested the family raise. She saw this as an opportunity to turn her kids to a vegetarian diet by telling them that sausage and bacon came from pigs like theirs. "The kids were just totally fine with that and I was horrified. My plan to turn my family vegetarian was a monumental failure," she confessed to Interview Magazine. 
While filming "Nightmare Alley," production stopped for six months due to the COVID-19 pandemic. With this extra time, Blanchett stayed at her home in England and picked up gardening, played the piano, and binged the entire series of "The Sopranos." Even though she enjoyed her home life, Blanchett admitted she yearned to get back to her favorite activities in public. "I want to be out: in a cinema, a concert hall, a theater, experiencing something with strangers. I miss that communal bond," the actor told W Magazine. Blanchett has other aspirations too, like learning figure drawing and hoping to take a trip to the Antarctic and Greenland — something she revealed to Marie Claire.
What does she think about social media?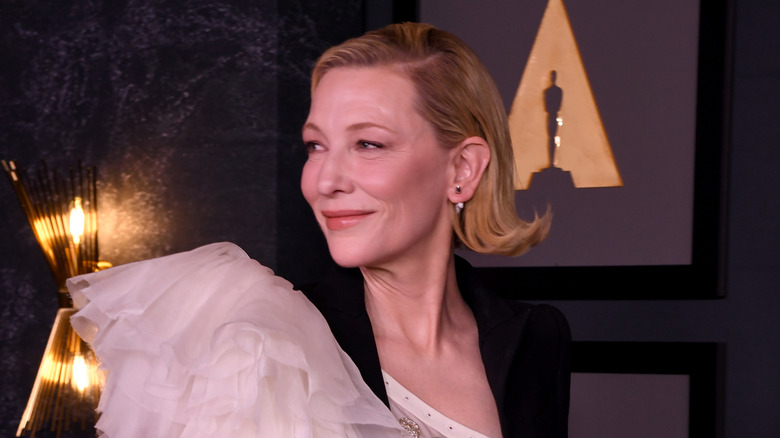 Jon Kopaloff/Getty Images
Although Cate Blanchett is used to having her face on magazine covers, the actor has no public social media accounts. "I'm a big believer in intimacy," she told Marie Claire. When it comes to photos, she believes in sharing like the days before social media existed. "If you take a photograph of one another, I don't like to think two hundred people are going to see that. It's nice that maybe four people might see that picture," she explained. 
In fact, Blanchett is very much against the premise and rise of social media. "The whole thing that has developed with streaming — algorithms that need to be fed — is that somehow we are content providers and that makes me want to throw up," she said, per the Daily Mail. While she might have some leniency for younger social media users, the celeb declared to Yahoo! Life,"I cannot for the life of me work out why adults are participating in that s***." Perhaps the most hated social media practice of all for Blanchett is selfies. "I just can't handle it," she admitted.
Blanchett said she talks with her children often about social media and encourages them to verify sources of anything they plan to post about. "Of course, they roll their eyes," she told Porter about her kids' reaction. "I don't want to become a separated generation, because I also feel responsible for the landscape he is about to emerge into as an adult," she added.
All hail Queen Cate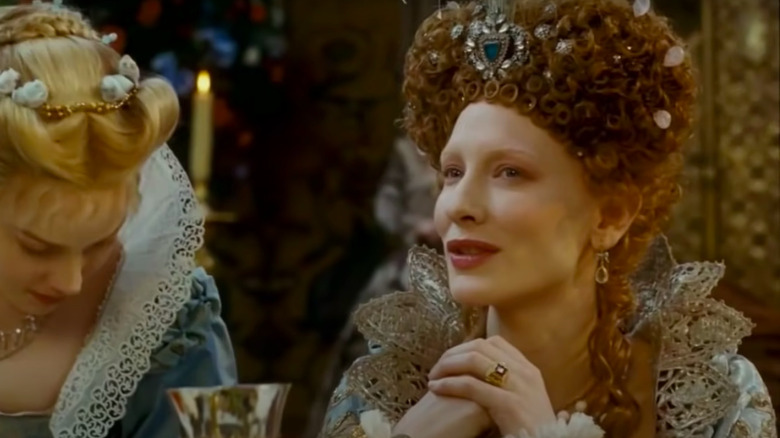 Universal Pictures/YouTube
Australian actor Geoffrey Rush worked with Cate Blanchett right after she finished drama school and knew she had a special talent. This was especially true after he witnessed her portrayal of Queen Elizabeth I in the 1998 film "Elizabeth." As Rush told Vanity Fair, "the challenge of Elizabeth was enormous — being an outsider to British culture. In some ways that ups the stakes a bit." Fortunately, he praised Blanchett's determination to step up to the challenge.
The film's director, Shekhar Kapur, shared similar praise for his lead actor. "When I first saw Cate, I could see in her face that she had a great destiny as an actress," Kapur explained. The performance earned her BAFTA and Golden Globe awards for Best Actress, plus a Best Actress nomination at the Oscars. The role opened up many doors for Blanchett, but she also admitted it could have easily led to a boring career for her. "After I played Queen Elizabeth, I got offered myriad roles that were basically the same story with a different costume. There was no potential for discovering anything new. There's no risk," she told Julia Roberts for Interview Magazine.
Blanchett then played a different kind of queen in "The Lord of the Rings" trilogy as Galadriel, the queen of the elves. "Pointy ears," she recalled to The Guardian about her look for the fantasy character. Blanchett then quipped, "What's not to like?"
What the actor thinks about fame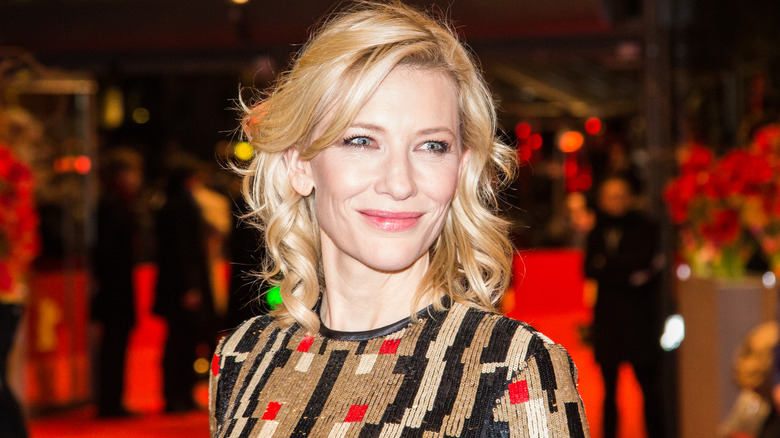 magicinfoto/Shutterstock
Even with her long career in Hollywood, Cate Blanchett still has an air of mystery about her. "Cate is someone who can seem secretive. You don't know what she's thinking," legendary Swedish star Liv Ullmann told W Magazine. Blanchett confirmed that she tries her best to stay out of the spotlight in her personal life whenever possible. "The last thing I want to do is to be someone who is filling space that has been created," she said after winning an International Lifetime Achievement, per the Daily Mail. In Blanchett's opinion, "don't say something unless you have something to say." 
Blanchett enjoys performing on stage and on film, but said that these performances are more for the audiences' enjoyment than a quest for fame. "If it's part of your identity, then you need to keep feeding it," the celeb told Marie Claire about celebrity culture. "But it's not really part of mine," she added.
Surprising with her future career of performing, Blanchett was admittedly shy at times as a kid. As the actor recalled to The Herald, she was "part extrovert, part wallflower." In another chat with The Guardian, she revealed, "I used to be very socially awkward. Walk into a room. Not know what to say." With time, the actor felt she gained some confidence. "I've learned to get out of my own way a bit more. I think perhaps he would say I'm a little less socially awkward. I hope so anyway," she mused. 
Her weird week in Egypt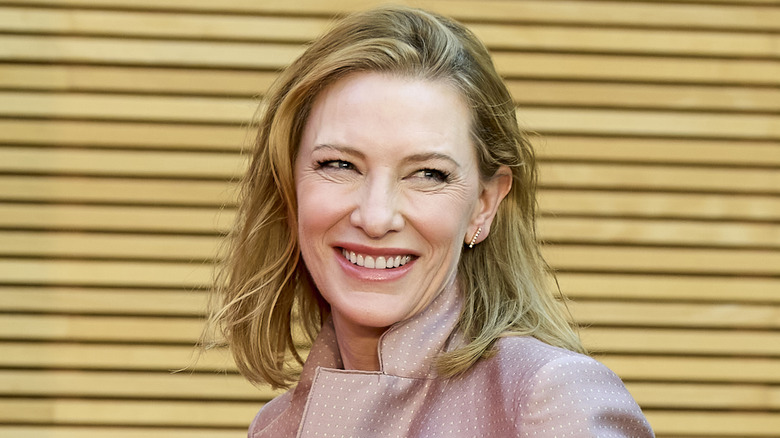 Carlos Alvarez/Getty Images
Cate Blanchett's first credited acting role was playing a blonde cheerleader in the 1990 film "Kaboria." As she explained on "The Late Show with David Letterman," after finishing her studies, Blanchett traveled through Europe, taking a break and "trying to escape acting." Blanchett then traveled to Egypt and was running out of money while staying in Cairo. She learned of recruiters seeking movie extras that looked American for a film about an Egyptian boxer. It was enough to pay her rent for a week so Blanchett signed on. 
According to Blanchett, the gig was supposed to come with free falafel. The actor remembered that the filming experience was rather boring, and for her scenes, Blanchett admitted she felt embarrassed. After not getting fed as promised, she walked off the set and never saw the film. "I went along and there was an Arabic guy with a megaphone, like something out of a silent movie, and it was so hot and so boring that I left," she recalled to The Guardian. As the actor explained, she was ultimately never in the film.
Clips from the film appear to show a teenage Blanchett dancing with other extras during a musical scene. While Blanchett didn't get her falafel in Egypt, she was happy to have falafel on the set of her miniseries "Stateless."
Cate Blanchett's amazing accents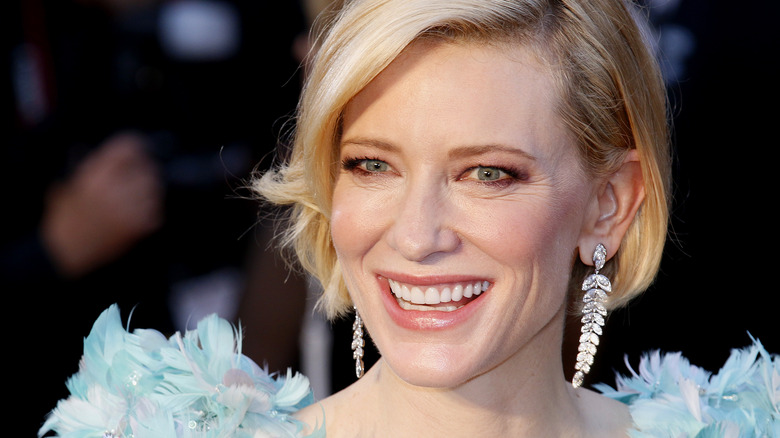 Tinseltown/Shutterstock
Though Cate Blanchett is a native Australian, it can be difficult to tell from her speaking voice. During one interview for the BBC, she sounded mostly British until pronouncing "deliver" in a very Australian accent. This ability to seamlessly switch between accents has become one of the actor's signature skills, whether she sounds like someone from America or as the queen of elves in "The Lord of the Rings." Her impressive vocal skill has at times merged into her personal life too. "I have this terrible thing that I do. When I'm around Americans I take on an American lilt and when I'm in China, I can't help it and I start to pick up a [slight accent]," she explained on "The Project" (via the Daily Mail). "It's so politically incorrect and my kids get so embarrassed," Blanchett revealed.
Behind the scenes of producing a believable accent is an impressive amount of work by Blanchett. For example, she imitated Katharine Hepburn for her Oscar-winning performance in "The Aviator." Originally, the film's director, Martin Scorsese, didn't require Blanchett to use an accent. Instead, Blanchett worked with voice coach Tim Monich to perfect Hepburn's New England accent, which isn't in use anymore. Monich told The New York Times that he worked with Blanchett every day on vocal exercises to help her become the voice of Hepburn, noting that it was an essential aspect of the legendary screen icon's legacy.