Inside The Relationship Between The Challenge's Cara Maria And Paulie Calafiore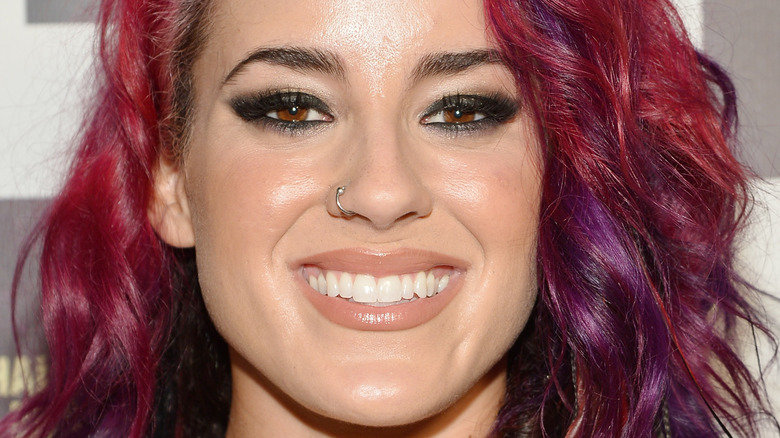 Mike Coppola/Getty Images
Cara Maria Sorbello and Paulie Calafiore's relationship hasn't always been easy. The two had a drama-filled start when they met on "The Challenge: Final Reckoning" in 2018. Calafiore was dating Danielle Maltby at the time, but Sorbello started flirting with him to make her ex-boyfriend, Kyle Christie, jealous, per TV Guide. The ruse worked, but Calafiore and Sorbello developed real feelings for each other, and Maltby was "blindsided" when rumors surfaced that "The Challenge" stars were together, according to E! News. "I'm not proud of my actions these past weeks. I know they speak louder than these words. I have destroyed the one person that has believed in and brought out the best in me," Calafiore told the publication at the time.
Following the cheating allegations, Maltby and Calafiore tried to work things out but their relationship didn't survive the scandal (via People). Calafiore and Sorbello started seeing each other, although they didn't put a label on their relationship. "It's not just like, we're not seeing other people — we hadn't had that talk. We just kind of enjoy what we have when we have it," Sorbello told E! News in July 2018. Fast forward four years and the two are still going strong despite some bumps along the road.
Cara Maria Sorbello found out Paulie Calafiore is still talking to his ex
In December 2018, Cara Maria Sorbello broke up with Paulie Calafiore, according to Us Weekly. Although they were in an open relationship, Sorbello found out that Calafiore was still seeing his ex-girlfriend Danielle Maltby. In a "Watch With Us" podcast, Sorbello shared that Maltby had shown her text messages from Calafiore that proved he was secretly talking to the "Ex on the Beach" star. "Every word that I see, every text message that I see, I still want to believe him. I'm still looking for a way to think that she's lying but I know she's not," Sorbello stated (via Us Weekly). Maltby revealed that while Calafiore was with Sorbello, he told her that he missed her and bought her an engagement ring.
Two months later, Sorbello took Calafiore back after he proved how much he wanted to be with her, per People. "Whatever YOU choose in forgiveness or second (def not third) chances is YOUR choice for YOUR life based on YOUR personal experiences. There is no right or wrong," Sorbello wrote on Instagram (via People). "There's a man out there who patiently adds a new foothold to help him continue to climb no matter how high I build my wall. The harder I push him away, the stronger he holds on to prove why I should let him stay," she shared. Despite their brief hiccup, Sorbello and Calafiore found their way back together.
Cara Maria Sorbello and Paulie Calafiore have an open relationship
Cara Maria Sorbello and Paulie Calafiore have found a way to make their relationship work. They've always been open about being able to see other people and they discussed their unconventional relationship on an episode of the "Watch With Us" podcast, per Heavy. "We're open and people are confused about that. They're like, 'Well, they've got to be f****** everybody and cheating.' We've come to such a good place," Sorbello said. She added,"We've been with each other through the worst of the worst. We still get excited to see each other." Calafiore went on to tell Us Weekly, "There's open communication about it. You can't get offended ... And, you have to be OK with yourself. If she's talking to somebody, I can't sit there and be like, 'Oh, my God, this guy's got a better six-pack than me. He's got a prettier face. Is she gonna leave me for him?' And vice versa." 
Whatever they're doing seems to be working for them. Sorbello and Calafiore are still going strong. On November 13, Sorbello shared an Instagram snap of her kissing Calafiore. "Happy birthday king! Excited seeing all your hard work pay off. This year is yours!" Calafiore's Instagram is also filled with reels of him and Sorbello goofing around. Although the two have taken a break from "The Challenge" since "War of the Worlds 2," many fans can't wait to see the power couple compete again.