Donald Trump Jr.'s Wife Vanessa Files For Divorce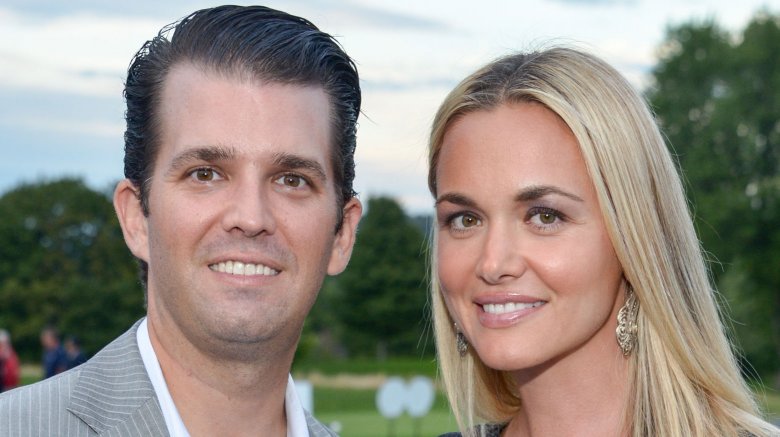 Getty Images
It's official — Donald Trump Jr. and his wife, Vanessa Trump, are over.
On Thursday, March 15, 2018, Vanessa filed for divorce from her husband in Manhattan Supreme Court, as reported by Page Six. In a joint statement obtained by the publication, the couple announced, "After 12 years of marriage, we have decided to go our separate ways."
The statement continued, "We will always have tremendous respect for each other and our families. We have five beautiful children together and they remain our top priority. We ask for your privacy during this time."
Donald Jr. and Vanessa married in 2005. They share five children together. According to Page Six, Vanessa filed for an uncontested proceeding, so it's not expected that the two will engage in a long legal battle over either custody of their children or their properties. It's reportedly likely that Donald Jr. and Vanessa have a prenuptial agreement in place.
As Nicki Swift previously reported, Donald Jr. and Vanessa were rumored to have been having relationship problems. One alleged reason for their split was Donald Jr.'s busy schedule, as he runs the Trump Organization. "Don Jr. has been busy traveling, which has contributed to their problems. Vanessa is a devoted mother, but she is increasingly lonely and alone in the house with the children," a source told Page Six.
Other sources claimed that Vanessa was reportedly unhappy with the newfound attention she and her family had been receiving since her father-in-law, President Donald J. Trump, took office, citing the February 2018 incident in which the family received an envelope containing suspicious white powder. The substance turned out to be cornstarch, but Vanessa had been hospitalized at the time as a precaution (via Time).
Page Six notes that, given how Special Counsel Robert Mueller subpoenaed the Trump Organization for info about its involvement with Russia the very same day as the couple's divorce filing, Vanessa could be trying to quickly lock down a financial settlement.