Tyler Perry's Real Name Isn't What You Think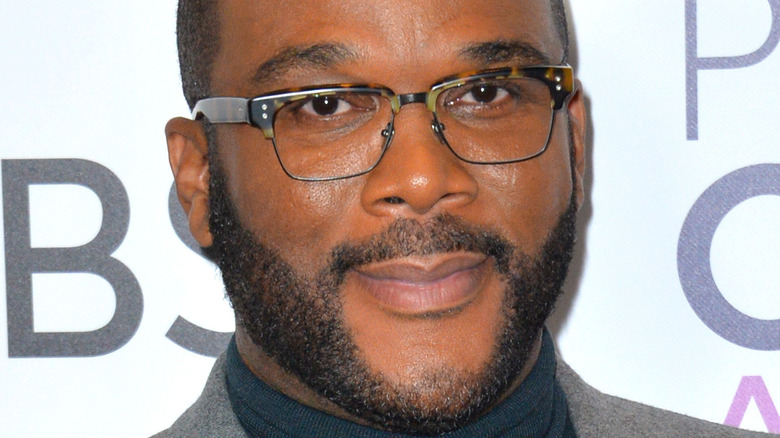 Featureflash Photo Agency/Shutterstock
Tyler Perry's name has been synonymous with hit television shows, films, and plays for many years, particularly within the African-American community. His first play, "I know I've Been Changed," was originally a flop but eventually took off, per Variety. "I was Elvis to black people," he told the publication. He would later go on to tour with his play, "Diary of a Mad Black Woman" in 2001, which he wanted to turn into a film but was turned down by studio honchos. Perry decided to take matters into his own hands and filmed the move himself.
Of course, one cannot hear Perry's name and not think of "Madea." The gun-toting, fiery grandmother first appeared in "Diary of a Mad Black Woman" and the character became a force of its own. Perry played Madea in a dozen films, with "A Madea Homecoming" being his latest, per Parade. When asked who inspired the character, he told 60 Minutes, "Madea is a cross between my mother and my aunt. She's the type of grandmother that was on every corner when I was growing up. She smoked [...] She didn't take no crap."
With Perry being one of the biggest names in Hollywood, many may be surprised to know that Tyler wasn't his given name. While it's common for actors to change their moniker for a more appealing one, the reason behind Perry's name change is sadder than you think.
Tyler Perry wanted to distance himself from his dad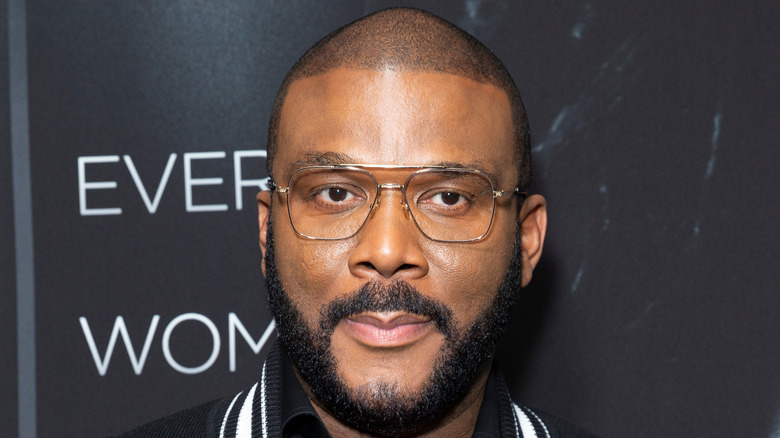 lev radin/Shutterstock
Although Tyler Perry grew up admiring the strong women in his life, his relationship with his father was not as happy. Perry was named Emmit Perry Jr. after his father, who was abusive to him throughout his childhood, per Biography. At the age of 16, Perry legally changed his name to Tyler in order to distance himself from his dad. In an interview with Oprah, the producer described how his father was beaten by his adopted family and grew up treating Perry the same way. "So this is what I was born into. I didn't understand it for a long time — why so much disdain and hatred," he shared. "It wasn't until I got older and my mother and I had some conversations that I started to get where his anger came from."
In 2017, Perry revealed on "Oprah's Master Class" that he later discovered that Emmett Perry Sr. wasn't his biological father, per BET. He described how he had a nagging feeling for a long time and asked his mother on several occasions if Emmett Sr. was his real father. "From a child, I'd always known that this man despised me, and I could not figure it out for the longest," he explained. He finally took a DNA test with his father, which revealed that they weren't biologically related. Although he suffered abuse at the hands of his father, Perry was able to eventually forgive him.
How Tyler Perry was able to forgive his father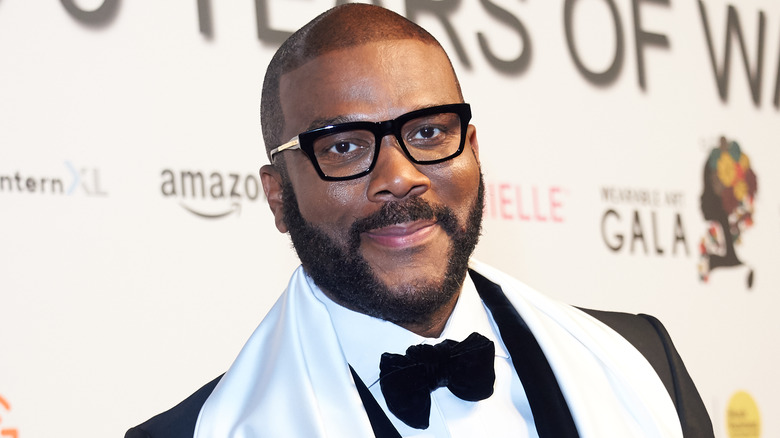 Unique Nicole/Getty Images
It took a long time for Tyler Perry to forgive his abusive father, but he was finally able to move on. "He had a lot of issues. But the thing that helped me get over it and still take care of today is, I took a moment to find out more about him and his childhood and where he came from, and his way was more horrific than mine. So it kind of formed the person that he was," he told People. He went on to describe how the "brutality he suffered was extreme" and was given no tools on how to be a good father. Despite his suffering, Perry gave credit to Emmett Perry Sr. and explained why he takes care of him financially. "[We] were never hungry, he never left the family, he always brought every dime he made home to my mother. So in return for what he did then, I still do the same thing for him even though we don't have a relationship," Perry explained.
The producer later credited his father to his success. In an interview on "Love & Respect with Killer Mike," Perry shared, "One thing my father gave me is the man had the most stupid work ethic I've ever seen in my life. Rain, sleet, hurricanes, lighting, he was going sun up to sundown [...]I don't know what kind of man I would've been had I seen a man that didn't work."