Cringiest Moments Of Love Is Blind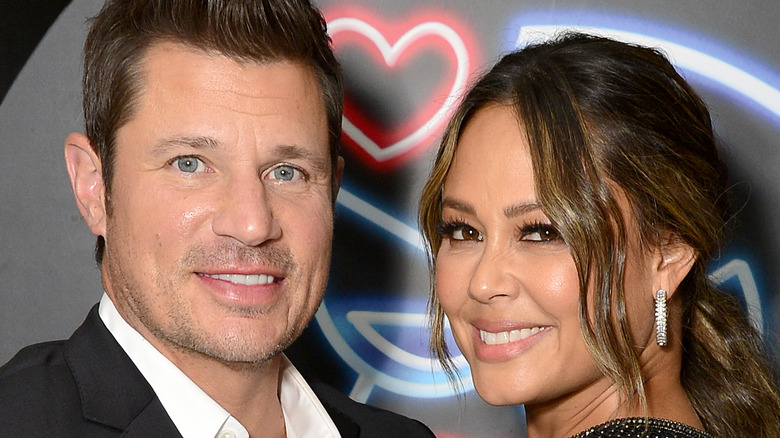 Jerod Harris/Getty Images
One could easily argue that any and all moments on reality television are "cringe-worthy." Never is this more true than when romance becomes the center of the series, and when blind dating gets involved, it takes things to a whole new level. In February 2020, Nick Lachey and his wife Vanessa introduced the world to a new Netflix reality series that is equal parts "cringe-worthy" and seriously addicting: "Love is Blind." 
The concept of the series is pretty much what you think it is after reading the title: a show where dating hopefuls agree to date people without ever laying eyes on them; at the end of the dating cycle, they have the opportunity to propose — without ever officially seeing the person. Are you cringing yet? Although many may wonder if "Love is Blind" is fake, we simply don't think it's possible that a series this outrageous could be written half as well as it seems to turn out in an unscripted format. 
The crazy and amazing thing about this dating process is ... It works in some cases! There are a handful of couples from the show's first three seasons that are still together. That being said, there are quite a few moments that give crazy "second-hand embarrassment" vibes, and we are here for it. We're still not really sure if love is actually blind, but it's definitely not immune to awkwardness.
Raven works out while Bartise opens up like never before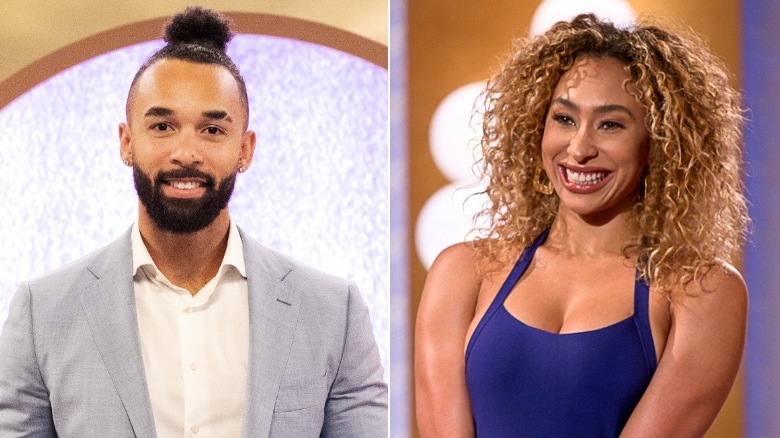 Sara Mally/Netflix
"Love is Blind" Season 3 featured a number of embarrassing moments, but very few came close to one particularly heart-wrenching scene between Bartise Bowden and Raven Ross. During one of their dates in the "pods," Bowden bares his soul to his potential partner, but Ross just seems a bit too preoccupied to connect with him.
Bowden tells Ross about the destruction of his parents' marriage. Anyone watching can tell that this is difficult for him, as he recounts his family vacation in the Cayman Islands, where they ran into his mom's ex-fiance at a bar, and his dad "threw a fit." He follows this story up with, "This is crazy that I felt comfortable enough saying that; I would never have thought in a million years I would share that story."
Alas, Ross, who is a pilates instructor and very health-conscious, uses this exact moment to get her latest workout in. Although the two aren't able to actually see each other, Bowden eventually realizes that while he is pouring his heart out, Ross is doing jumping jacks. He then mutters, "Yeah, yeah. While you do your jumping jacks."
Ross seems shocked that he called her out (yet unphased) and casually asks if he could hear her do the jumping jacks. DUH, RAVEN! According to "Today," she has since apologized and acknowledged her bad timing! Still, we can't say we're overly surprised that things didn't work out between the two. 
Amber tells Matt she's broke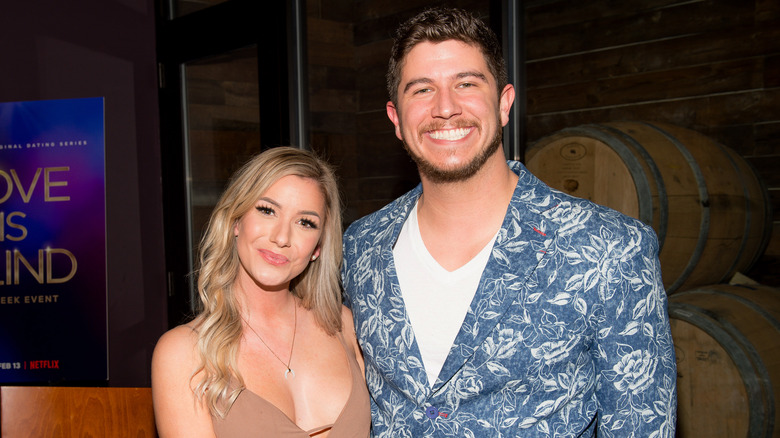 Marcus Ingram/Getty Images
Amber Pike and Matt Barnett seemed like the perfect couple on Season 1 of "Love is Blind," sharing all their secrets from the start. Well, all but one pretty important one that was very well hidden by Pike — her financial situation! 
Days before the couple's wedding, Pike shares with Barnett two incredibly important details about her life that she previously failed to disclose. First of all, Pike reveals that she is currently saddled with upwards of $20,000 worth of student debt. On top of the mountainous debt, she also explains that she has a tendency to spend excessive amounts of money on makeup. In fact, she previously maxed out a $700 credit card exclusively on make-up purchases (via Daily Mail).
Many men might run upon hearing information like this about their fiance, but not Matt Barnett! There were rumors that Barnett sold his home so that he could pay off Amber's student loans, but his cast mate and friend Cameron Reid took to social media to clear up the rumors, stating that "Amber paid off her own student loans." Today, Barnett and Pike seem as happy as ever, celebrating yet another wedding anniversary and posting a heartfelt message and picture on Instagram in November. Maybe love really is blind?!
Shake asks Deepti if he'd have trouble picking her up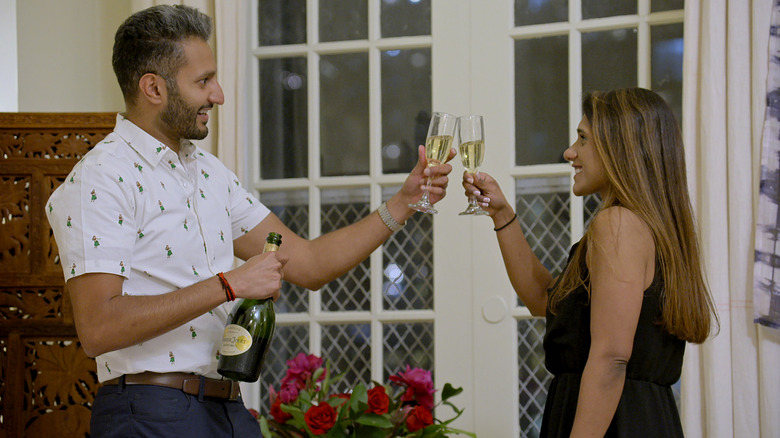 Netflix
Abhishek "Shake" Chatterjee was certainly not a fan favorite when he stepped on screen for "Love is Blind" Season 2. In fact, one of the show's least shy cast members got himself in trouble from almost the very beginning. Although it's very clear that the purpose of the show is for the couples to NOT know what one another looks like, one of the first things out of Shake's mouth to Deepti Vempati is, "Are you Indian?"
As if that moment isn't cringy enough, his further interactions with this particular contestant only go downhill from there. At one point, he asks Vempati, "If we were at a music festival, do you like being on a guy's shoulders?" Although the implication of the question might have been obvious to viewers, Vempati doesn't initially take the bait and opts to tease her potential mate with a few questions of her own. In response, Vempati quips, "Yeah. You're up for the challenge? You can pick me up?" 
Other men might have backed off this particular question at this stage of the Q&A, but Shake seems to have no issue getting directly to the point of what he is really asking. Instead, Shake abruptly replies with another blunt query, "Will I have trouble picking you up?" Ouch.
Shayne calls Natalie, Shaina, in the pods!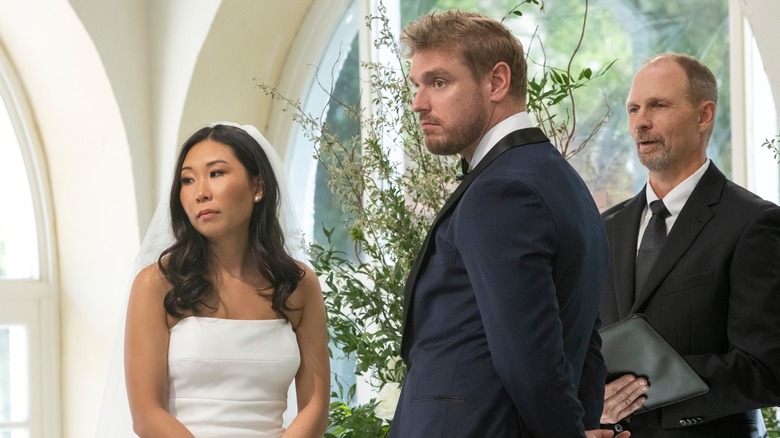 Adrian S. Burrows Sr./Netflix
In "Love is Blind" Season 2, Shayne Jansen has feelings in the pods for both Natalie Lee and Shaina Hurley. According to Insider, Jansen had already told Lee that she was currently his number one choice when the name slip-up took place. Lee and Jansen settle in their respective pods for a date when he mistakes Lee's voice for Hurley's. Although we can certainly sympathize on some level, not instantly recognizing a woman's voice isn't exactly indicative of soulmate status.
When Lee makes clear that she is not amused, Shane begins to repeatedly ask her if she thinks he is "a d*ck," not allowing Lee to fully answer the question. We'll answer for her — YES! Eventually, the couple appears to move past the issue as Jansen decides to propose to Lee over Hurley. Jansen explains that he feels his connection is stronger with Lee and urges Hurley to fight for him while they are still in the pods. 
In the end, Lee and Jansen do not end up getting married, with Jansen saying yes at the altar while his bride says, "I don't." Lee and Jansen are no longer on speaking terms and have unfollowed each other on social media since the show aired, per US Weekly. A source told the media outlet, "They tried dating again but, in the end, they weren't meant to be and it was for the best." Yikes, maybe the name slip-up was the beginning of the end!
Giannina tells Damian he's bad in bed!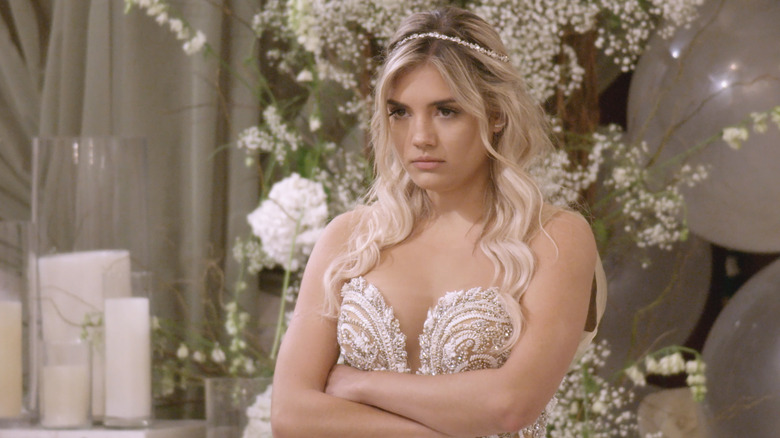 Netflix
Giannina Gibelli and Damian Powers appeared to have some of the harshest fights in "Love is Blind" history during their time together in Season 1. One fight, in particular, got very heated when Gibelli (at random) brings up the fact that although Powers constantly tells her that she is the best sex he's ever had, she never returns the compliment. "You know how you tell me this is the best sex of your life? Have you noticed that I don't return the compliment?" OUCH. Gibelli also shares that she is the one who initiates all of the sex, which she sees as a problem. 
In the experience of many, nothing hurts a man worse than a woman taking a dig at his performance in bed — cringe! Gibelli and Powers ultimately opt not to get married when it comes down to making the tough decision, but they continued to date for some time after the show's end. They have since parted ways, and Gibelli is now publicly dating Blake Hortsmann, her co-star from MTV's "All Star Shore." She told People Magazine, "I just didn't want to be bitter. I wanted to always have my heart open and to be able to let love in, in whatever shape or form that may be, because that's just the sweet part of life." Congrats to Giannina for finding her match!
Andew Liu uses eye drops to fake cry!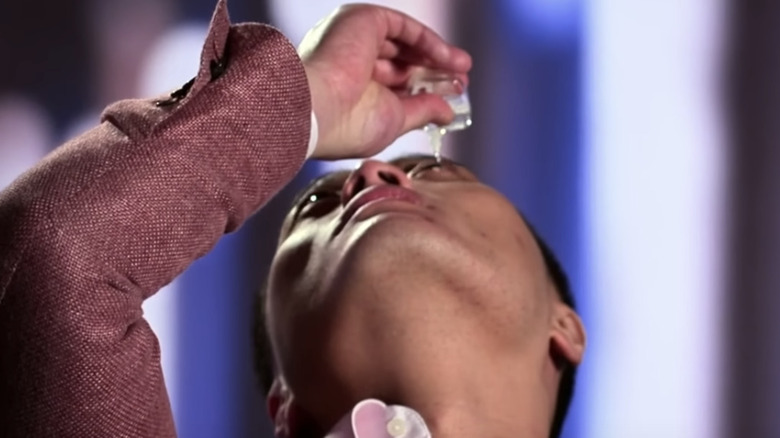 Netflix
This moment in "Love is Blind" Season 3 just might be the most cringe-worthy moment of all time. After Andrew Liu proposes to Nancy Rodriguez in the pods, she turns him down because she has fallen in love with Bartise Bowden. During the confessional with the producers, Liu appears to ask them if they mind if he uses eye drops, and then tearfully (albeit fake), sniffles "I never thought I could care for someone," he said after administering the eye drops, "that would bring me to tears." Ummm... Did he not know the cameras were rolling when he faked those tears? GROSS.
The tear-drop moment appeared to go viral, which caused a lot of the women to call him out for being a "clout-chaser" according to E! News. They also asked Rodriguez what she thought of the awkward moment as she was the one that Liu was supposedly "crying" over. "I think it's one thing to say, like, 'Through a wall, there's something. You're deceitful, you're too cool, calm, and collected. Like, something is up,'" she pondered. "Your senses go up. I think it was a complete depiction of what I was feeling through a wall. This guy's up to something."
We think you dodged a bullet, Nancy!
Cole asks Zanab if she's bipolar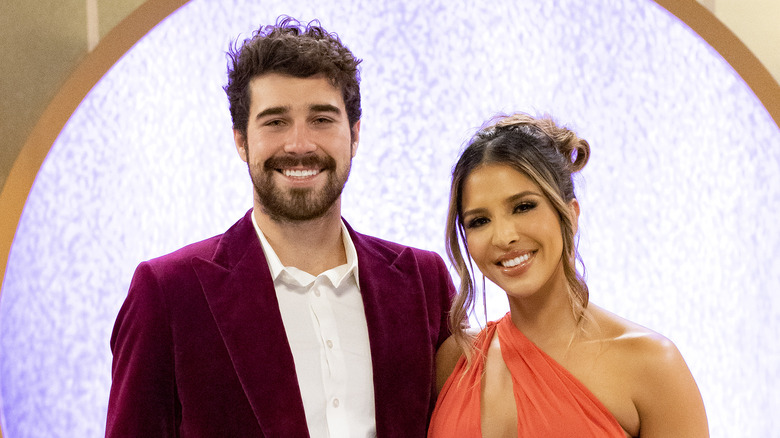 Sara Mally/Netflix
Cole Barnett and Zanab Jaffrey were arguably the most dramatic couple of the third season of "Love is Blind." Their constant bickering consisted of Barnett saying or doing something silly, and Jaffrey rolling her eyes at him or acting completely unamused. The "Love is Blind" reunion caused all sorts of drama when Jaffrey brought up a scene that did not air, where Barnett supposedly "fat-shamed" her for eating two small cuties (oranges). 
Barnett appears frustrated as he speaks to the camera during a confessional, stating that he would prefer someone who isn't bothered by every little thing. During the same episode, tempers flare when Barnett flat out asks Jaffrey if she is bipolar. Burn. She replies, "There are plenty of women that fit the bill for what you are looking for ... You go find one tonight." Needless to say, these two did not wind up together after Jaffrey blindsided him at the altar with a barrage of complaints that Barnett claimed he was unaware of.
Since the end of the season, Barnett went on the Lauren Interviews podcast to spill the beans on his relationship with Jaffrey. Unsurprisingly, in his first interview after the reunion, Barnett revealed that he has not spoken to Jaffrey since the reunion, and he has no plans to do so.
Sal drops Mallory on the beach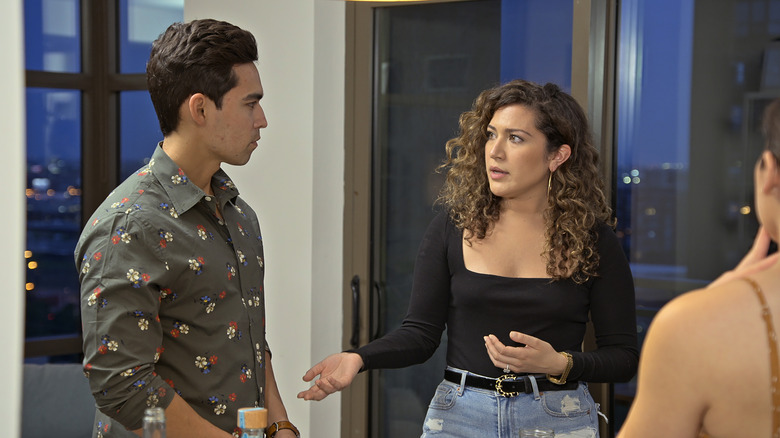 Netflix
Mallory Zapata was quite popular on Season 2 of "Love is Blind," as she received not one but two proposals. She eventually accepts a wedding proposal from sexy Latino crooner Salvador Perez. Unfortunately, their engagement is short-lived as Perez says "no" to Zapata on their actual wedding day. 
In the aftermath of the episode, Perez opened up to US Weekly and described the "roller coaster of emotions" he went through at the time. "I was just feeling everything, and I really was trying to wrap my head around everything that we had been through together," Perez said. "I was really just kind of summarizing it in my head and I knew that at that moment of my wedding, I just wanted to make that choice with her. I wanted to see how I felt in that moment with her. It was a crazy day." He also mentioned he wished he had opened up to Zapata a bit more — maybe next time, less singing and guitar playing, Sal?
Notably, it wasn't all serenading for the couple, however. Perez tries to have some romantic moments early on that do not involve his guitar, though they don't work out exactly as he planned. Early in the season, he attempts to carry Mallory into the ocean while the cast is having a day at the beach. Unfortunately, he trips over his own feet, and he and Mallory quite literally "eat sand." We are turning red for him!
Jessica accepts Mark's proposal even though she isn't into him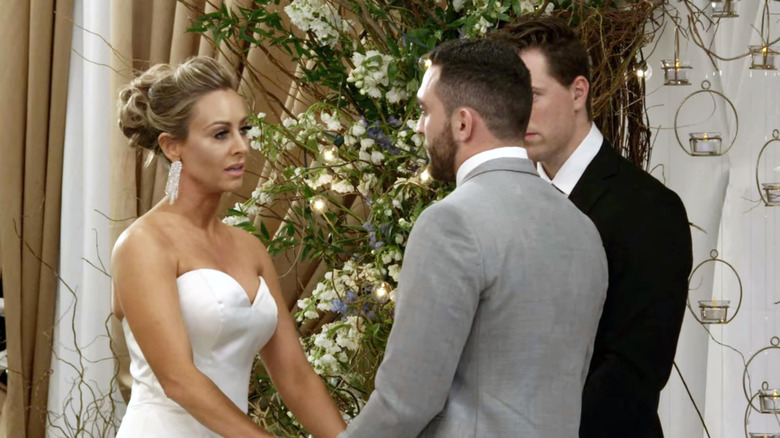 Netflix
Jessica Batten initially connected with Mark Cuevas in the pods during "Love is Blind" Season 1. However, throughout the remainder of the season, it is clear she wants Matt Barnett to propose. Sadly, things do not go exactly how Batten planned, as Barnett instead falls more and more for Amber Pike, bumping Jessica Batten to his number two. Mark Cuevas on the other hand, has zero reservations and makes his feelings for Batten known from the start.
To the shock of many viewers, Batten accepts the proposal from Cuevas, leaving many to speculate what her true intentions are as it is obvious she has feelings for Matt Barnett — did she just want more screen time? Batten clearly says "no" at the altar, claiming the two had already discussed what was going to happen between them. "We really had an agreement on the show," Batten told E! Online in the aftermath of the wedding episode. "We knew that we weren't going to work out in the end, so on that day, we were not planning on saying yes. When everything went down and he was crying on his mom and everything like that, it was a huge shock to me."
Batten and Cuevas are both happily married to other people they met after the show (via People), and Cuevas is even a father of two!