Who Is Steph Curry's Little Sister, Sydel Curry?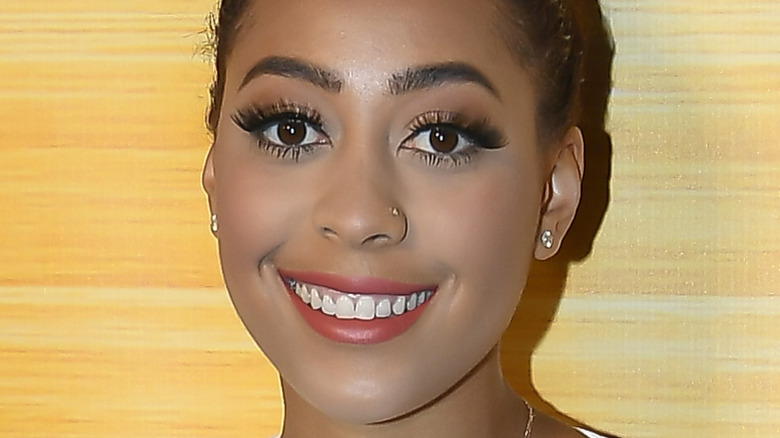 Steve Jennings/Getty Images
NBA star Steph Curry has a pair of siblings who are likewise following their purpose. As reported by Sportskeeda, Steph has two siblings: one younger brother who is also an NBA player, Seth Curry, and a younger sister named Sydel Curry. In 2022, the three publicly made an appearance with their mother, Sonya Curry, on "Good Morning America" in honor of Sonya's book, "Fierce Love," being released. In addition, Sydel and Sonya sat for a 2019 Q&A discussion that was shared on Sydel's YouTube channel, during which Sonya revealed Sydel's social nature. "She's my social butterfly in the family," Sonya said of Sydel. "Stephen's really social, Seth's not as social, but she's our social butterfly. She always has been since she was little."
Although she has a love for family, Sydel has also made sure to pave her own way in life. "I have a great family, but I worked very hard to separate myself as much as I possibly can to create my own platform for myself because I'm very independent," Sydel said in a 2021 Togethxr interview. "I'm more than just Stephen Curry's sister. I'm more than just Seth Curry's sister. I am Sydel, I am my own person, and I love who I am." Sydel has a history in athletics and uses her platform to share positive content.
Sydel Curry is an influencer and mental health advocate
Sydel Curry is a public figure who incorporates her passion into her platform. Like her brothers, Steph Curry and Seth Curry, athletics is part of her story, as Sydel previously played volleyball at Elon University from 2014 to 2016. Per her Elon bio, Sydel was born in 1994 and was a psychology major at the college. As stated on her Instagram page, Sydel is now a content creator who utilizes her position to promote mental health advocacy. She shares meaningful messages to her social media followers, including a December 2022 post encouraging others to strive for self-love. "You can never show yourself too much love," Sydel said. She added, " ... We don't get constant recognition for what we do for others on the daily and that's okay, we don't need it. But what we DO need to is to love on ourselves every now and then. Life is hard but I am enough for me."
Sydel's YouTube channel showcases entertaining videos as well as helpful content, such as a 2022 video of Sydel discussing "How I am getting comfortable in my own skin," plus a 2019 mental health Q&A.  Aside from these professional pursuits, Sydel has taken on the roles of wife and mother in her personal life.
Sydel Curry has started a family with Damion Lee
Along with being a social media star and mental health advocate, Sydel Curry is dedicated to her family unit. Back in 2018, Sydel wed basketball player Damion Lee, per Essence. Sydel's brothers, Steph Curry and Seth Curry, were both groomsmen at the ceremony. As Sportskeeda wrote, Sydel and Lee first met in 2013 and were engaged four years later. Lee now plays for the Phoenix Suns but was previously with the Golden State Warriors for four seasons, during which he played alongside Steph. 
In a past Essence interview, Sydel explained that she had a feeling early on that she'd found something special with Lee. "I knew from the date, from our first date. He was nobody that I had ever met," she said. Sydel shared with Morning Honey in 2022 that she faced fertility struggles before she became pregnant with her and Lee's first child, which she announced in a June 2021 Instagram post. "Our God real. Baby Lee coming at you November 2021!" Sydel wrote. Five months later, Sydel and Lee welcomed a son, Daxon Wardell-Xavier Lee. In November 2022, she posted images from Daxon's first birthday celebration on social media, writing, "We loved being back in The Bay surrounded by everyone that has helped us get through this 1st year! Here is to many more wonderful memories of and with Daxon!"