What We Know About Meghan Markle's Niece Ashleigh Hale
Cindy Ord/Getty Images
When Meghan Markle started planning her royal wedding with Prince Harry, the world was introduced to many of her family members. However, her mother, Doria Ragland, was the only relative of the Duchess of Sussex who attended the event, per Harper's Bazaar.
After Harry and Meghan announced their engagement, the latter's half-siblings, aunts, uncles, nieces, and nephews came out of the woodwork to speak with the British press about what Meghan was supposedly like before she became a royal. Among the most outspoken of the bunch was Meghan's half-sister, Samantha Markle. (Samantha and Meghan have the same biological father, Thomas Markle, another popular interviewee.) In a 2018 appearance on the ITV talk show "Loose Women," Samantha confessed to convincing her dad to stage photos ahead of the Sussexes' wedding, per the Daily Mail. Samantha had previously described Meghan as a "social climber" in a 2016 interview with The Sun, and her own mother, Roslyn, accused Samantha of making racist remarks about Meghan's mom. "She trashes Meghan. She trashes me, her dad, her brothers. She has just been trashing everybody in her life forever," Rosalyn told the Daily Mail. She found Samantha's behavior so distasteful, in fact, that she disowned her daughter. 
One person who has stayed out of the family's public feuding is actually Samantha's biological daughter, Ashleigh Hale. Meghan introduced Netflix viewers to her niece in the docuseries, "Harry & Meghan," and she revealed how Samantha's behavior robbed Hale of a once-in-a-lifetime experience.
Meghan Markle explains why she couldn't invite her niece to her wedding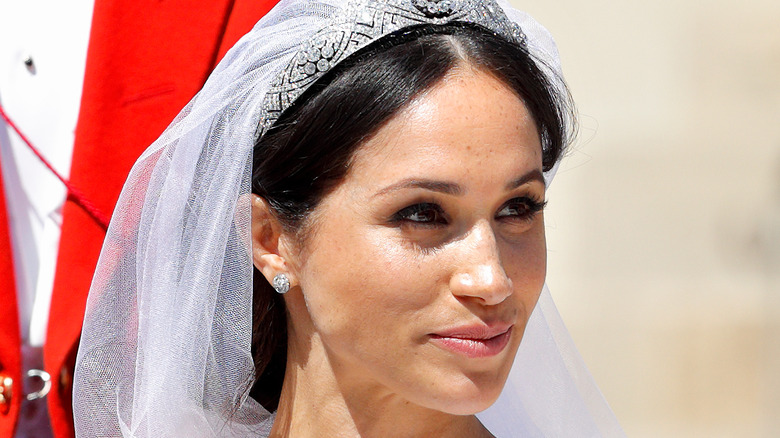 Max Mumby/indigo/Getty Images
According to Meghan Markle, her relationship with Samantha Markle is essentially nonexistent — but Meghan and Samantha's daughter, Ashleigh Hale, have become close over the years. Meghan wanted to invite her niece to her wedding, but the former "Suits" star claimed she was advised against doing so. This led to a difficult conversation with Hale, during which Meghan seemingly explained that optics were the issue. Basically, it would look odd to invite her niece but not her half-sister. "I think I said I was hurt on some level, but I understood where it was coming from," Hale confessed in her appearance on "Harry & Meghan," per People. "To know that it was because of my biological mother that this relationship that's so important to me was impacted in that way ... to feel like, because of her it was taken away, has been hard."
Palace sources denied Meghan's claims, telling the Daily Mail that Meghan alone was responsible for deciding which family members to invite to the event. The insiders also said there was no truth to Hale's theory that Meghan was not allowed to stay in regular contact with her. "Communication with Meg became less and less frequent ... My impression was that her relationships were being managed," Hale said on the show.
Luckily, she and Meghan resumed their relationship when the Sussexes moved to sunny Montecito, California.
Ashleigh Hale was adopted by her grandparents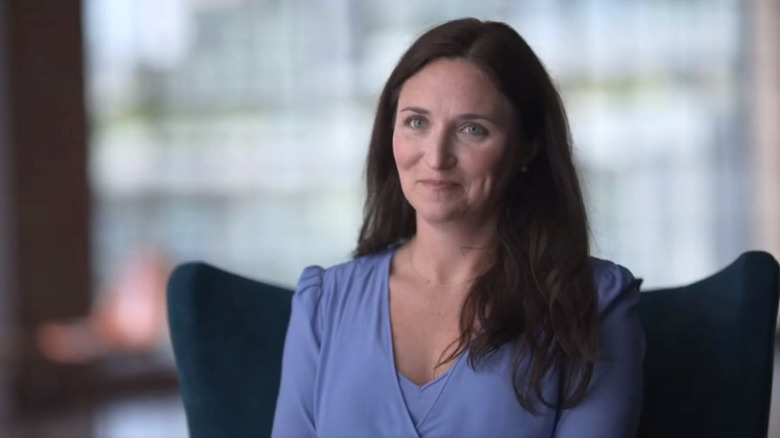 Netflix
In her appearance on "Harry & Meghan," Ashleigh Hale reveals that her biological mother, Samantha Markle, didn't actually raise her. She was a toddler when her paternal grandmother and grandfather took custody of her, and they eventually adopted Hale and her brother. "They were my parents," Hale said, per Harper's Bazaar. She had no contact with her biological mother throughout her childhood, but they developed some sort of relationship circa 2007. It was around the same time when Hale's friendship with Meghan began, with Hale saying that they emailed, texted, and called each other often, per People. They also started hanging out together, developing a unique bond. "She takes on a lot of roles for me," Hale said of her aunt. "There's a sister element, there's something maternal. She's a best friend. She's kind of all the things." As for her relationship with her bio mom, Hale said that she had to stop talking to Samantha because she was bad-mouthing Meghan so relentlessly. 
While they didn't discuss it on the docuseries, in 2017, a source told Express that Meghan reached out to Hale after she got cast as paralegal Rachel Zane in the series "Suits." This is because the actor's niece could offer her some invaluable advice on what working in a law office is really like; Hale is an immigration attorney who has worked for a number of law firms over the years, per her LinkedIn page.