What You Should Know About Dua Lipa's Sister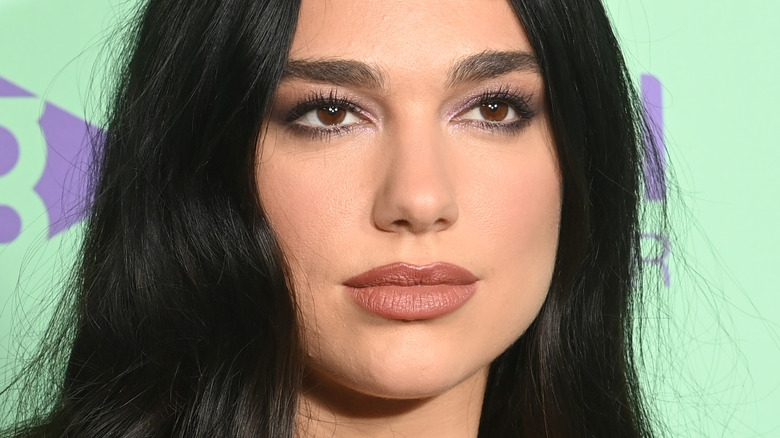 Dave J Hogan/Getty Images
Since bursting onto the music scene in 2017, Dua Lipa has established herself as one of pop music's biggest and most successful acts. Over the years, the British singer-songwriter has enjoyed a string of hits on the music charts, received plenty of praise and accolades, and amassed a large social media following — not to mention a sizeable fortune. And with her much-awaited acting debut in the upcoming spy thriller "Argylle", Dua's star power is only expected to multiply. As W Magazine reported, Dua will be showing off her acting skills in the Michael Vaughn series which also stars Hollywood heartthrob Henry Cavill, along with the likes of Bryan Cranston, Catherine O'Hara, Sam Rockwell, and Samuel L. Jackson.
Indeed, Dua is taking the world by storm and the "Don't Start Now" hitmaker is showing no signs of slowing down. But she's not the only one in her family who's thriving. Her sister, Rina Lipa, has also been making waves in her respective career as a fashion model, actor, and social media influencer. The 21-year-old Rina has garnered a lot of attention, especially in the past year, with Tatler magazine hailing her as the "Gen Z It Girl on everyone's lips." But who is Rina? Here's everything you need to know about Dua's equally talented sister. 
Rina Lipa is a rising model and actor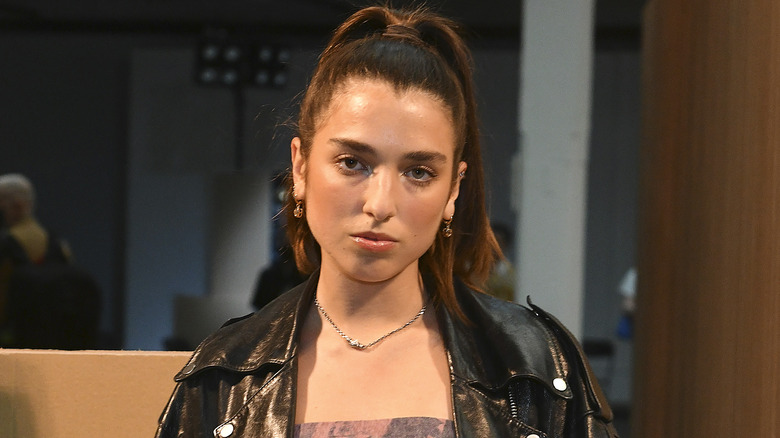 David M. Benett/Getty Images
Rina Lipa is an up-and-coming model who has worked with several major fashion brands and walked in runway shows in London as well as Milan. She opened the GCDS Fall runway show at Milan Fashion Week in 2021 and in 2022, starred in a campaign with her sister Dua Lipa for the Italian luxury brand Versace. In a chat with Numero Uno magazine, Rina talked about her love for fashion and the important role it plays in her life. "I think it's a really good creative outlet," she said. "People can express themselves and show exactly how they feel that day or what they've been finding fun."
Aside from modeling, Rina has also pursued a career in acting and is set to make her big screen debut in the latest film of Italian director Gianluigi Carella, per Tatler. According to a 2019 article by Evening Standard, Rina has always wanted to be an actor. In fact, she spent six years studying the craft at the Sylvia Young Theatre School in London, which lists the likes of A-listers Daniel Kaluuya, Rita Ora, Billie Piper, and sister Dua among its famous alumni. "Performing, being on stage, being in front of the camera — I knew that was what I wanted to do," Rina told the paper. "I like to talk a lot."
Rina Lipa is inspired by her sister Dua Lipa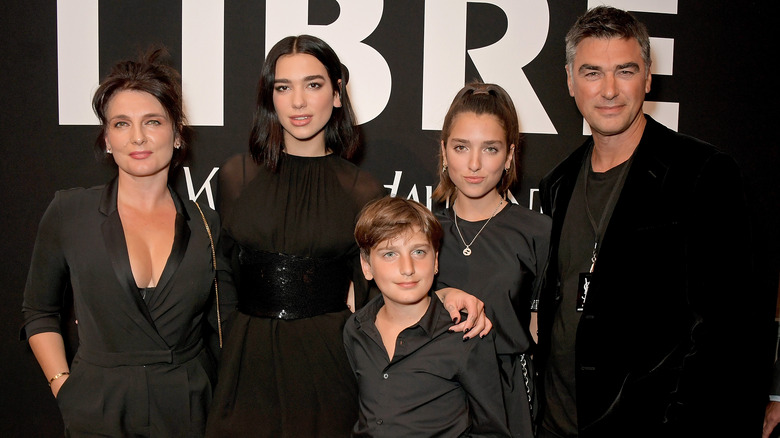 David M. Benett/Getty Images
In her profile for Tatler, Rina Lipa said she grew up watching and idolizing her sister Dua who was six years her senior and is the oldest among three siblings. Reminiscing about their childhood in Pristina, Kosovo, Rina said she would always rifle through Dua's wardrobe without her permission. "I worshipped her," Rina said. "I'd try to dress like her, I'd steal her clothes. When I wore them, I'd feel older."
The sisters were separated after Dua — at the young age of 15 — decided to move to London to work on her music career. Rina admitted it wasn't easy for her. Regardless, her respect and admiration for her older sister only grew over the years, especially after witnessing how Dua was able to create a successful career for herself. "She worked very, very hard. I really looked up to her for that and I do to this day," Rina said.
According to the actor-model, it was her sister's dedication and determination to her craft that inspired her to also work hard and be passionate in her own career. "Watching Dua working so hard and being so determined at building her career ... kind of pushed me to also work hard and go for it as much as possible," Rina told Numero Uno magazine.