What Happened To Laura Betancourt After Below Deck?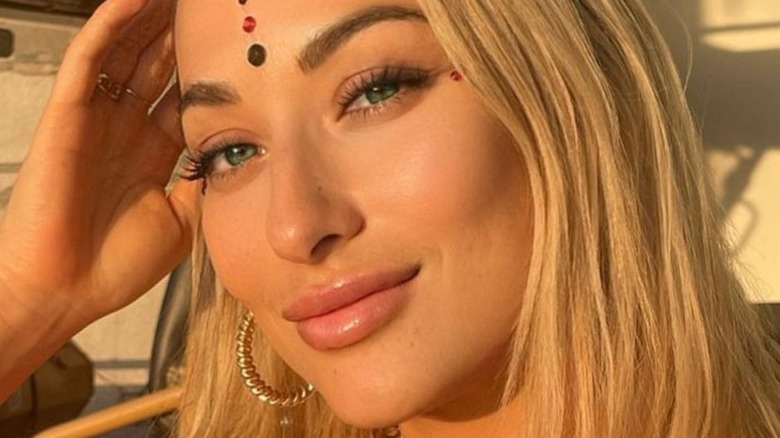 Remember Laura Betancourt from "Below Deck?" Betancourt appeared on several episodes of Season 6 of the Bravo hit — dubbed "Below Deck: My Seanna" — as third Stewardess, replacing Caroline Bedol after she was fired.
Fans of the sea show may remember Betancourt butted heads with Chief Stew Kate Chastain, with Chastain even going to (the totally iconic, by the way!) Captain Lee and suggest Betancourt bee fired — or she'd quit! Things did eventually get smoothed out between Betancourt and Chastain though, after the latter gave the former a pretty stern talking to. "I noticed a swift change. And you know what? I love Laura now," Chastain even admitted during the "Below Deck Season 6 After Show." "She just needed to be knocked down a couple pegs," she added. Another thing you may remember on the show? Her flirty relationship with deckhand Ashton Pienaar.
But her newfound bond with the Chief Stew didn't mean Betancourt stuck around too long. She only ended up being on the reality show for six episodes during Season 6 before moving on to something new, but what exactly did she move on to?
Laura Betancourt is a total yogi
Laura Betancourt appears to have very much left her life at sea behind, as she's doing something totally different now. On her website, Betancourt describes herself as being a Movement and Meditation Instructor, revealing she's worked with several celebrities (and mere mortals like us!), teaching them yoga. She's earned her credentials too, as she's a certified Vinyasa Yoga Instructor, accredited Neuro-linguistic Practitioner, and a Certified Sports & Exercise Nutritionist, with an Advanced Mat Pilates Certification. She now spends much of her time hosting yoga and meditation retreats.
It seems like Betancourt still has the travel bug, as she regularly shares photos of herself practicing yoga in some of the world's most exotic locations. In May, she posted a gorgeous photo of herself meditating at the Four Seasons hotel in Hualalai, Hawaii, as she shared an inspirational quote in the caption. "Breath is the bridge which connects life to consciousness, which unites your body to your thoughts. Whenever your mind becomes scattered, use your breath as the means to take hold of your mind again," she wrote. That came after she shared she rang in the New Year in Dubai, before then heading to Turkey later in the year. Jealous? Us? Totally!
Will Laura Betancourt ever return Below Deck?
Laura Betancourt may be onto new ventures, but she's admitted there's a chance we could see her back on the charter one day. Albeit a pretty small one. When asked by Bravo in June 2020 if she'd ever return to the yachting industry, she replied, "never say never." It also sounds like she has nothing but fond memories of her time on "Below Deck," admitting, "I loved the chaotic-ness of it. I loved the really long hours and everything and the lifestyle and even the service aspect of it all." However, despite her not closing the door firmly, she's moved on and grown up. "Then you grow up a little bit, you kind of wanna slow down and actually follow and pursue your passions, and I was really thankful that I was able to kind of make my dreams reality really now," she said.
Betancourt seems ready for whatever life brings her next, as she regularly shares positive life advice on social media. "Believe it or not, we get exactly what we want in life, and we get exactly what we intend to get. The problem, however, is our thoughts are so negative that that's what we bring into our life: negativity," she wrote in an October video posted to Instagram. "So, deploy this effective mantra for success. Start thinking positive and have the intentions of being great, and before you know it, you will be."
We couldn't have said it better ourselves!