What Happened To Ashley Sawyer After Catfish?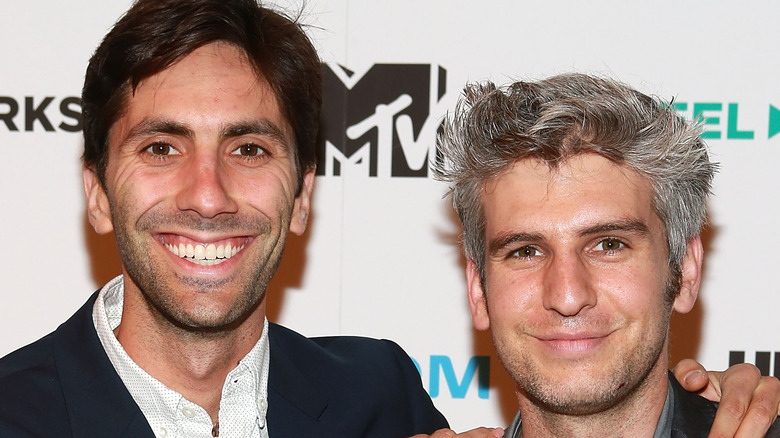 Robin Marchant/Getty Images
The following article includes references to drug addiction.
Remember Ashley Sawyer? American audiences were first introduced to the reality star when she appeared in Season 2 of MTV's hit series "Catfish," which explores the complex world of online dating and relationships. The show — hosted by Nev Schulman — is based on a 2010 documentary film of the same title, and brings together two people who've dated solely through the Internet. Sawyer's 2013 episode saw the Georgia native and Michael "Mike" Fortunato meet for the first time after talking exclusively online for seven years, according to Entertainment Weekly. 
Despite learning that they "catfished" each other — or faked their identities to trick each other into entering a romantic relationship — the two were on good terms and recognized their special connection. Sawyer even said during the show's conclusion that she wanted to visit Fortunato in his hometown of New Jersey for a second time, but unfortunately, the latter passed away later that year, per People.
Since debuting on "Catfish," Sawyer had appeared in a catch-up special of the series to talk about her relationship with Fortunato. She said, "The last thing we said to each other was that we loved each other" (via The Hollywood Reporter). At the time, Sawyer also opened up about living in a recovery facility as she struggled with substance addiction. But ever since then, not much has been heard about the reality TV personality. Whatever happened to Ashley Sawyer?
Ashley Sawyer died at age 23
Ashley Sawyer tragically died at the age of 23. According to CNN, she was found unresponsive from an apparent drug overdose in her Alabama apartment on April 30, 2016, and was pronounced dead at the scene. Police said Sawyer's friends were with her at the time of the incident and that one of those friends made the 911 call. Reportedly, there were indications of heroin use at the scene, but no signs of foul play. MTV released a statement following news of her tragic death. "MTV is deeply saddened to learn that Ashley Sawyer has passed away," said the network. "Our condolences, thoughts and prayers go out to her family and friends."
Her sister Jessica Ross told MTV that Sawyer had completed a treatment program and was working at Panera Bread at the time of her passing. She also was living alone in her Hoover apartment. "We had a great relationship," Ross said of her sister. "I know she knows how much I loved her and she loved me, and I am so sad that she's gone. She was so funny, she could make me laugh on my absolute worst day. She was just a really fun person to be around."
Fans were saddened by Ashley Sawyer's death
Ashley Sawyer's tragic and sudden death came as a shock to "Catfish" fans and hosts Nev Schulman and Max Joseph in 2016. At the time, both hosts took to social media to express their grief and offer their condolences to Sawyer's family and loved ones. "Such a beautiful and strong young woman. Honored to have known her," said Schulman, who added that he was sad to lose both Sawyer and her late "Catfish" co-star Mike Fortunato. "I hope they are happy & together now where nothing can hurt them." Meanwhile, Joseph wrote, "Shocked and saddened by the death of Ashley Sawyer. So sweet and kind. Thoughts and prayers go out to her family."
Fans of the show also mourned the heartbreaking loss on Twitter. "Thats so sad. Thoughts go out to her family. So young," tweeted one user. Another said, "This is so incredibly sad. 2 kids gone much too soon," referring to Sawyer and Fortunato. "I hope they have found the peace & comfort they sought in life." Per MTV, Fortunato passed away years prior on October 12, 2013 in Hartford, Connecticut. He died of a pulmonary embolism at 26.
If you or anyone you know needs help with addiction issues, help is available. Visit the Substance Abuse and Mental Health Services Administration website or contact SAMHSA's National Helpline at 1-800-662-HELP (4357).