Why Tommy Lee Really Ditched His Pamela Anderson Tattoo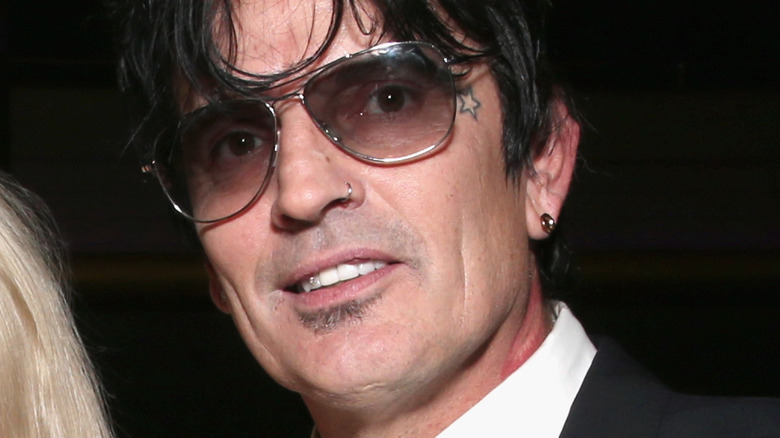 Todd Williamson/Getty Images
Pamela Anderson and Tommy Lee had a whirlwind romance that was short-lived but definitely left a big impact. The two were completely smitten with each other from the start of their relationship. US Weekly reports the couple took a trip to Cancun only six weeks after meeting. But the big surprise came when the trip turned into a wedding just four days in.
Lee talked about how infatuated they were with one another during that vacation (via Bustle). He shared, "When we finally fell asleep, that was the first time the entire night that we stopped looking into each other's eyes." Lee recalled impulsively proposing to Anderson, who said yes. Unlike most couples who wait a year or two to get married, Lee and Anderson decided to do it on their vacation. Lee shared, "We gave blood, sniffed out a marriage license, and were on the beach getting married before the day was over."
While much of this marriage was unconventional the two decided to add to that by not getting traditional wedding bands. Instead, the couple opted for tattoos on their wedding fingers (via Yahoo News). Tattoos are definitely a more permanent gesture than a piece of jewelry. Unfortunately, for Lee and Anderson, their relationship took a turn. The couple had to face some unexpected difficulties that included their infamous sex tape that as eventually chronicled in Hulu's "Pam & Tommy." Just like their relationship, the tattoos they got for one another slowly disappeared.
Tommy replaced his Pamela tattoo after she covered hers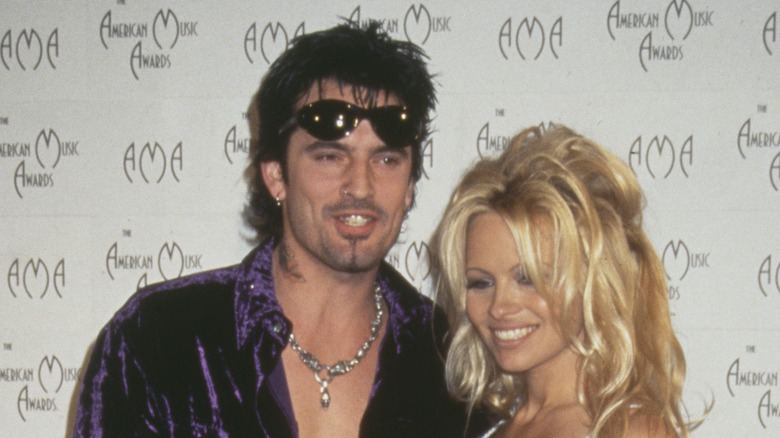 Michael Ochs Archives/Getty Images
Tattoos can be a reminder of a certain period of your life. In general, people tend to get tattoos that mean something to them in one way or another (via Psychology Today). At the time, it made sense for Pamela Anderson and Tommy Lee to get each other's names tattooed. She shared with the New York Post, "I don't like jewelry. The size of the stone is really about the man's ego over his little thing. I think diamonds have a direct relationship to your man's penis size." But, tattoos are permanent, and as life changes, some people don't relate to their tattoos anymore. This is exactly what happened when the couple got divorced.
The two had an on-and-off again relationship and decided to officially call it quits in 1998 (via Los Angeles Times). Unfortunately for the two, they had a constant reminder of each other when they looked down at their ring finger. Bustle reported that Pamela was the first to replace the tattoo with the word "Mommy" covering the previous tattoo, which was "Tommy." Since Anderson got her tattoo replaced, it pushed Lee to cover his.
Notably, Lee was reportedly upset that Anderson decided to get the tattoo covered (via Yahoo! News). He shared, "[It] upset me so much that I later had my wedding tattoo removed. I just wanted to get that s— off my finger and change my life." For Lee, he simply could not handle the constant reminder of his ex-wife.
Tommy Lee didn't learn his lesson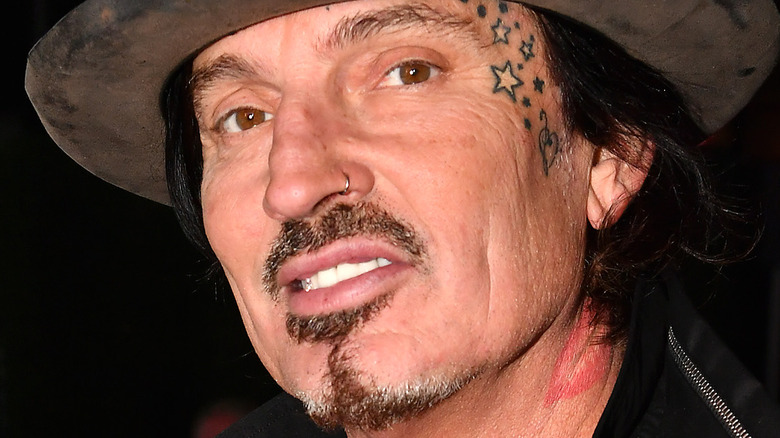 Jeff Kravitz/mtv Vmas 2021/Getty Images
Tommy Lee was pretty tatted when he met Pamela Anderson (via Ultimate Classic Rock). As time went on, the Mötley Crüe musician has only added more ink to his body; including another homage to a certain relationship. Just two years after his divorce from Anderson, Lee began a relationship with Mayte Garcia (via Yahoo! News). At the time, Garcia was coming off a divorce from yet another famous musician, Prince.
Yahoo! News reports Garcia and Lee were together from 2001 to 2003 and were once engaged. Despite having a bad experience with his former wife, Anderson, he decided to get another tattoo honoring his relationship with Garcia. Garcia had kissed Lee on the neck and left a kiss mark, so the musician decided to go get it permanently tattooed. Garcia shared, "He got a tattoo of my lips on his neck, but I knew all along he was still in love with Pamela."
Since they split, many have wondered if Lee will ever get the tattoo of Garcia's lips removed just like he did with his tribute to Anderson. Lee luckily didn't get Garcia's name tatted on him, which made the lipstick tattoo easier to pass on as something else. Ultimately, Lee appears to have decided that he's happy with the tattoo as it remains on him to this day.