Mayim Bialik's First On-Screen Kiss Was With A Big Bang Theory Co-Star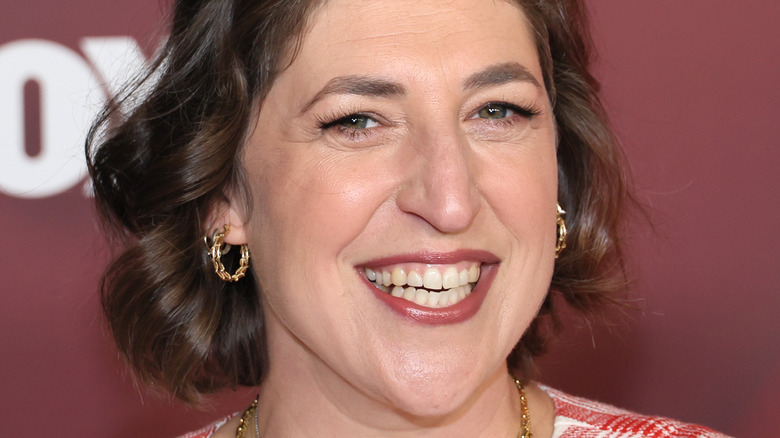 Dia Dipasupil/Getty Images
Mayim Bialik is many things: a mom, author, actor, and game show host. But fans may recognize her primarily for her work in "The Big Bang Theory." In the hit CBS series, Bialik played neuroscientist Amy Farrah Fowler. Amy first meets the gang — Penny (Kaley Cuoco), Sheldon (Jim Parsons), Leonard (Johnny Galecki), Raj (Kunal Nayyar), Howard (Simon Helberg), and company — in Season 3, after she matches with the dating profile that Raj and Howard create for Sheldon. 
The meet-cute kicks off with Sheldon and Amy bonding over their "aversion for soiled hosiery" and culminates with Sheldon offering to buy Amy a drink. Despite hitting it off immediately, it takes time for #Shamy to define their relationship in the show. They begin officially dating in Season 6 and share their first kiss in Season 7, but Sheldon is overwhelmed by common relationship milestones. He even runs away when Amy proposes moving in together! Overall, it takes eight years for the couple to say "I do," which also coincides with Sheldon's Nobel Prize-winning breakthrough in super asymmetry. Casual.
From the first time that Amy and Sheldon hold hands (which Amy proposes as an "experiment") all the way up to that fateful kiss in front of the altar, fans were always rooting for Shamy, whom they viewed as endgame. It's therefore ironic that Bialik's first on-screen kiss was with a "Big Bang" co-star who is not Parsons. So, which one of the gang was the lucky recipient of her lip lock?
Johnny Galecki and Mayim Bialik share history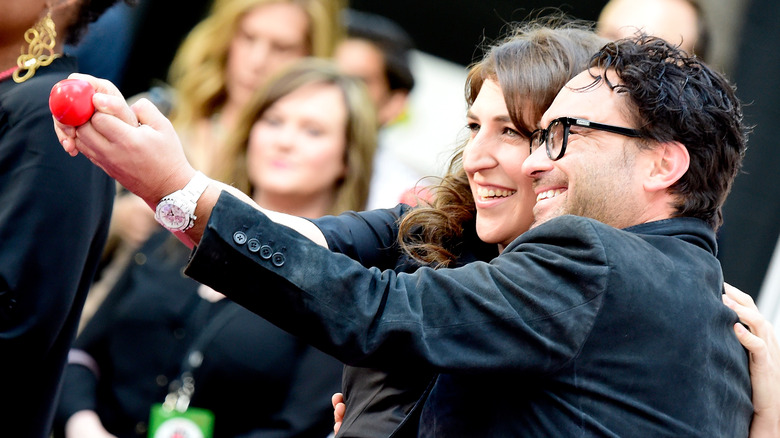 Frazer Harrison/Getty Images
Kaley Cuoco famously dated her co-star Johnny Galecki, but she's not the only "Big Bang Theory" veteran to kiss him. Per E! News, Galecki and Mayim Bialik first smooched on the set of the '90s sitcom, "Blossom," while playing the roles of Jason and Blossom, respectively. The sweet moment is quintessential '90s fashion, from Bialik's cardigan-turtleneck combo to Galecki's shirt pattern. Appearing on a 2016 episode of "Conan," Bialik and Galecki discussed this pivotal kiss while their "Big Bang" cast members egged them on. "We were both 14. We kissed," Bialik remembered, before adding, "It might have been my first real-life kiss also."
According to The Things, the duo's shared experience in "Blossom" led to the blossoming of an offscreen friendship; Bialik even invited Galecki to her 16th birthday party. Yet things might not have been quite so hunky-dory behind the scenes of "Big Bang Theory." A Reddit thread speculated about fights between the cast, given that Bialik and Galecki don't currently follow each other on social media. "I read Mayim ... and Johnny ... may have had a fight that Jim Parsons took Mayim's side and Kaley Cuoco took Johnny's side," the user muses. However, if we're taking Kaley Cuoco at face value, everything is going swimmingly. "Everyone is really doing great. It's wonderful to see, that's what you hope for, right? You hope you want all your friends to be successful," Cuoco told Metro, speaking on how the cast continues to support each other in a post-Big Bang world.
Mayim Bialik's first on-screen kiss with Jim Parsons didn't go well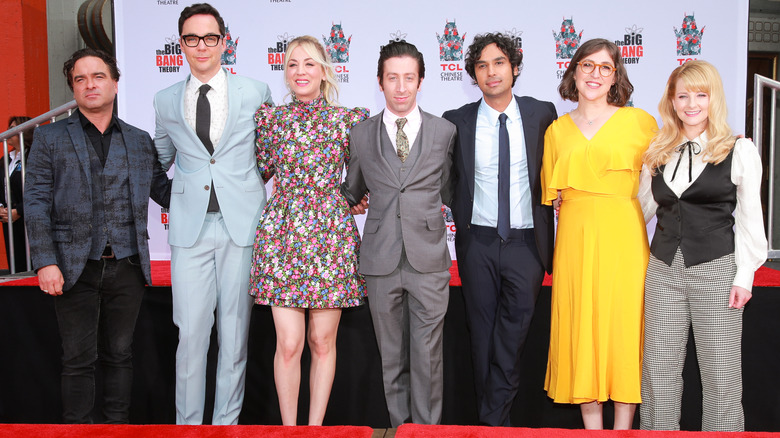 Rich Fury/Getty Images
By all accounts, Mayim Bialik's first kiss with Johnny Galecki went smoothly, in contrast to her smooch with her on-screen husband, Jim Parsons. Parsons was sick during his character's big romantic moment, which made for an interesting liplock. "You had the flu," Bialik remembered, per USA Today, explaining that she had been rinsing her mouth with hydrogen peroxide to kill off Parson's germs. "You were sweating. You had a fever. You were very sick," she added.
Like their onscreen counterparts, Bialik and Parson remain close today, though their relationship isn't romantic. As Entertainment Weekly reports, they worked together on the set of Fox's "Call Me Kat," and they've been vocal in their support of one another over the years. "Todd and @therealjimparsons, you are so loved," Bialik wrote in a sweet Instagram post, depicting Parsons and his now-husband, Todd Spiewak, walking down the aisle.
In a 2018 blog post, Bialik got emotional recounting Amy Farrah Fowler's wedding to Sheldon Cooper. "It is my job to embody this character and to feel what she feels," Bialik wrote. "I love Jim Parsons as my co-worker and friend. Although it's sometimes hard to keep a straight face saying such lovey-dovey things, there's no one I would rather say them to than Jim." The takeaway? Maybe on-screen smooches can lead to fulfilling friendships, as is the case with Bialik, Parsons, and Galecki.