Inside Kaley Cuoco And Johnny Galecki's Relationship Today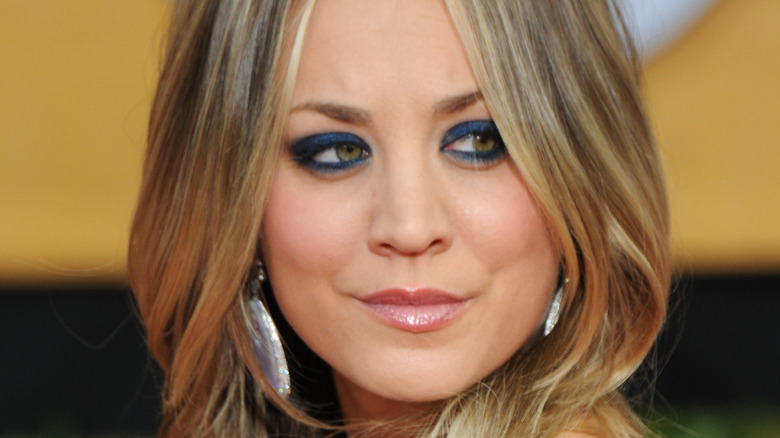 Shutterstock
Kaley Cuoco and Johnny Galecki played one of the most adored television couples of all time for 12 years on "The Big Bang Theory." It took a while for their perfectly mismatched characters to get together after Leonard Hofstadter fell in love with Penny at first sight, and they had to survive plenty of breakups and makeups before making it to the altar.
Along the way, Leonard learned that dating the gorgeous girl next-door wasn't always as dreamy as he seemed to believe it would be and there was much more to Penny than her looks. Meanwhile, she realized that she didn't need to be a successful actor to be fulfilled: She found her true happiness when she finally gave Leonard a chance. They saw all of each other's flaws and discovered they loved one another in spite of them, and viewers enjoyed watching the beauty and the geek grow into so much more.
Cuoco and Galecki also dated in real life, but their relationship played out quite differently. In a 2020 interview on Dax Shepard's "Armchair Expert" podcast, Cuoco revealed their roles were reversed when they first met. "When we did the pilot, I was just crushing so hard on Galecki, and he had a girlfriend," she said. "I was obsessed." She said that they were "mad" about each other for the two years that they dated. They were consummate professionals after their split, but they developed more than just a working relationship.
How Kaley Cuoco and Johnny Galecki feel about each other now
While speaking to CBS Watch! Magazine in 2010, Kaley Cuoco said that she and Johnny Galecki decided to keep their relationship a secret. Unfortunately, this didn't make their romance exciting and fun. "Everyone was always asking, and we deny-deny-denied," she recalled (via Entertainment Tonight). "And I'm like, 'Why am I denying this person that I love?' It took a little bit of a toll on me and I think it did for him, too." They decided to part ways amicably, and Galecki told CBS Watch! that they were "dear friends" four years after their 2009 breakup.
In 2014, Cuoco told Cosmopolitan that Galecki sat in the front row at her wedding with "a huge smile on his face" when she married tennis player Ryan Sweeting in 2013. He also got an invite when Cuoco tied the knot with equestrian Karl Cook in 2018. "Couldn't be happier for my fake wife," he wrote on Instagram.
Galecki also moved on. In 2019, he and his now-ex-girlfriend Alaina Meyer welcomed a baby boy, and the elated dad couldn't resist showing him off to Cuoco. "[Johnny] sends me pictures constantly. He's very proud," she told Us Weekly. "It's really, really sweet." She updated fans on the status of their friendship during a May 2021 interview with E! News and revealed that he was still sending her baby photos. "Johnny and I are very close," she said. "We talk multiple times a week."
Kaley Cuoco her own Big Bang theory about her love scenes with Johnny Galecki
Kaley Cuoco told Dax Shepard that she and Johnny Galecki began to suspect that "The Big Bang Theory" creator Chuck Lorre was messing around with them in a pretty messed-up way while their post-breakup wounds were still raw. "I remember those weeks that Chuck had written these episodes where, all of the sudden, our characters were like sleeping together every other second," she said. "And Johnny and I would talk. I'm like, 'I think he did that on purpose.'" This is exactly the type of topic that fans would love to see the actors discuss on a reunion, which would provide them with the opportunity to confront Lorre and get him to reveal whether he really wrote those scenes because of their split.
If Cuoco gets her way, "The Big Bang" gang will eventually reunite to reminisce about their time working together. She told Variety that watching the "Friends" reunion made her think about the possibility of doing something similar. "When I watched, I definitely thought, I would love to do that one day. I would love to do that with our show," she said. Fans would also enjoy getting another update on her friendship with Galecki, and perhaps the pals could share their theories on Leonard and Penny's post-finale future — did they stay together, or did they also split but remain friends?