How The Big Bang Theory Creator Messed With Kaley Cuoco And Johnny Galecki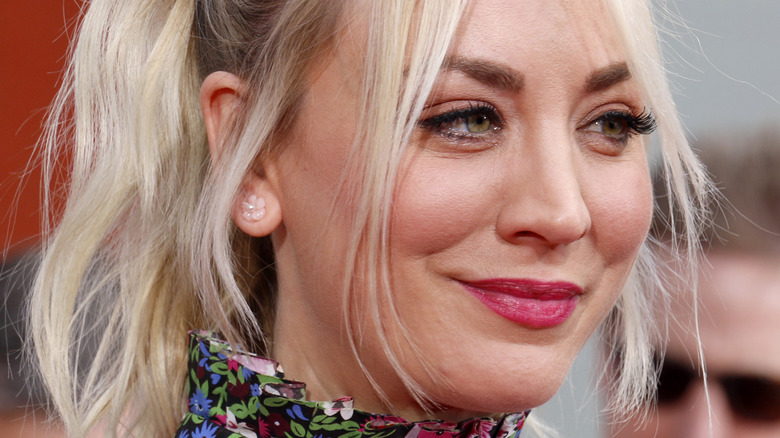 Shutterstock
CBS' sitcom "The Big Bang Theory" was one of the network's most popular hits ever, racking up a total of 10 Emmy Awards during its 12-year run. Centering on the dynamics between a group of geeky scientists and their neighbor across the hall, it proved that even astrophysics could resonate with viewers. That said, it was not really the science gags that kept audiences coming back for more, but the sweet on-screen pairings of characters like Leonard Hofstadter (Johnny Galecki) and Penny Teller (Kaley Cuoco), as well as Sheldon Cooper (Jim Parsons) and Amy Farrah Fowler (Mayim Bialik).
Over the course of the series, Leonard harbored a crush on Penny, who delighted viewers by revealing that she returned his feelings. The pair dated off and on, eventually jetting to Las Vegas to tie the knot in season 9 — and life imitated art for actors Cuoco and Galecki. "We dated really early on for almost two years," Cuoco said on a November 2020 episode of Dax Shepard's "Armchair Expert" podcast. "When we did the pilot, I was crushing so hard on Galecki, but he had a girlfriend." The actor added that she and Galecki are fortunate to be "closer today than we ever were," breakup notwithstanding. Perhaps their rock-solid friendship is what caused the show's creator, Chuck Lorre, to "mess with them" on-set, as Cuoco revealed on "Armchair Expert." Keep reading for the details!
Did Chuck Lorre play matchmaker for Kaley Cuoco and Johnny Galecki?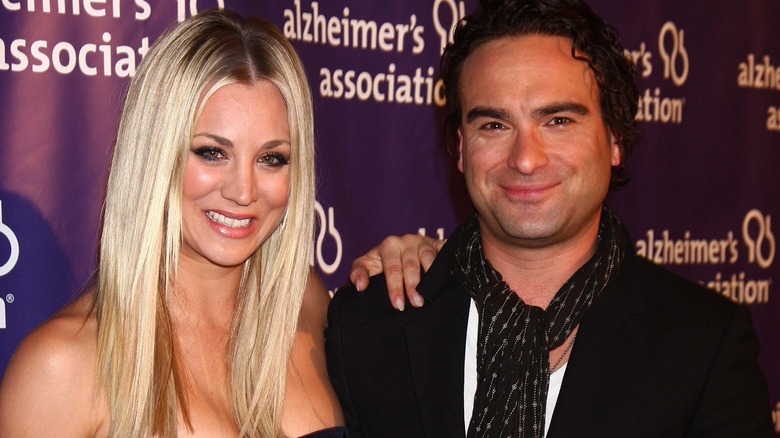 Shutterstock
There are plenty of celebrity exes who have managed to stay on good terms post-breakup, but these friendships usually need a little bit of distance to flourish. This was the case for Kaley Cuoco, who described the aftermath of her split with Johnny Galecki as "sensitive." Because distance from her former flame wasn't possible (given they both worked together on "The Big Bang Theory"), creator Chuck Lorre was quick to take advantage of their proximity to one another. 
"I remember when we broke up, you know, obviously it was a little sensitive for a minute. But I remember those weeks that Chuck had written these episodes where all of a sudden our characters were, like, sleeping together every other second," Cuoco explained on an episode of "Armchair Expert" podcast.
She went on to tell host Dax Shepherd that both she and Galecki believed Lorre to be initiating romantic interludes between their characters on purpose. When Shepherd asked whether the show's creator was doing that to play matchmaker or simply to "mess" with them, Cuoco said it was the latter. "But in fact, if I was with him, I would probably ask him, because that came out of nowhere," she added.
Did Kaley Cuoco offend Johnny Galecki by calling their relationship 'boring'?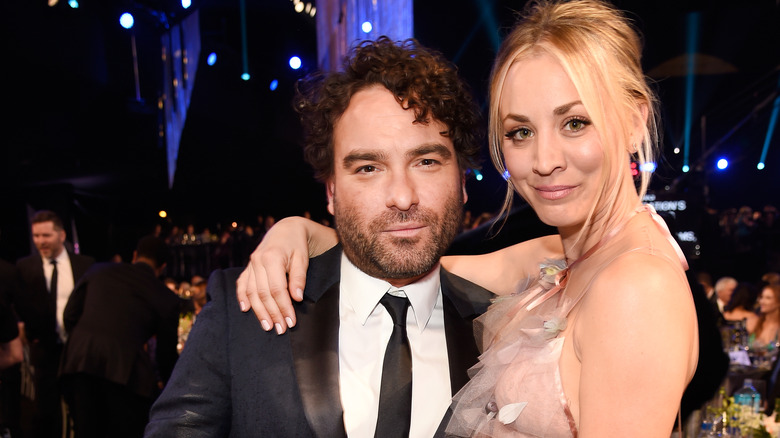 Kevin Mazur/Getty Images
Just as Leonard and Penny ultimately got their happy ending on-screen, things seem to have worked out just fine for Kaley Cuoco and Johnny Galecki in real life. As of this writing, Cuoco is married to equestrian Karl Cook, after her first marriage to tennis pro Ryan Sweeting ended in divorce 21 months later. In February 2021, she commemorated five years with her husband on Instagram. "Happy 5 years to the weirdest person I know," Cuoco wrote. "I don't remember a moment before you entered my life...what a boring life that must have been! I love you."
While fans awwed over the touching tribute, Galecki took (playful) offense at his ex-girlfriend's hint that their relationship had ever been boring. "Um," he commented, leading Cuoco to respond to her good friend with "LOL." Per Entertainment Tonight, she also posted a screen grab that revealed Galecki's reaction to a BuzzFeed article about his Instagram comment, adding a gift that read, "That's the tea." Whether Chuck Lorre's meddling in their on-screen characters' love lives brought these two closer together, or whether they managed to smooth over any awkwardness themselves — it seems like they might just be the friendliest exes in TV history.