The Unexpected Actor Who Gave A Speech At Guy Fieri's Walk Of Fame Ceremony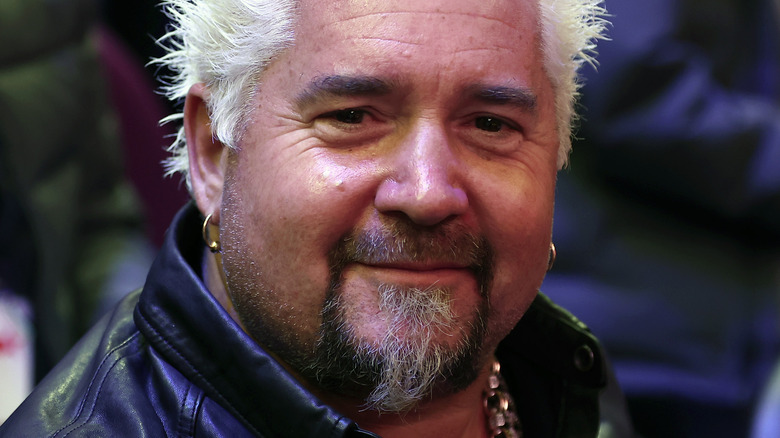 Arturo Holmes/Getty Images
Nicknamed "the Mayor of Flavortown," Guy Fieri is known for his ostentatious style and enthusiastic onscreen personality. However, underneath his frosted tips, the chef truly cares about good food. Moreover, he cares about the restaurant industry at large. Though he's been a huge presence on the Food Network for over a decade in a variety of series, he is no doubt best known for "Diners, Drive-Ins, and Dives." The hit show sees Fieri visit local restaurants and promote small businesses. His popularity is so strong that he scored an $80 million deal to stay on Food Network, and he became the third chef to be awarded a star on the Hollywood Walk of Fame, according to People.
With a career like Fieri's, crossing paths with a few celebrities along the way is par for the course. Stars from Gene Simmons to Adam Sandler have made appearances on his show. However, the chef did more than cross paths with one major actor: Matthew McConaughey. That's right — the chef struck up a friendship with the Academy Award-winner that persists to this day.
Matthew McConaughey praises pal Guy Fieri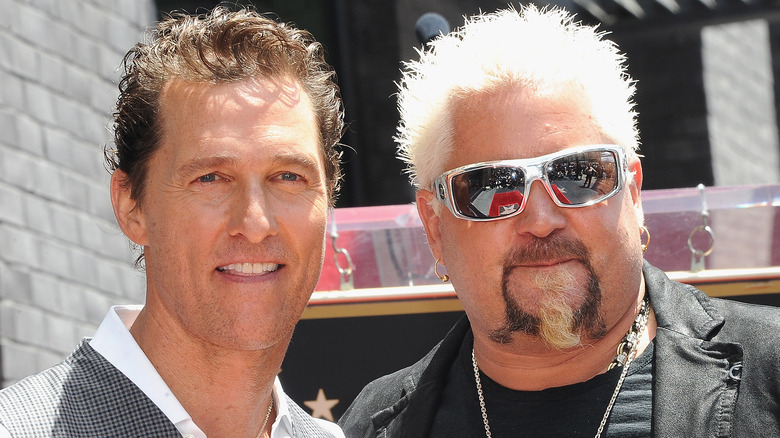 Albert L. Ortega/Getty Images
Though Guy Fieri and Matthew McConaughey may seem like an odd pair, their friendship was built on shared values and shared meals. McConaughey discovered Fieri through his show "Diners, Drive-Ins, and Dives." At the time, he was traveling cross-country in his airstream, and the series became a fast favorite of the actor, according to HuffPost.
In a speech at Fieri's Hollywood Walk of Fame ceremony, McConaughey recounted his first interaction with the chef. Having become a huge fan, McConaughey mustered up the courage to call Fieri to ask for food recommendations. The first time went so well that McConaughey started sharing his road map with him. Eventually, McConaughey found himself back in Los Angeles, so he invited Fieri over. The "Dallas Buyer's Club" star explained that, instead of meeting Fieri's onscreen persona, he found himself with a "conscientious" man "who cared about family" and "cared about faith." McConaughey elaborated that Fieri "could out-hustle a lot of people with equal talent; out-work them."
Citing Fieri's "authenticity," McConaughey summarized his friend in this way: "in a business where you can be anyone you want to be, you've been you the whole time, and that ain't easy." 
Guy Fieri and Matthew McConaughey have a bromance for the ages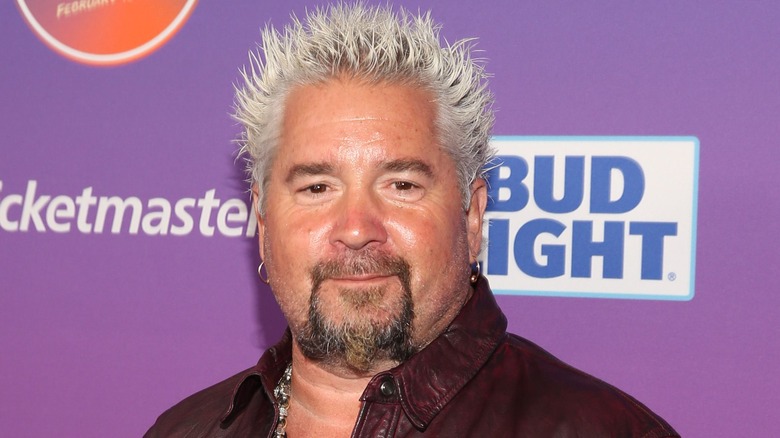 Jesse Grant/Getty Images
The warm feelings Matthew McConaughey has for Guy Fieri are mutual. In the 15 years since they met, the two have remained close. In fact, McConaughey made an appearance on the show that launched their friendship, "Diners, Drive-Ins, and Dives," not once, but three times (via IMDb). He guest starred in the episodes "Triple D All Stars," "Legends of Texas," and "Pork Hall of Fame," all taking place in Texas. Food continued to be a cornerstone of their friendship offscreen, too, so much so that McConaughey tapped Fieri to cater his wedding reception in 2012, per Us Weekly.
More recently, the two shared a wholesome exchange for Father's Day in 2021. On Twitter, McConaughey posted a video reflecting on lessons he learned from his father and asked his friends to do the same. Fieri reflected on his father's love of Kenny Rogers, as well as the need for a "good firm handshake" and looking "people in the eye when you're talking to 'em."
While they may seem like an unusual pair, McConaughey and Fieri both share a similar sense of authenticity. Their friendship recalls that of your father and his former college roommate; they may not share the same style or career path, but no matter how many years pass, their friendship remains as strong... and potentially chaotic.