What Kim Zolciak-Biermann Was Really Like Before Real Housewives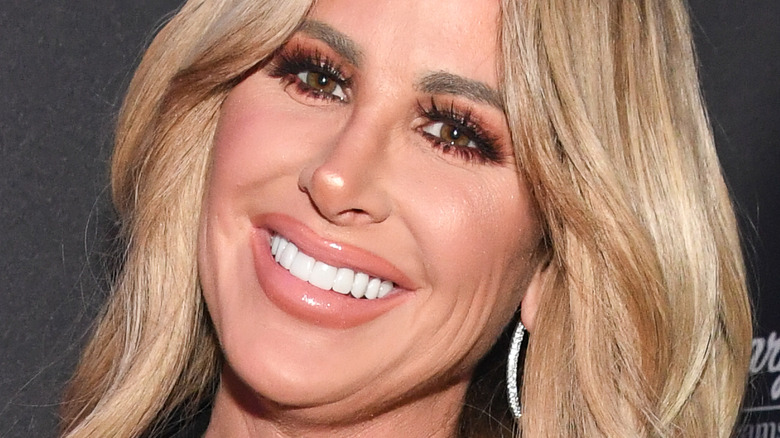 Paras Griffin/Getty Images
Today, Kim Zolciak-Biermann is best known as one of the original stars of Bravo's "The Real Housewives of Atlanta," having appeared on the Georgia version of the hit show for the first five seasons from 2008 until 2013 before then popping up as a guest and a friend in Seasons 9 and 10. After departing the show full time though, Zolciak-Biermann landed her very own family spin-off, "Don't Be Tardy," which ran on Bravo for an impressive eight seasons, starting back in 2012 until the network announced in 2021 that it had run its course. "We greatly appreciate and value the support from all of our fans as we continue to grow in the entertainment industry. In times of significant growth, there are steps that have to be strategically taken, but rest assured, you will see the Biermann family on your TV screens again very soon," the family told Page Six of the cancelation in a statement. "Grab yourself a glass of wine and stay tuned."
Things have changed drastically from when we first met Zolciak-Biermann on the "RHOA" Pilot though, with fans seeing her end things with the notorious Big Poppa fall in love with Kroy Biermann. The two then expanded their family (Zolciak-Biermann has two daughters from previous relationships) to a brood of six, meaning plenty has changed for this star over the years. But what was she really like before all the reality TV fame?
Kim Zolciak-Biermann worked as a nurse before becoming a reality TV star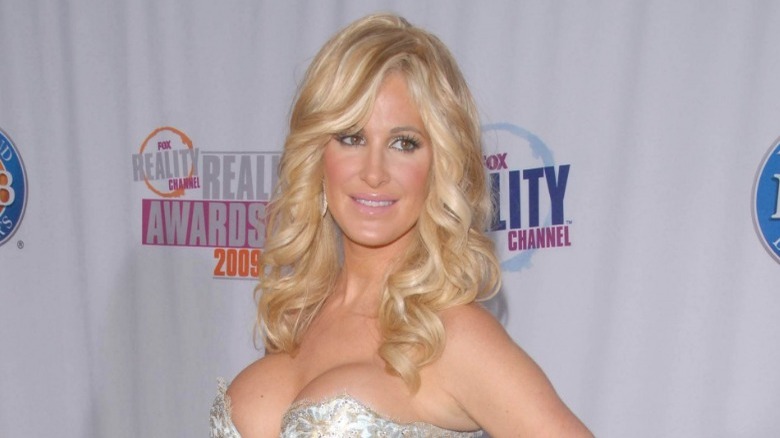 s_bukley/Shutterstock
Before coining some of the most notable phrases and creating some of the most iconic moments in "Real Housewives" history, Kim Zolciak-Biermann worked as a registered nurse. Though fans will likely remember she started out depending a little more on Big Poppa for her money, she actually made her own cash by heading to the hospital back in the day. In 2010, Yahoo! Shine posted all the proof we needed of Zolciak-Biermann's former career, sharing copies of her licenses in Connecticut (where she grew up) and Georgia. It turns out she was a nurse from 1999 until 2003, and, although she's no longer in the nursing profession and hasn't been for a while now, it seems she's still pretty proud of her work helping others.
Back in 2016, the star shared two throwback photos on Instagram which showed her dressed all in white and beaming on her graduation day. "The day I graduated nursing school. I was so damn proud of myself," she captioned the upload. The star touched on her degree again on the social media site the following year, writing in a since deleted Instagram upload (via Bravo), "I went to nursing school and graduated. Practiced for a few years and loved it."
Kim Zolciak-Biermann looked a lot different before becoming famous
In addition to some drastic life changes coming her way since she first started appearing on "The Real Housewives of Atlanta," Kim Zolciak-Biermann also looks totally different today than she did back then. And perhaps even younger!
Zolciak-Biermann has been pretty open about the procedures she's had done to keep her looking her best, confessing to Entertainment Tonight in 2016 that she always wears a wig now and has also plumped up her lips, amongst a few other things. "I've been getting Botox since I was young, for migraines, initially, and now it's the obvious reason. I've had my boobs done. I fixed my hernia and had a tummy tuck at the same time, you know, it's one [and] the same," she explained.
Zolciak-Biermann has proved just how different she looks these days various times on social media, including in 2020 when she shared an epic throwback snap on Instagram showing her as a teenager. "My 16 year old self with my cousin Lindsey," she captioned the image. "How about those highlights."
One thing's for certain — life looks different for Kim Zolciak-Biermann now in almost every single way!