Here's Why Bob Barker Never Had Any Children
Tinseltown/Shutterstock
Bob Barker is best known for his long run as a TV game show host. The legendary television personality had a successful stint as host on "The New Truth or Consequences" from 1956 to 1975, per IMDb. But it was his role as host on "The Price is Right" that made him a household name. Barker watched fans "come on down" for 35 years, from 1972 until his retirement from the iconic game show in 2007. Barker also served as the master of ceremonies for both the Miss Universe Pageant and the Miss America Pageant for more than 20 years.
By the time he retired, Barker had racked up more than 15 Emmy awards, including a coveted Lifetime Achievement Emmy for Daytime Television, in 1999, according to Variety. Barker was also inducted into the Academy of Television Arts & Sciences' Hall of Fame. "This really culminates my professional life," Barker said of his Hall of Fame honor, per the Television Academy. "It's about a nice a thing that could possibly happen to anyone in television."
Barker's busy professional life was full of big moments, but during his first and only marriage he skipped one path — and he has zero regrets.
Bob Barker didn't have time for children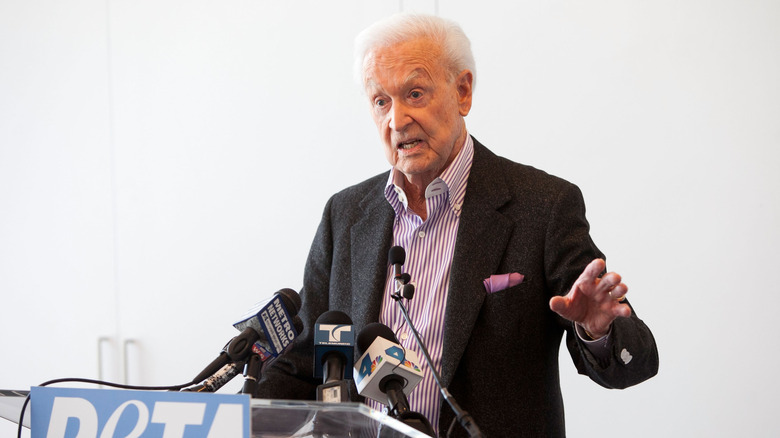 Imeh Akpanudosen/Getty Images
Bob Barker married his high school sweetheart, Dorothy Jo Gideon, in 1945 and they shared 36 years of marriage. "We fell in love as kids. And we stayed in love," Barker told People in a 1999 interview. But during the couple's younger years, they never had children. In fact, the idea was never really on the table. "We didn't have time for children," Barker told Esquire in a 2007 "What I've Learned" piece. "I don't regret it, not when so many of my friends are having so much trouble with their children. I have thirteen ducks, and that's a lot of work."
According to The Toronto Star, instead of children, the Barkers adopted stray cats and dogs and kept their family of ducks in the backyard swimming pool at their California home. Sadly, Gideon died in 1981 at age 57 after being diagnosed with lung cancer, and Barker, now age 99, never remarried. "I never had any inclination to remarry," he said in a 2007 interview with "Good Morning America" (via Closer Weekly)."[Dorothy] was my wife."
Bob Barker was a father figure to many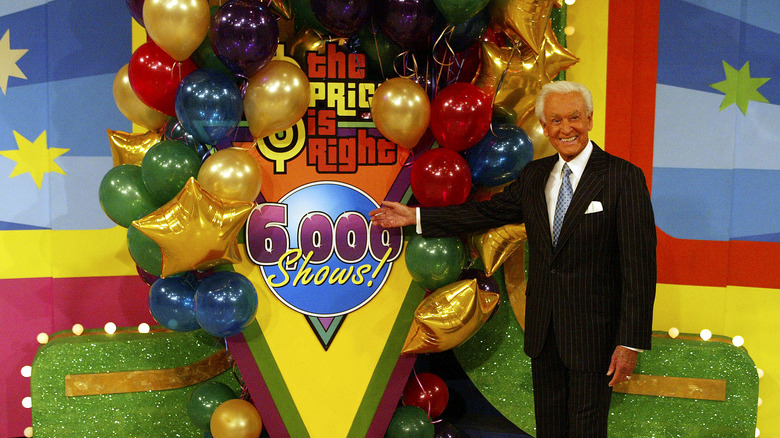 Frederick M. Brown/Getty Images
While Bob Barker and his wife, Dorothy Jo Gideon, never had children, some fans looked to Barker as a father. In a 1994 interview with the Deseret News, "The Price is Right" announcer Rod Roddy said fans were "crazy" about Barker. "He's a father figure, like the guy on`Dynasty.' He's a handsome, stately, older man," Roddy said of the game show legend.
Even though he didn't have kids, Barker had great respect for children. In his 2009 memoir, "Priceless Memories," Barker revealed that while contestants on "The Price is Right" had to be over 18, he often worked with children on "Truth or Consequences." "Little kids can be marvelous contestant," he wrote, adding that a child can get "laughs" if they are open to talking on-camera. "If a little girl or little boy will talk in a natural way with you and you can't get laughs with him or her, you're in the wrong business," he wrote.
While he had a sweet connection with kids, Barker spent much of his life advocating for animals. Fans may recall that Barker traditionally singed off from "The Price is Right" with a reminder to "have your pets spayed or neutered." Barker also founded the DJ&T Foundation to help subsidize animal needs, per People. His longtime companion, Nancy Burnet, told Fox News that Barker was grateful for the platform he had for animals on "The Price is Right."