Inside Bob Barker's Life Now Since Leaving The Price Is Right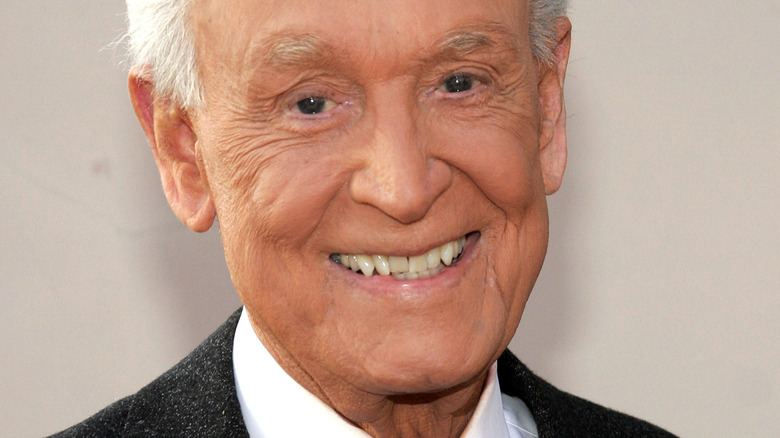 Tinseltown/Shutterstock
"The Price Is Right" has been a beloved game show since 1972 and the daytime TV institution has long been associated with its former host, Bob Barker. The acclaimed television personality first got his start in the entertainment field working at a radio station, per The U.S. Sun. Barker entered the television world when he hosted the game show "Truth or Consequences" from 1956 until 1975. He then went on to host "The Price Is Right" until he retired in 2007. 
Barker won 19 Daytime Emmy Awards and was honored with a Lifetime Achievement Award at the 1999 Emmy Awards, per CNN. In 2004, he was inducted into the Television Academy Hall of Fame, along with Katie Couric and Dan Rather, per the Emmys. Barker is also well-known for his dedication to animal rights and even started closing "The Price Is Right" with the words, "This is Bob Barker reminding you to help control the pet population — have your pets spayed or neutered," as reported by Outsider.
In 2006, Barker announced that he would be retiring after 34 years. "I will be 83 years old on December 12 and I've decided to retire while I'm still young," he told the Associated Press (via People). He explained that the show was too physically demanding for him saying, "I might be able to do the show another year, but better a year too soon than a year too late." Now, at 99 years old, the former television host is still going strong.
Bob Barker celebrated his 99th birthday in 2022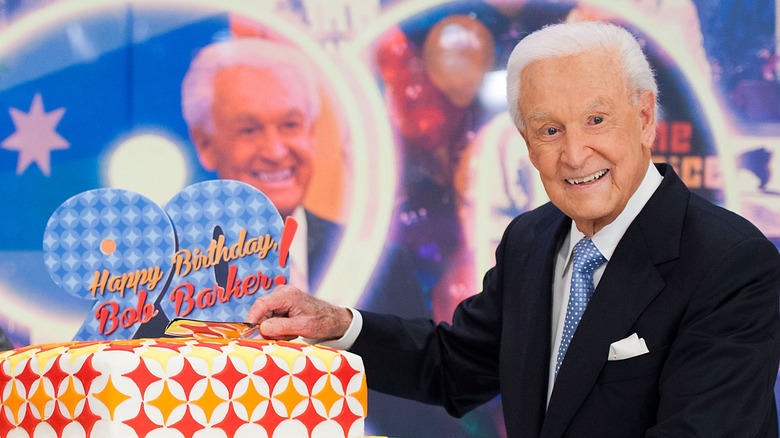 Valerie Macon/Getty Images
Bob Barker has reached another major milestone in his life. The former host of "The Price Is Right" turned 99 on December 12, per NBC. According to Barker's camp, his birthday plans included "watching his favorite TV shows" and spending his day "quietly." In the months leading up to his 99th birthday, Barker's girlfriend Nancy Burnet gave an update on his health. "He's doing pretty well ... he's happy, he's engaged. He's just doing remarkably well for almost 99 years of age," she told Closer. She added that while he's "a little bit forgetful ... that comes with the territory."
"A lot of people at that age are very gaunt, frail. He isn't at all, he's very sturdy. His weight is good, he's strong and he has this meal replacement in addition to his regular meals because [it's] just the way he gets everything," Burnet told the publication. The 79-year-old shared that Barker keeps busy by reading anything to do with history and watching television. However, Burnet revealed that Barker doesn't watch his former show, as it's "nothing like it was."
When Barker retired, comedian and former sitcom star Drew Carey took over "The Price Is Right." It appears that the longtime host wasn't too thrilled with his predecessor.
Bob Barker shades Drew Carey's hosting skills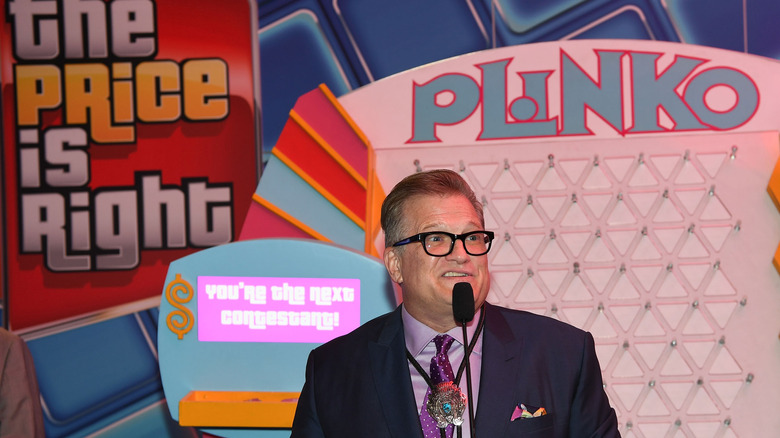 Denise Truscello/Getty Images
A month after Bob Barker stepped down from "The Price Is Right," he gave his opinions on the new host, Drew Carey. "He does the show differently than I did. I tried to make the show really exciting, and he doesn't do that. He just plays the games," he told TMZ.
Prior to taking over "The Price Is Right," Carey told People that Barker gave him some tips. "I knew I could never be Bob, and I wasn't going to try to be Bob. We went out to lunch and his advice was, "Don't try to copy me. Just make it your own show."
However, there seemed to be no bad blood between them when Barker made a special appearance on the show for his 90th birthday. "I had a lump in my throat there for a while, I really did," the former host later told CBS News. "Well, I mean you did it for 50 years," Carey pointed out as he sat alongside Barker. He then complimented "The Drew Carey Show" star. "I think he's doing a beautiful job. If he weren't, the show wouldn't still be on the air." It looks as though Carey finally got Barker's seal of approval and has graciously passed on the torch.