How Bob Barker Really Felt About The Price Is Right Might Surprise You
Matt Winkelmeyer/Getty Images
When fans hear the name "Bob Barker," they immediately think of The Price is Right. And when fans think about the show, they also think of his famous tagline: "Help control the pet population. Have your pets spayed or neutered." According to CNN, Barker started his career long before The Price is Right. In 1956, he hosted a game show titled Truth or Consequences, and believe it or not, he was on that show for 18 years. Then, in 1972, Barker nabbed the role of his lifetime and became a household name on The Price is Right. He was with his second show for twice as long as his first, and his storied career came to an end in 2007. At the time, he had been with the show for 35 years. Barker starred in thousands of episodes, per IMDb, and he also served as an executive producer. 
According to the Emmy website, Barker has received 15 award nominations, including 12 as TV host. In 1999, he received the prestigious Lifetime Achievement Award for his work on the show. His fame also allowed him to meet many other celebrities, including the legendary Chuck Norris. "One time, Chuck [Norris] was working with me. We were sparring, and he kicked me right in here," Barker said in an interview before revealing that the fight resulted in four broken ribs. So, was the show that skyrocketed him to fame and fortune worth it? Keep scrolling to find out!
Bob Barker doesn't watch the show in his retirement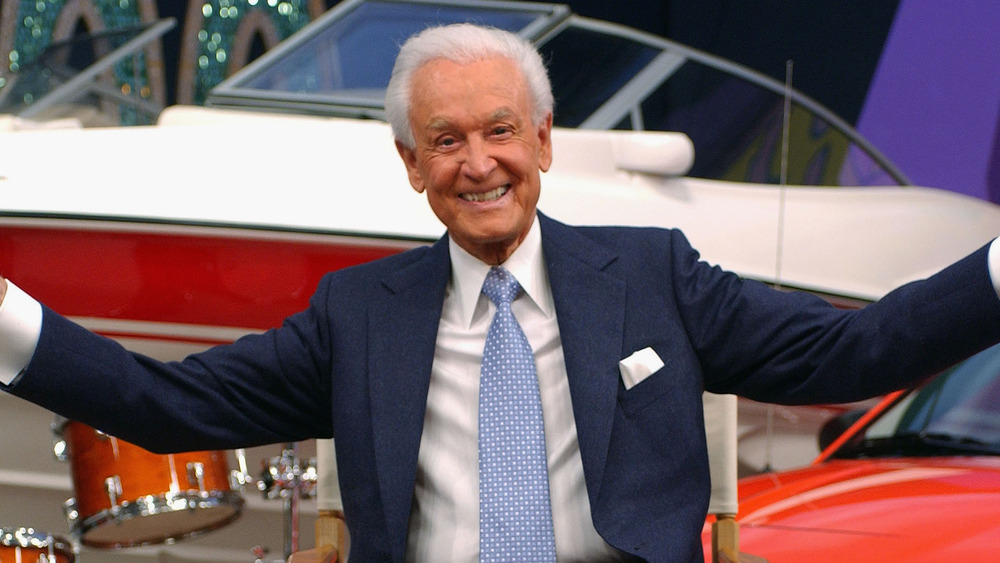 Amanda Edwards/Getty Images
Maybe Adam Sandler was right when he told Bob Barker that the price was wrong in the 1996 film Happy Gilmore. It turns out the game show host did not love the show that made him famous (though he could have fooled us because we thought he was great at it!) After Drew Carey took over the show, it had somewhat of a different vibe. In an interview with Good Morning America from 2009, Barker revealed that he does not even watch his successor. "I sometimes turn it on for a game or two. But I don't watch it. I'm not a loyal viewer," he revealed. 
The former game show host also shared that he was plenty comfortable in retirement, and both of his hands are occupied at all times — one by petting his dog and the other with "a bottle of tequila." In 1990, he credited the longevity of his show to the viewers. "The minute we put something up for bid and the contestant makes a bid, the viewer is involved," Barker told the Los Angeles Times. "Once you become involved, we have accomplished what the producer of every game show wants — viewer involvement."
According to CheatSheet, Barker retired at the ripe old age of 83. Until 2014, he held the Guinness Book of World Records for the most episodes hosted with 6,700. The late Alex Trebek was fittingly the host to take over the throne with more than 6,829 episodes of Jeopardy! under his belt by 2014.