The Shady Claims That Have Been Made About Chevy Chase's On-Set Behavior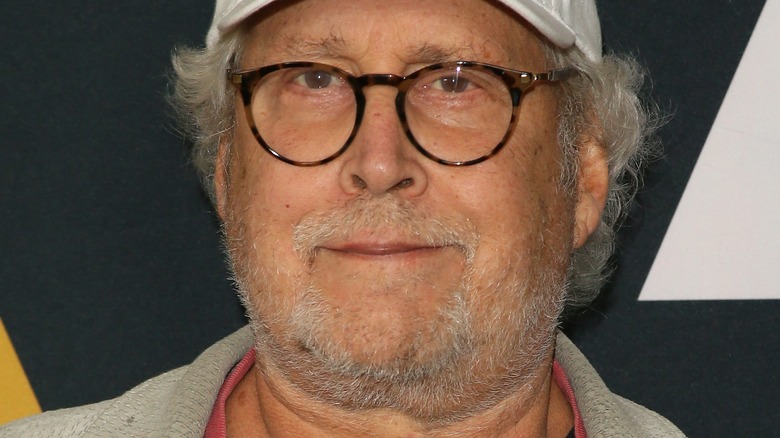 Jean Baptiste Lacroix/Getty Images
As a comedian, Chevy Chase became legendary for helping create "Saturday Night Live" as we now know it. But among the people he's worked with, Chase is legendary for another reason: his terrible on-set behavior. Everyone from Will Ferrell to Chris Columbus to Donald Glover (and many, many more) have related stories about Chase's allegedly racist, sexist, and sometimes downright mean remarks. In "Live From New York," Bill Murray says the two once even got into a fist-fight (via Cracked).
When asked to account for all of these allegations, which appear to go back to the beginning of his career in the '70s, Chase doesn't have a lot to say. "I don't give a crap," he said in a "CBS Sunday Morning" interview in February 2022 (via Variety). "I am who I am. And I like who I am. I don't care. And it's part of me that I don't care. And I've thought about that a lot. And I don't know what to tell you, man. I just don't care."
Former SNL stars spoke up against Chevy Chase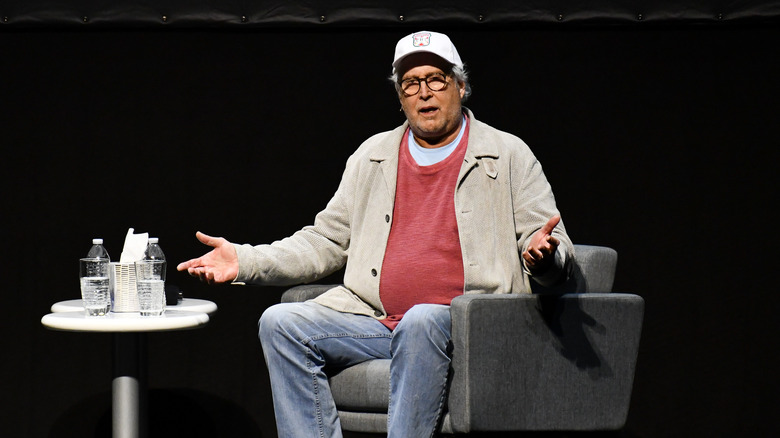 Allen Berezovsky/Getty Images
Some of the earliest allegations of bad on-set behavior from Chevy Chase come from his time on "Saturday Night Live," and stories about his behavior have continued every time he's appeared on the show. Pete Davidson, for instance, once said on Howard Stern (via People), "He's a f***ing d*****bag. F*** Chevy Chase. He's just a genuinely bad, racist person and I don't like him. He's a putz." 
If this seems harsh, well, there's a reason Chase is one of only a few people who are banned from ever hosting "SNL" again. Will Ferrell said in "Live From New York" (via Cracked) that you'd find a "consensus" on how Chase is viewed in the industry. Ferrell even recalled a time Chase made an inappropriate sexual overture to a female writer that left "SNL" creator Lorne Michaels "embarrassed and red." "In hindsight, I wish we'd all gotten up and walked out of the room." The "Step Brothers" actor also said that Chase was prone to screaming at people in the hallways and trying to play it off as a joke.
Then there are the accusations from his former costars on "Community."
Chevy Chase was accused of racism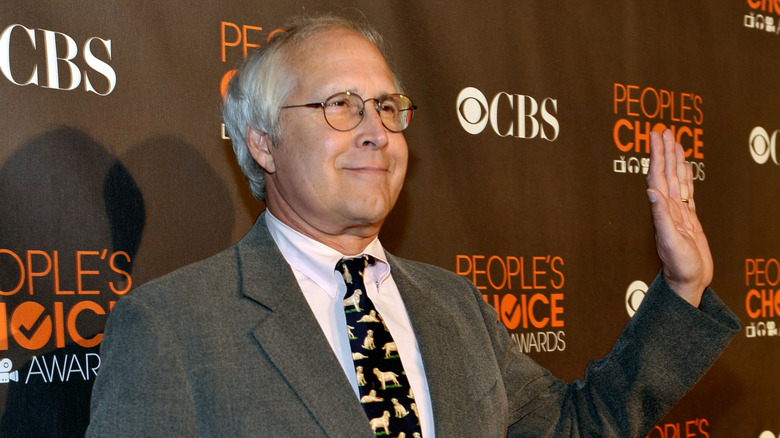 Charley Gallay/Getty Images
In a New Yorker profile, Donald Glover, who starred with Chevy Chase on "Community," was often on the receiving end of Chase's "racial cracks" toward him. According to Glover, Chase once told him, "People think you're funnier because you're Black." And the show creator, Dan Harmon, appeared to back this up when he said, "I remember apologizing to Donald after a particularly rough night of Chevy's non-P.C. verbiage."
Chase is also alleged to have used the N-word on the "Community" set, according to TMZ, during a blow-up about the direction of his character. According to a content creator on TikTok who was a background actor on the show, Chase using the racial slur is what led to him being fired. "Yes, he said the N-word and Yvette Nicole Brown walked off and said, 'I am not coming back until that man is off the show.'"
In a Washington Post profile, Chase said simply, "I've already done what I've done. I can't change anything. And I'm old. I don't have to worry about what I did anymore. I know who I am."