Chevy Chase Has Bold Words Following Pete Davidson's Criticism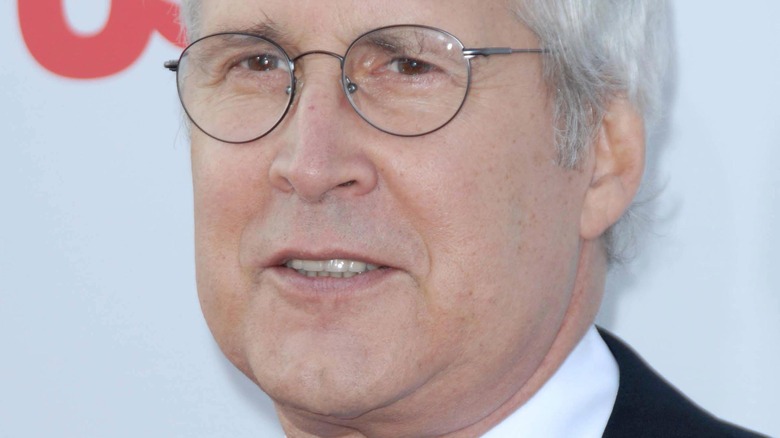 s_bukley/Shutterstock
Pete Davidson has been through it lately. If you haven't been keeping up, allow us to fill you in. In October, Kim Kardashian hosted "SNL" and shared an onscreen kiss with the comedian. Soon, they were spotted grabbing lunch in his home base of Staten Island, and it quickly became evident that they were more than just friends. That's when Davidson's problems really began.
Kim is in the midst of a nasty divorce from rapper Kanye "Ye" West. He has hung out with Davidson a few times in the past, so Ye took the news about his soon-to-be-ex and his buddy hooking up pretty hard. In true Ye fashion, he posted a series of absolutely bizarre Instagram posts about the couple. In one post — a mockup of a Marvel movie poster — Ye photoshopped himself Drake, Julia Fox (Ye's most recent ex), and Travis Scott on one side. On the other side, he photoshopped pictures of Kim, Davidson, Taylor Swift, and Ye's new nemesis Billie Eilish. Ye followed it up with a series of since-deleted photos mocking Davidson's Hillary Clinton tattoo and relationship with Kim.
This is all to say that last week was probably pretty annoying for Davidson. Unfortunately for the comedian, though, Ye isn't the only celebrity calling him out publicly. Davidson is also going head to head with Chevy Chase.
Chevy Chase isn't a fan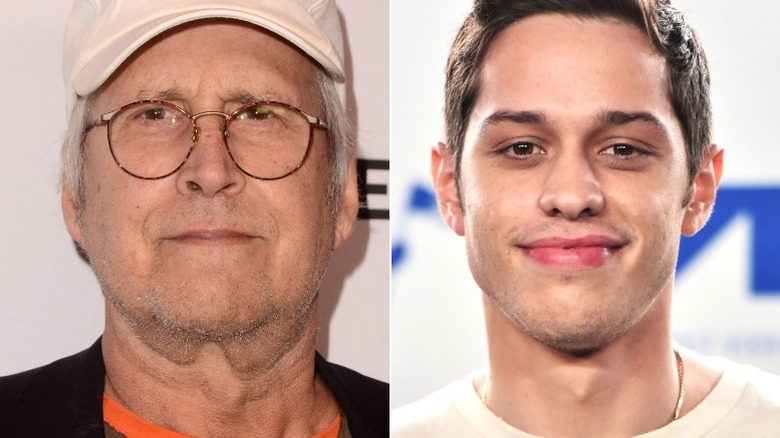 Alberto E. Rodriguez/Getty & Kathy Hutchins/Shutterstock
The issues between Pete Davidson and Chevy Chase began back in 2018 when Chase bashed "SNL" during an interview with The Washington Post. "I'm amazed that [Lorne Michaels] has gone so low," Chase told the outlet. "I had to watch a little of it, and I just couldn't f******* believe it," he continued. "How could you dare give that generation worse s*** than they already have in their lives? It just drives me nuts."
Davidson didn't take the criticism of his show or his boss lightly. "F*** Chevy Chase," Davidson said on "The Howard Stern Show" (via Variety). "He's just a genuinely bad, racist person, and I don't like him," he added, referencing Chase's alleged racist comments toward his "Community" co-star Donald Glover. "He's a putz." Davidson continued, "It's disrespectful to Lorne, too, a guy who gave you a career. No matter how big you get, you can't forget what that guy did for you."
Thanks to all the Kanye West drama, Davidson has bigger problems than Chase these days, but that latter hasn't forgotten the former's comments. When asked about the criticism during an appearance on "CBS Sunday Morning," Chase did not mince words. "I don't give a crap," he said. "I've thought about that a lot. And I don't know what to tell you, man. I just don't care."