Rihanna Shares First Glimpse Of Son In Adorable New TikTok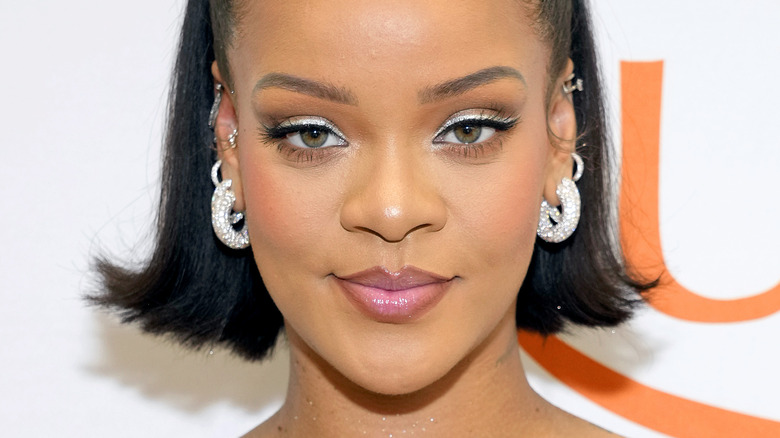 Kevin Mazur/Getty Images
Rihanna is finally sharing her little one with us! Months after confirming her relationship with A$AP Rocky, Rihanna revealed in January that she was expecting her first child with the rapper. In May, the couple welcomed their son. "Rihanna is doing well. They are very excited to be parents. Rihanna is already a wonderful mom," a source told People at the time. 
Despite the public's excitement around her pregnancy, however, Rihanna and Rocky chose to keep their son away from the public eye, seemingly following in the footsteps of Khloé Kardashian and Kylie Jenner, who have yet to reveal their sons to the world. One thing Rihanna has done, though, is let fans know just how much she's enjoying her new role as a mother. "He is funny, he's happy — and he's fat," she gushed to People in November. He's amazing. It's a real cuddly stage right now."
That same month, the singer opened up to Entertainment Tonight about her favorite part of motherhood. "Oh my god, the mornings, like, seeing his morning face! Seeing a baby with, like, little bags and waking up and they're just, like, startled. They're trying to figure out where they're at. It's the cutest, it's my favorite part of the day," she told the outlet. And while Rihanna previously admitted to AP News that she and Rocky hadn't gotten around to sharing their son with the world, the singer has taken the big step. Here comes baby Fenty!
Fans can't get over Rihanna's surprise reveal
Christmas came early for The Navy and we can't keep calm. On December 17, Rihanna made her TikTok debut, sharing a video of her and A$AP Rocky's son whose name remains unknown. In the clip, the little one was captured in his baby seat, smiling and cooing at his mom who was behind the camera recording. "You tryna get Mommy's phone?" Rihanna sweetly asks her boy as he seemingly attempts to grab the phone out of her hands. "Hacked," the singer captioned the sweet video. In addition to the TikTok video, Rihanna and Rocky also officially debuted their son with the blogs. In pictures exclusively obtained by Hollywood Unlocked, the newborn was captured in his famous father's arms. A third snapshot saw the little one in a white onesie while lounging on the bed. Expectedly, since sharing the video and photos, the internet has gone wild over the singer's surprise reveal.
"stoppp he's so cuteeeee," one fan tweeted, while another described him as "absolutely beautiful." On the other hand, some fans couldn't help but notice the little one's uncanny resemblance with his parents. While some believe the newborn favors his mother's looks, a few say he shares a striking resemblance with Rocky. "HE LOOKS JUST LIKE ASAP OMG," a Twitter user wrote. "Such a cute bundle of joy.. he looks just like his mama," another commented.