Rihanna Has A Simple Reason For Not Introducing Her Son To The World Just Yet
Kevin Mazur/Getty Images
According to TMZ, Rihanna welcomed her first child with A$AP Rocky back in May. Prior to giving birth, the "Diamonds" singer was not afraid to show off her baby bump, proudly putting it on display at fashion shows per Complex. Rihanna announced her first pregnancy through a candid photoshoot with A$AP Rocky in January, as seen in photos obtained by Vogue. While the couple originally maintained a serious level of mystery surrounding how far along Rihanna's pregnancy was, they eventually revealed more details in March.
In an interview with Elle, Rihanna explained, "There's a pregnancy glow. There's also those days, girl. Especially in the third trimester where you wake up and you're like, 'oh, do I have to get dressed?'" She also revealed that she admires Teresa Giudice from "The Real Housewives of New Jersey" for being so protective over her children. "She will flatten you about those kids and that resonates with me a lot because I feel like that's the type of mom I'm going to be. Psycho about it," Rihanna said. After giving birth to her baby boy, it became clear that the singer would be keeping her word. In fact, she just revealed why she's been so secretive about her first child.
Rihanna is enjoying life as a new mother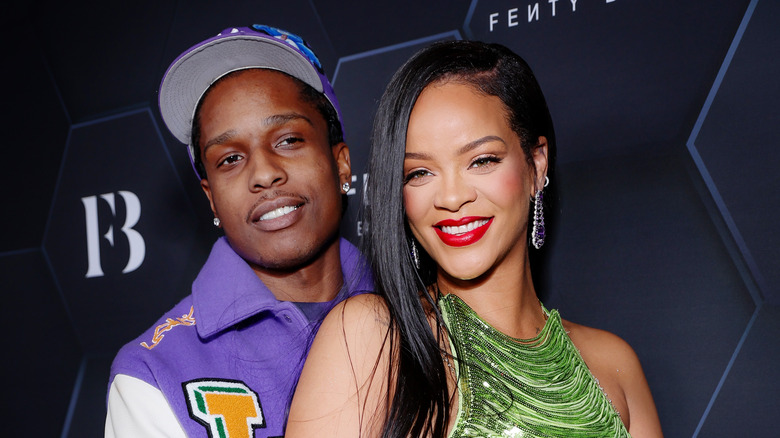 Rich Fury/Getty Images
Since the May birth of Rihanna and A$AP Rocky's child, very few details have been shared over the past five months. It was unclear to fans why Rihanna and the rapper had yet to disclose the baby's name or a photo of their child on social media. However, Rihanna recently opened up about motherhood in an interview, revealing why she hasn't introduced her son to the world just yet. 
She simply told The Washington Post, "We just didn't get around to it yet, really. We've just been living, but I guess there's a certain freedom that comes with kind of just, like, getting it out there." Although fans may have assumed the popular entertainers were opting to keep their first born out of the spotlight, it seems as though they just haven't put much thought into that yet. 
Of course, the birth of her first child isn't the only exciting announcement the singer has made this year. In October, Rihanna revealed that she would headline the 2023 Super Bowl halftime show, and fans can expect the singer to put her heart and soul into the performance. She told ABC News, "If I'm going to leave my baby, I'm going to leave my baby for something special." The singer added, "It was now or never for me."