Rihanna Is Glowing In Her First Appearance Since Giving Birth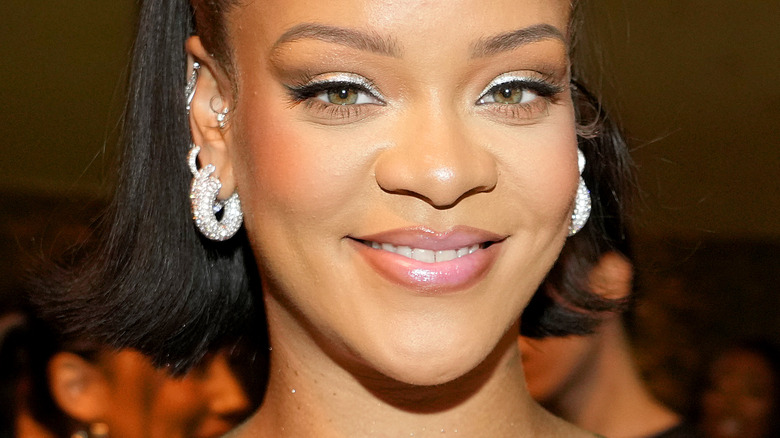 Kevin Mazur/Getty Images
When Rihanna stepped out in a stunning pink coat, a pair of jeans, and the most dazzling accessory — her growing baby bump — the world took notice. Having confirmed the news (Via Vanity Fair) that she and partner A$AP Rocky were expecting their first child, Rihanna continued to stun fans and spectators alike with her maternity wardrobe, all but redefining the expectations of impending motherhood, and maternity fashion.
The Barbadian hitmaker has been stunning fans since her first mega-hit song "Pon de Replay" hit the airwaves in 2005, and since then she's become one of the best-selling artists of all time, and a fashion icon. One stylist raved to Vogue about Rihanna's incredible pregnancy looks, "Rihanna is setting pregnancy style ablaze," said Solange Franklin. "It's not hiding. It's not accommodating. It's more of an effusive energy ... an unabashed and abundant beauty."
As Rihanna has continued to thrive as a mogul and businesswoman in the fashion and makeup industries, her latest appearance — as part of a Fenty Beauty launch — has captured the attention of fans once again.
Rihanna shows off after having her first baby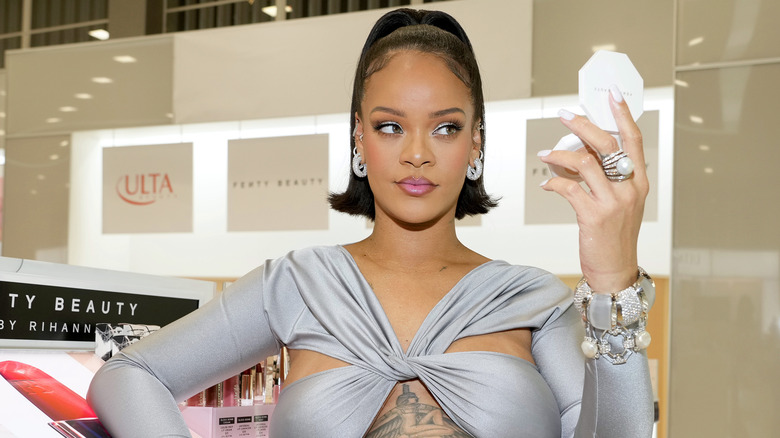 Kevin Mazur/Getty Images
Rihanna and A$AP Rocky welcomed their first child in May 2022, and the new family has kept life quiet for a few months. As one source told People, "Everything Rihanna does, she does it her own way on her own time table, and having a baby is no different."
Now the public has been treated to their first glimpses of the fashionable new parents. A$AP Rocky is headlining London's Wireless Fest, where Rap Alert spotted Rihanna supporting him from the crowd. Twitter users also spotted the pair at a London barbershop. One Rihanna and Rocky fan raved, "anyone bumping into rihanna in london is one of gods favourites."
She also treated her loyal fans to a new beauty video, showing off a new Fenty Beauty launch. However, Bad Gal Ri Ri's fans are more interested in her latest project. As one commenter declared, "I know we're all thinking the same thing 🤭 where's our nephew, sis? We wanna see him NEOW lmao."