David Beckham Has A Sweet Tattoo For His Son Brooklyn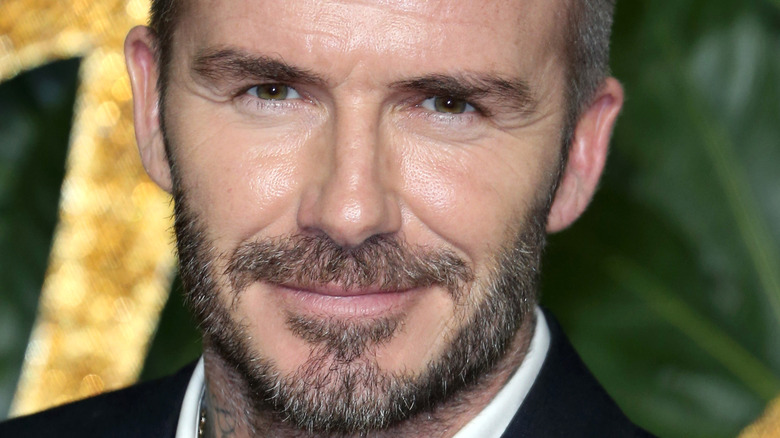 Fred Duval/Shutterstock
David Beckham is famous for many things, including his tattoos. The soccer legend/style icon has built quite the collection of body ink throughout the years, which Men's Health believes is somewhere between 60 to 80 as of 2021. His primary artist, Mark Mahoney, attested to Beckham's love for tattoos in an interview with Daily Star in 2017. Mahoney said, "I have a handful of people who will get tattooed all the time, but not as much as David." He added that the star athlete is one of his best clients — and hands down his toughest. "He is the only one who doesn't feel pain. He sits amazing [sic] and is the ideal customer," Mahoney said. "It's as if he's at one with the universe when he's getting tattooed."
Among Beckham's tattoos, there are more than a few that stand out. These include a passage from Confucius' "The Analects" on his left ribcage, which means, roughly, "Death and life have their determined appointments; riches and honor depend upon heaven;" and an image of an angel with the words "in the face of adversity" on his right upper arm, reportedly as an allusion to his cheating scandal in 2004. He also has "Victoria" on his left hand as a sweet tribute to his wife of 23 years, Victoria Beckham. Additionally, David has the name "Buster" on the right side of his neck, which he got in honor of their eldest son, Brooklyn, and the ink holds special meaning for the father and son. 
Buster is Brooklyn's childhood nickname
In 2015, David Beckham took to Instagram to debut a special addition to his ever-growing collection of ink: The word "Buster" with a small heart underneath, which he revealed is dedicated to his firstborn son Brooklyn. "I've always called Brooklyn 'Buster' since the day he was born," David explained in the caption of his post. "Love you Bust." 
It's the second known tattoo David has dedicated to Brooklyn after getting his son's name inked on his lower back in 1999, following Brooklyn's birth, per Men's Health. Since then, David has added the names of his two other sons, Cruz and Romeo, to his back as well, along with a guardian angel to watch over his three boys. "I like the feeling that [my] boys are with me even when I'm away from home," he said in his autobiography (via Beckhams' Tattoos). "There's a guardian angel there, too, looking after them."
David has also honored Brooklyn, Cruz, and Romeo with a chest tattoo featuring an image of three cherubs lifting Jesus from his tomb, per the Daily Mail. The soccer star explained: "Obviously the cherubs are my boys. My thought of it is, at some point, my boys are going to need to look after me and that's what they're doing in the picture." David has several tattoos dedicated to his only daughter, Harper, as well. These include her name on his neck — underneath the words "Pretty Lady" — and a stick drawing of Harper on his right palm, per Men's Health. 
Brooklyn also has a 'Buster' tattoo
In early 2018, chef and photographer Brooklyn Beckham also got his childhood nickname Buster tattooed on his torso — just above his belly button. His artist, Mr. K of Bang Bang Tattoo, posted a photo of Brooklyn's special ink to Instagram alongside the simple caption, "his nickname is Buster @brooklynbeckham." 
Like his dad, David Beckham, Brooklyn has also developed a serious love for body art since getting his first tattoo in 2017, shortly after he turned 18 years old, according to Entertainment Tonight. In fact, he has officially surpassed his heavily tattooed father by getting over 100 separate pieces inked on his body — and he's only 23 years old! Similar to David, some of Brooklyn's tattoos are dedicated to his family, including "1975" and "7" — in honor of his father's birth year and jersey number, a rose-embellished heart as a tribute to his mother Victoria Beckham, and a ballet dancer tattoo to commemorate his younger sister Harper, per People.
That said, most of his tattoos are dedicated to his wife, actor Nicola Peltz, whom Brooklyn wed last April after three years together (via CNN). Brooklyn, in an interview with USA Today, said that of his 100 tattoos, about 70 of them are in honor of Peltz. "She always cries when I get her another tattoo," he said. "I always love to surprise her with new ink." Aww ... If that's not true love, then we don't know what is!