How David And Victoria Beckham Really Met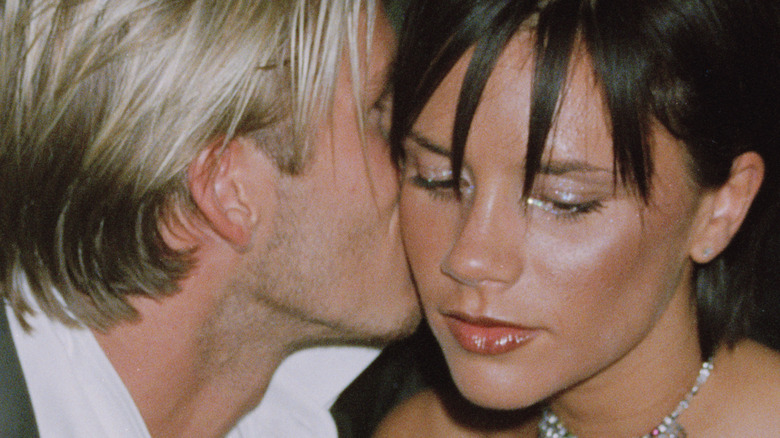 Dave Benett/Getty Images
It seems almost unbelievable that there was ever a world where David and Victoria Beckham weren't a couple. However, it's true. Once upon a time, long, long ago, the lovebirds were just perfect strangers. 
The Beckhams have been married for 23 years, and together for even longer. In normal terms, that's a long time — and in Hollywood, it's essentially an eon. As such, these two have become nothing short of a package deal. "Posh and Becks," "David and Victoria," "The Beckhams": Whatever moniker they go by, they're an inseparable pairing.
That said, there was a time when tabloid critics doubted they'd stay together. As Victoria shared in a hilarious Instagram post commemorating 23 years of marriage in July, she joked, "they said it wouldn't last," alongside a cry-lauging emoji. In spite of the naysayers, though, the pop star-turned-fashion designer has previously told British Vogue (via People) that they've got to a place where even the most vicious rumors can't get them down. "We both realize that we are stronger together than we are as individuals," she told the outlet. It's a match made in A-list heaven ... but where did this love story begin?
It was love at first sight for the Beckhams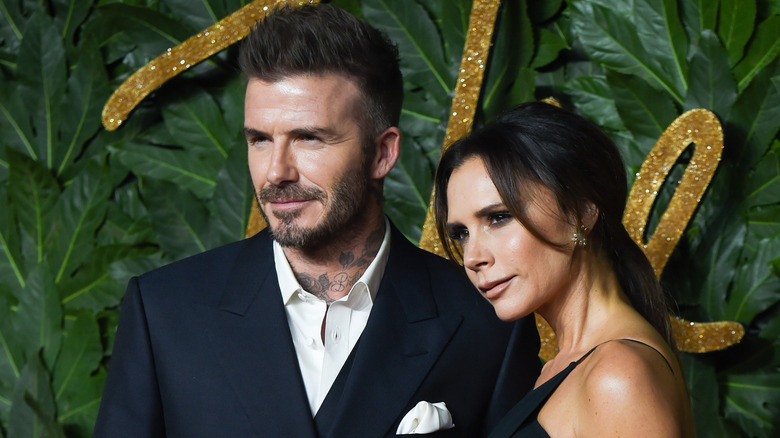 Featureflash Photo Agency/Shutterstock
If David and Victoria Beckham's marriage didn't already feel like a fairytale (ahem, they wed in an actual Irish castle), their meeting is the stuff of a romantic comedy. In an open letter to herself published by British Vogue in 2016, the Spice Girls alum recounted their very first encounter. "Love at first sight does exist. It will happen to you in the Manchester United players' lounge," she wrote. 
The now-Mrs. Beckham went on to add that what struck her at first was that instead of mingling with his teammates, David had chosen to spend time with his family. At the time, David hadn't yet hit the big leagues. As Victoria reminisced in her trademark deadpan humor, "you are the famous one." In light of that, his choice to forego any schmoozing was all the more impressive. "You, too, are close to your family, and you will think how similar he feels to you."
David previously shared that he, too, knew his wife was "the one" early on. By "early on," we do mean before they even met. As he told W Magazine in 2007, a glimpse of her in a music video was all it took. "I turned around to Gary [Neville, his former Manchester United teammate] and said, 'That one there, that's the girl I'm going to marry.'" David Beckham: superstar soccer sensation and master of manifestation!
But that doesn't mean there wasn't any awkwardness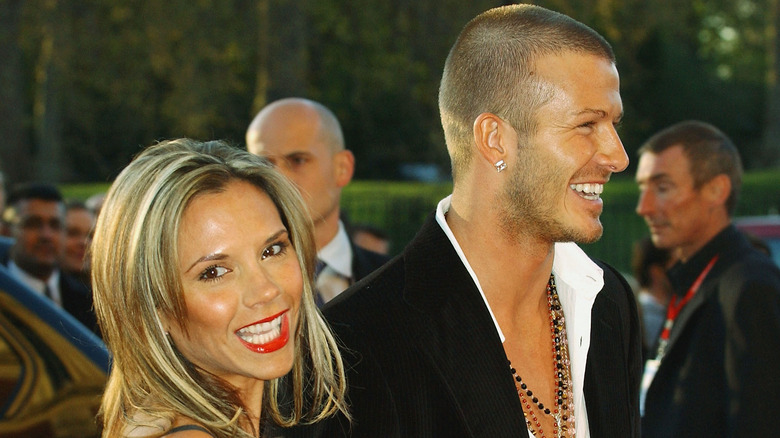 Steve Finn/Getty Images
As Victoria Beckham was quick to remind fans via British Vogue, she was more famous than her husband-to-be when they first met. Perhaps that's why she saw their love story unfold seamlessly. That, or the fact that in the same letter, she joked about alcohol consumption making details of their first meeting "hazy." Either way, David Beckham has been open about how shy he was around her, early on. 
Speaking with W Magazine, David shared that he'd thought he destroyed his chances after their first meeting. "I just sort of waved from the other side of the bar," he admitted. When he finally plucked up the confidence to make conversation, he added that all he could really muster was a greeting. It was only a week later, when they saw each other again at another match, that he actually got her number. Luckily for David, he overcame the shyness, and the rest is history. Today, they're the proud parents of four children, and with their eldest, Brooklyn marrying Nicola Anne Peltz earlier this year, they now have their first daughter-in-law, too. 
Much has changed for the Beckhams since their first meeting. David became an internationally-renowned soccer star. Victoria has gone from popstar who would "turn up at awards ceremonies resembling a drag queen" — her own words, per British Vogue — to fashion designer, known for her minimalistic clothing line. One thing that hasn't changed, though? Their continued love for one another. A happily ever after, indeed!