The Serious Medical Condition Lil Wayne Lives With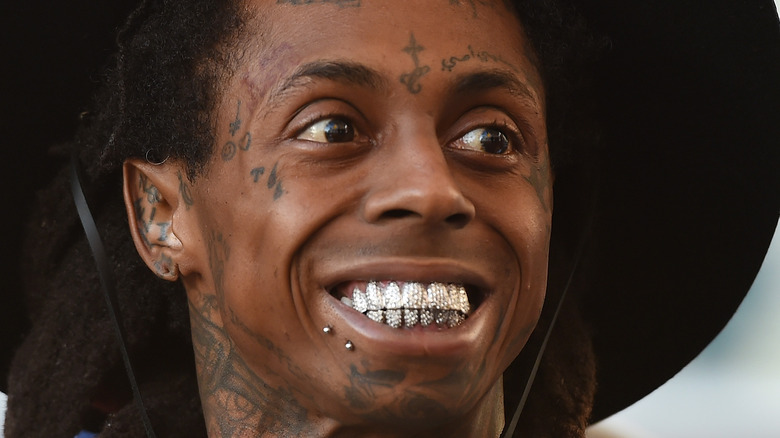 Ethan Miller/Getty Images
Lil Wayne has had many hits over his career, but the public was left surprised when he experienced multiple seizures in 2013. At the time, TMZ reported that he had been placed in a medically-induced coma, with the article suggesting that the seizures were possibly related to recreational drug use and that Lil Wayne was near death. Earlier in October 2012, the rapper had reportedly suffered from seizures as well, according to The Guardian. However, both he and his representatives denied the claims.
There was speculation at the time that Lil Wayne drinking "sizzurp" or "lean," a drink that includes codeine as one of its ingredients, may have been the cause of his seizures, according to The Los Angeles Times. However, the newspaper wrote that Lil Wayne's label publicly had attributed his hospitalization to stress.
The rapper himself later clarified that the drug-related speculation was incorrect, as reported on by Rolling Stone, and he additionally revealed that a serious medical condition was behind Lil Wayne's hospitalization and seizures.
Lil Wayne has epilepsy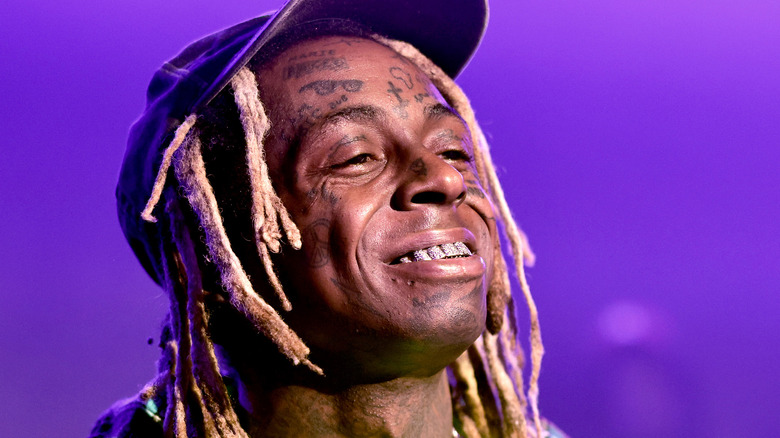 Greg Doherty/Getty Images
Following concerns from the public that his seizures were the result of drug use, Lil Wayne explained that he has epilepsy in an interview with radio station Power 106, per E! News. He mentioned, "This wasn't my first, second, third, fourth, fifth, sixth, seventh... I have had a bunch of seizures, you just never hear about them."
As noted by The Guardian, Lil Wayne explained in a November 2012 interview with MTV News that he was on medication to treat seizures and expressed, referring to the possibility that he might be using drugs, "I don't want y'all to think I'm on nothing, man. I'm on seizure medicine, man, that's all."
Per the World Health Organization, epilepsy is a common neurological condition, but diagnosis and treatment are important in the reduction of its mortality rate. Still, seizures can be fatal; actor Cameron Boyce was epileptic and died in his sleep because of a seizure.
Lil Wayne has experienced seizures on other occasions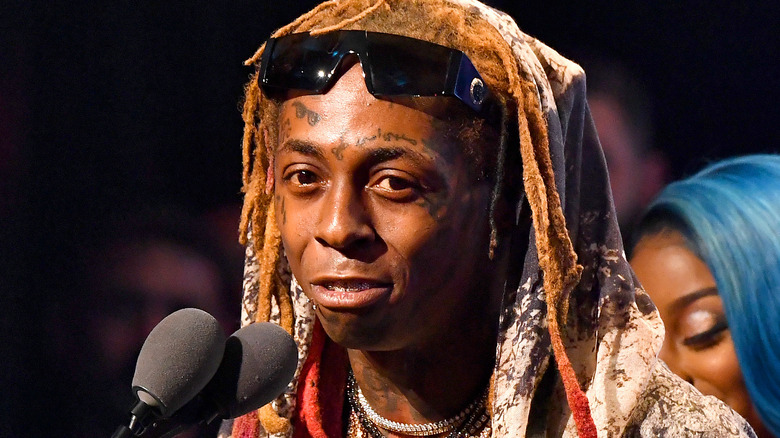 Paras Griffin/Getty Images
Since going public with his diagnosis of epilepsy, Lil Wayne has had seizures on multiple occasions, sometimes affecting his work commitments. In 2016, reports Billboard, the rapper's plane made an emergency landing after he experienced a seizure during a flight. Then, in 2017, Rolling Stone reported that he was hospitalized in Chicago, Illinois, following two seizures and was forced to cancel a performance in Las Vegas, Nevada.
In a 2013 interview with Katie Couric on "Katie" (via YouTube), Lil Wayne explained that it is possible that he has had epilepsy since he was a child, but he wasn't diagnosed with seizures until later. He also said in the same interview that he learned because of his own diagnosis that his cousin has seizures and that one of his other cousins had died from them.
Per the Epilepsy Foundation, some cases of epilepsy may be tied to a genetic cause. It is unclear if this is the case for Lil Wayne, but it could be possible based on his discussion of his cousins' diagnoses.