Jamie Lee Curtis Is The Godmother Of Another Famous Actor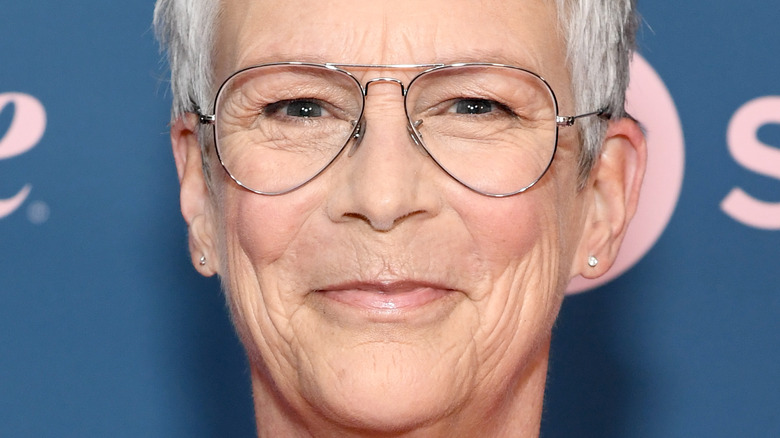 Jon Kopaloff/Getty Images
Even though it's been 44 years since the original, another "Halloween" movie just came out in theaters this year. And while sequels have a hard time living up to their original films, they have an easier job of at least coming close when original cast members are involved. Jamie Lee Curtis has been a major player in the newest trilogy of the "Halloween" franchise. While Michael Myers can give even the strongest people nightmares, he has nothing on Curtis' Laurie Strode.
However, Curtis told the publication Cadena SER that she's actually "emotional" in real life, but that's exactly why her iconic screams are so memorable; they're genuine responses to filming horror movies. Regardless, despite being emotional, Curtis is just as much a strong person in real life as she is as Laurie. She speaks out when things aren't right, she's a good friend, and an even better mom. And according to her very famous godson, she's a pretty good godmother too.
Jamie Lee Curtis is godmother to a Gyllenhaal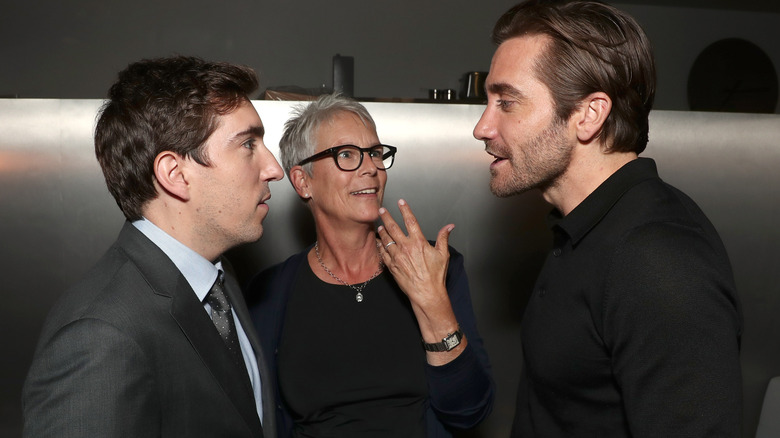 Todd Williamson/Getty Images
As Us Weekly reported, Jamie Lee Curtis is the godmother to Jake Gyllenhaal. In a 2021 interview on SiriusXM's "The Jess Cagle Show," the actor shared how great the original Scream Queen was. "She is just one of the most generous, loving, giving people," Gyllenhaal said, and shared that she offered her guest house to the actor during the start of the COVID-19 pandemic. "It was so incredible. We became even closer than we had been. ... Every day [I] would make bread and I would walk it over to her window. And she'd say, 'Put it over there,' show up at the window and I'd give her bread. That was basically what I did." 
It's also not the only time the pair have sung each other's praises. Back in November 2021, Curtis posted a sweet Instagram of Maggie and Jake Gyllenhaal on a red carpet, applauding them both for their achievements in films that year. This was at the time that "Red (Taylor's Version)" came out and the "All Too Well (10 Minute Version)" — allegedly about Jake — had just been made into a heart-wrenching short film starring Dylan O'Brien and Sadie Sink. So, you can imagine what the comments looked like on Curtis' post about Jake Gyllenhaal, but she's Jake's godmother — it makes sense that she's proud.
Jake Gyllenhaal is sort of the reason Jamie Lee Curtis did the new 'Halloween' trilogy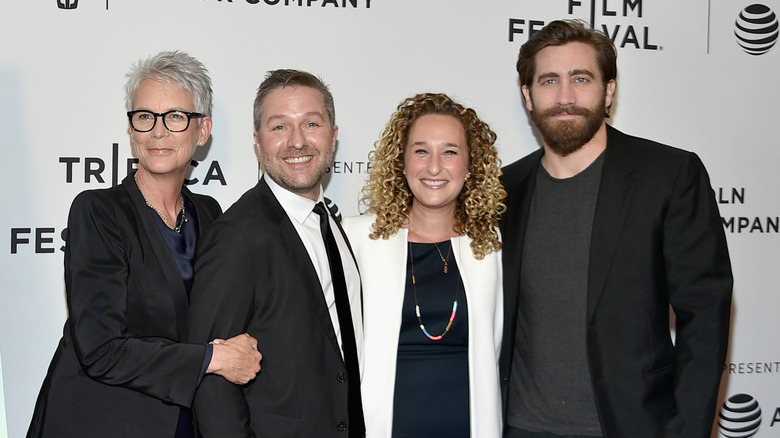 Mike Coppola/Getty Images
Red scarves aside, Jamie Lee Curtis credits her nephew for his role in her most recent movie's success. Curtis explained that Jake Gyllenhaal gave her a call in 2017. "I picked up the phone and he said, 'Hey Jame, my friend David Gordon Green' — who he had just worked with on the movie 'Stronger' — 'would like to talk to you about a 'Halloween' movie,'" she told SFX Magazine in October. Curtis hadn't imagined doing another "Halloween" film, but it was Gyllenhaal's insistence to take the call that opened her ear up to Green. 
Once she talked to Green, Curtis told NME that she realized there was an indie drama "hidden" within 2018's "Halloween," which is what brought her back. And after doing three more "Halloween" movies, Curtis isn't opposed to doing it again. "That has not only been satisfying for me personally and creatively, but it has launched me creatively into a whole other world," Curtis said explaining how she has a whole new career after the trilogy. "All of that was the last thing I thought I would be doing five years ago. So to say never is stupid."