Jennifer Garner's Sisters Look Just Like Her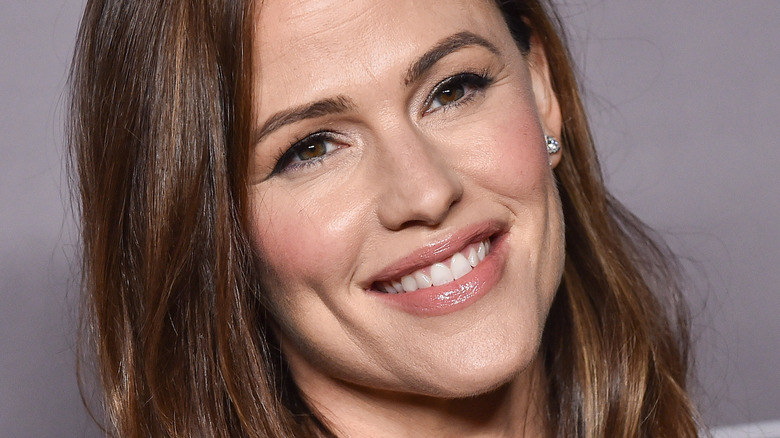 DFree/Shutterstock
Holy moly! Jennifer Garner is a spitting image of her two sisters. Hailing from West Virginia, Garner is the middle child of the trio. Being a middle child, Garner has always done her best to have that "it" factor to stand out from her two siblings and make a name for herself in Hollywood. According to IMDb, the multi-faceted star has been taking over our screens since the '90s and quickly became a household name.
Widely known for her performances in "Alias," "13 Going on 30," and "Love, Simon," the megastar has had much success over the years. Per Celebrity Net Worth, Garner is worth $80 million, which stems from her entertainment career, as well as endorsements with brands such as Neutrogena, Capital One, and Huggies. The fan-favorite also snagged a partnership with KitchenAid, which was a direct result of her pretend cooking show, which took off during the COVID-19 pandemic. Needless to say, the star has built a stream of wealth.
While Garner lived life in the spotlight since her early childhood days, her sisters lead more reserved lives. Jennifer is proud to be the middle sister of Susanna Kay Garner Carpenter and Melissa Garner Wylie. Although she and her sisters look nearly identical at first glance, the trio couldn't be more opposite. However, one thing remains undeniable — they're practically triplets.
Jennifer Garner is the middle child
There's nothing quite like a sisterly bond; just ask Jennifer Garner. Garner and her sisters have us doing a double take as the dynamic trio looks like triplets.
Although her siblings take a more reserved approach when it comes to putting their lives on display, Garner makes sure to share her love for her siblings on social media whenever she gets a chance. For National Middle Child Day in August, she shared a pic of herself and her siblings on Instagram (above), writing, "The best thing that ever happened to me was growing up between my sisters." Fans of the "Peppermint" star quickly took to the comments to share their thoughts on the cheeky post and couldn't help but notice their similarities. "Looks like 3 Jennifer's looking up," one fan commented, while another stated, "The genes are so strong in your family!!"
The "Elektra" alum is always quick to share a good ol' fashion throwback from her childhood to highlight the strong bond between her and her sisters. From old school get-ups to embarrassing haircuts, nothing is off limits for the star to share on social media.
Jennifer Garner and her siblings have a close-knit bond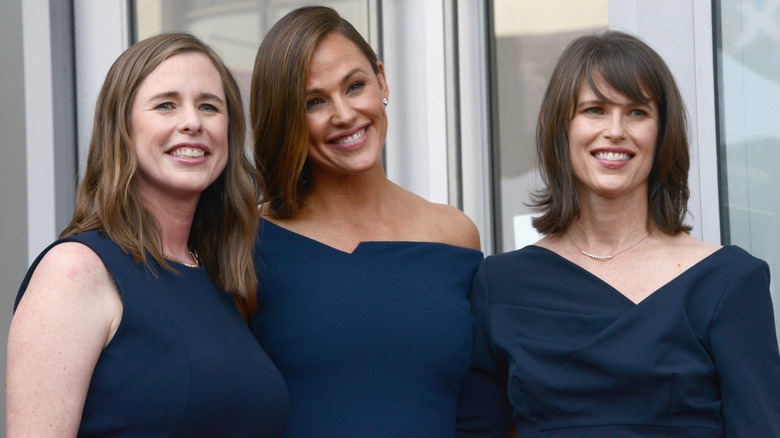 Albert L. Ortega/Getty Images
Throughout their highs and lows, Jennifer Garner and her sisters have continued to support one another and have their best interests at heart.
"Being the middle sister of these three girls is the relationship that defines me more than anything else," Garner previously revealed to Southern Living. "More than being my kids' mother, more than being my husband's wife, I'm first and foremost the middle Garner girl." She added that communication was an integral part of their upbringing and praised their mom, who "keeps them connected."
In 2016, Garner told Vanity Fair that her older sister inspired her to explore her passion for performance, which led her to dance as a child and then acting. The brunette beauty has a long list of supporters, as she gushed to Parade in January 2010 that her family has always been supportive of her ventures. "I was the most independent of the three of us," "The Adam Project" star shared. "My mother and father always supported my passion for acting. I think they just kind of expected me to move to New York and become an actress and have all these adventures." We can only imagine she's sharing the importance of building a strong bond between your siblings and family with her very own brood, daughters Violet and Seraphina and son Samuel, whom she shares with ex-husband Ben Affleck.