Bam Margera And Johnny Knoxville's Complicated Relationship Explained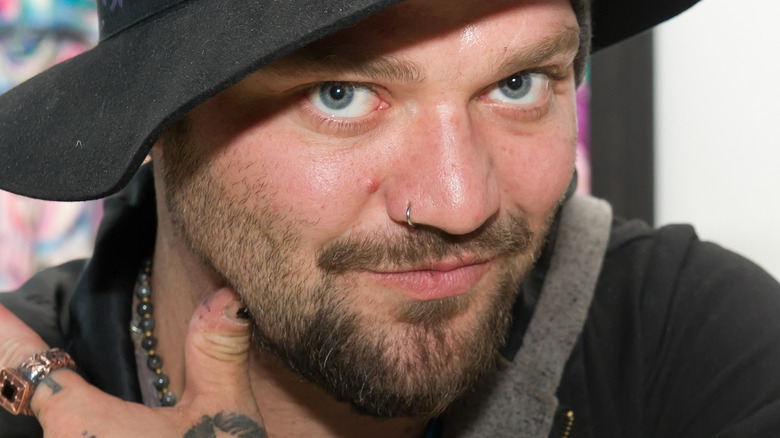 Gilbert Carrasquillo/Getty Images
In the early aughts, "Jackass" was unavoidable. What started as grown men putting themselves through pain and any scenario for a laugh turned into an enterprise for MTV. Secondary characters Steve-O and Chris Pontius received their own spin-off series, "Wildboyz," which lasted four seasons. Ryan Dunn went on to host and star in the reality series "Homewrecker," while Brandon DiCamillo and Rake Yohn navigated through a "Donkey Kong"-inspired obstacle course in "Blastazoid," Screen Rant recapped. Yet, by far the biggest stars at the heart of the "Jackass" universe were Johnny Knoxville and Bam Margera. Knoxville, of course, was the face of the franchise, evident by his signature opening line of every episode. Margera, also known for his antics, later starred in two different spin-offs. "Bam's Unholy Union" followed his engagement and wedding planning with Missy Rothstein, while "Viva La Bam" was the longest-running spin-off of the franchise, lasting five seasons — two more than the original "Jackass," according to IMDb. "It's me and my friends, doing something we created together and have been doing for 10 years," Knoxville told Collider in 2010 upon the release of the film "Jackass 3D."
While all the guys appeared to be having the time of their lives on-screen, they didn't stay a happy family forever. "It's such a competition to get footage. If Bam gets something great, then we all have to get something great," Knoxville explained. This competition was only part of the complicated relationship between these two stuntmen.
An early friendship concluded on a sour note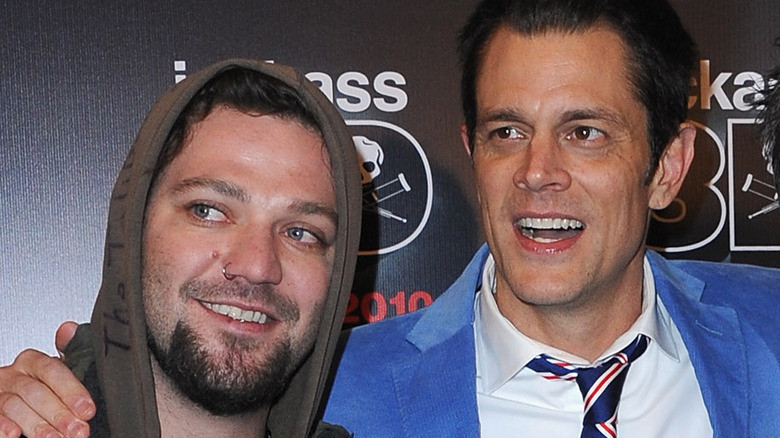 Francois Durand/Getty Images
From the very start, "Jackass" revolved around the personalities of Bam Margera and Johnny Knoxville. Director and co-creator Jeff Tremaine had worked with Knoxville performing stunts and the two began to dream up a hit formula. Around this same time, Margera from West Chester, Pennsylvania was growing an impressive following thanks to his "CKY" videos of stunts and hijinks. "I remember when Jeff first called me. He flew me out to L.A., and I played CKY2K for him and Johnny. They just loved it. They were like, 'You'd be perfect for 'Jackass,'" Margera told Maxim. 
After turning down an offer to regularly perform stunts on "Saturday Night Live," the guys went with MTV and "Jackass" was born. The crew moved on from TV to movies, bringing the laughs to the big screen with multiple feature films. Outside of filming, Steve-O was banned from MTV studios for substance abuse. "He was on this path of pure destruction," Margera recalled. Fortunately, Steve-O recovered but Margera was dealing with his own issues with alcohol abuse while coping with the tragic death of friend and "Jackass" member Ryan Dunn, in part. "I was s**tbag wasted every night, and eventually was like, 'This has to stop,'" Margera admitted to People.
After starting work together on "Jackass 4," Margera claimed that Knoxville forced him into rehab. After leaving the program, Margera criticized "Dr. Knoxville" for allegedly forbidding him to not take two prescribed drugs, TMZ reported.
Bam Margera and Johnny Knoxville drifted apart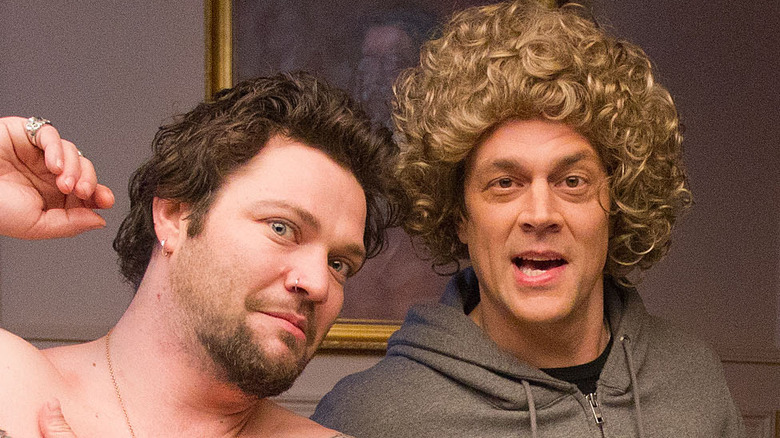 Christopher Polk/Getty Images
Originally part of the big screen cast reunion after three films together, Bam Margera was kicked out of the "Jackass 4" movie due to his addiction issues and breaking a sobriety clause built into his contract, TMZ reported. "We wanted him all throughout the movie, but unfortunately that's not the way it worked out," Knoxville explained to Variety about the situation. "We want Bam to be happy and healthy and get the help he needs. We tried to push that along," Knoxville told GQ.
In the fallout, Margera then sued Jeffrey Tremaine, Knoxville, Paramount Pictures, Spike Jones, and MTV, among others. He claimed unlawful termination from the movie for breaking a "wellness agreement" in his contract, which Margera said he felt pressured into signing, TMZ reported. Margera later dropped the lawsuit after what appeared to be an out-of-court settlement. WIth the lawsuit behind him, Margera continued to struggle with addiction and reportedly had difficulty staying in rehab. "Jeff Tremaine, Steve-O and I had a face-to-face meeting with Bam and his wife, trying to figure out how to get him help. Then we had a Zoom as a group not long after that, and that was the last time I talked to him," Knoxville told Variety in October 2022. The "Jackass" star admitted he hadn't spoken to Margera in nearly two years since that call. "I love the guy, and I want him to get well and stay well," Knoxville concluded.