What Maurice Clarett's Life In Prison Was Really Like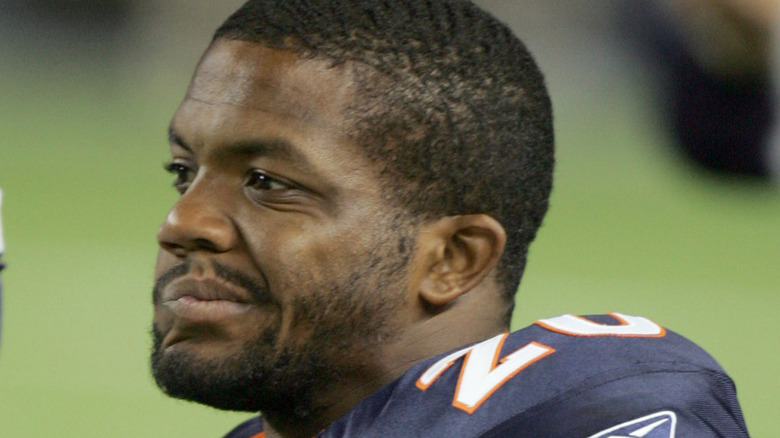 E. Bakke/Getty Images
As a result of legal troubles, plenty of sports stars have infamously ruined their once blossoming careers. NFL player Thomas 'Hollywood' Henderson went to prison following sexual assault charges. Maurice Clarett is another former athlete who went off the deep end. As a running back for the Ohio State Buckeyes, Clarett showed a lot of promise in the early 2000s. He was only a freshman when he led the team to a national championship. However, his life soon took a bleak turn, with his future as a successful football player not looking too hopeful.
In 2006, Clarett pleaded guilty to two counts of aggravated robbery and carrying a concealed weapon, per the New York Times. Following a highway chase, police discovered four loaded guns in Clarett's car and arrested him on a concealed weapons charge, per ESPN. In addition, Clarett's aggravated robbery charge was a result of stealing a cell phone from two people at gunpoint. Subsequently, he was sentenced to seven and a half years in prison. Clarett was regretful but understood the consequences of his actions. At the hearing, he said, "I'd like to apologize for my behavior, and I accept the time that was given to me." He ended up making a plea bargain, which shortened his prison time significantly. But what was Clarett's life in prison really like?
How prison transformed Maurice Clarett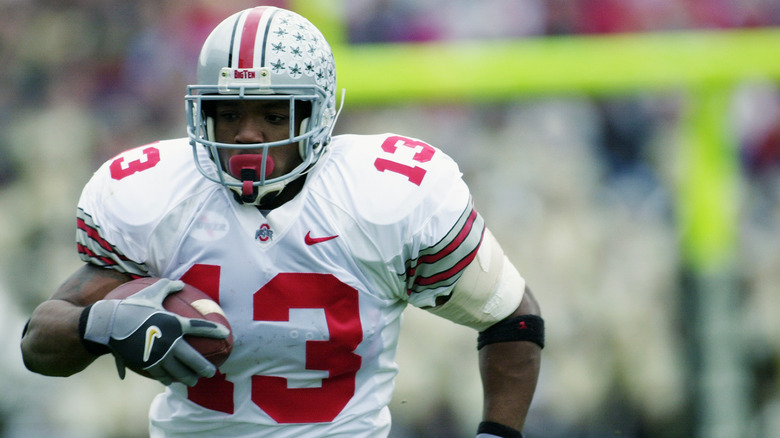 Jonathan Daniel/Getty Images
Maurice Clarett turned his life around in prison. In a 2020 interview with Vlad TV, he noted that he was there for 3 years and 11 months. He confirmed that he was a model inmate, a status that could be attributed to his dedication to self-improvement and interest in various forms of intensive therapy. He shared, "When I started going through this stuff, I just immediately see that it was something that I needed."
In fact, a 2020 piece by the Toledo Blade revealed that prison was a "blessing" for Clarett. The judge responsible for his probation release claimed that he was "one of the truly, truly wonderful success stories." Although prison was dull and tedious, he found solace in reading books, an activity that he hadn't engaged in much before. In prison, he read newspapers, novels, as well as philosophy and self-help books. "Reading was like working out a part of the body I hadn't worked out before," Clarett remarked. He elaborated on his positive outlook on prison, saying, "Prison gave me the opportunity just to sit still and to figure out another way to add value to myself and try to prosper in life. Toledo was my foundation."
Inside Maurice Clarett's life after prison
According to the Bleacher Report, Maurice Clarett was released from prison in 2010. His time there had a tremendous impact on him and actually influenced his professional endeavors. As of 2017, he was heavily involved in speaking out about justice reform, a topic he supposedly has a lot of knowledge on. Clarett stated, "It's something I feel very passionate about — being incarcerated and living through the backside of that. I just want to be in on the conversation." As a motivational speaker, he talks to inmates and athletes about substance abuse and mental health issues.
In Youngstown, Ohio, Clarett co-founded The Red Zone, an agency that helps people struggling with addiction and life after prison. In addition, school outreach and behavioral intervention programs have been designed to guide children through tough times. In a 2018 interview with NBC4 Columbus, Clarett explained his responsibilities, saying, "Either a stressful situation or a mental health and drug and alcohol situation and I become a reference point tool." He added that he becomes "the champion for something totally different." Clarett has changed his life remarkably, going from troubled felon to inspiring role model.
If you or anyone you know is struggling with addiction issues, help is available. Visit the Substance Abuse and Mental Health Services Administration website or contact SAMHSA's National Helpline at 1-800-662-HELP (4357).