Who Is Barbara Corcoran's Husband, Bill Higgins?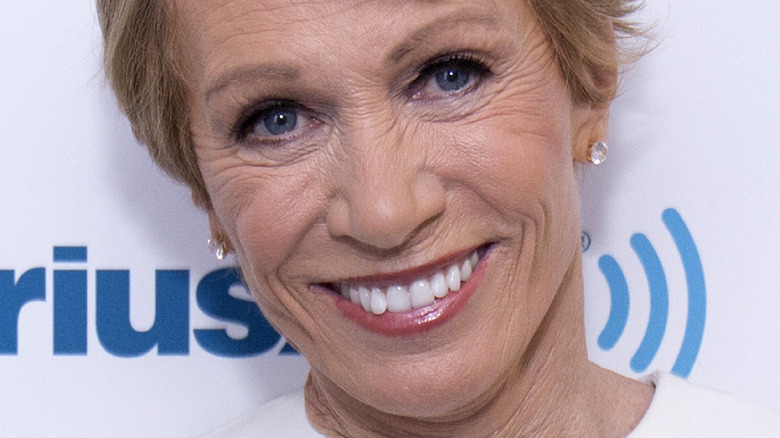 Santiago Felipe/Getty Images
Barbara Corcoran has served as a judge on ABC's "Shark Tank" since 2009. The popular show gives business hopefuls a platform to pitch their products to a group of "sharks," in the hopes of scoring a life-changing investment. Corcoran also sits on a $100 million fortune — which is surprisingly less than the net worths of the other "Shark Tank" judges — that she acquired through a long, successful career in real estate, according to Wealthy Gorilla. Even amid Corcoran's soaring professional highs, she's also experienced pitfalls, like the time she lost $400,000 to an email phishing scam.
Personally, however, Corcoran is definitely sitting pretty. Corcoran has been married to her husband Bill Higgins since 1983. The loving couple has two children and is still super affectionate to this day, if Corcoran's Instagram is any indication. As for the secret to a successful marriage? According to Corcoran, it's getting her way. "Let me tell you, ask any happily married man who's been married for years how he stays happy ... two out of three will tell you 'I tell my wife she's always right,'" shared the business mogul with Lewis Hoes. "That maybe sounds old fashioned, but that has really been my practical observation as well," she added. And even though Higgins isn't nearly as visible as Corcoran, he's had a long, interesting, successful life.
Bill Higgins is an ex-FBI agent and Navy veteran
Bill Higgins was born in 1944, per Information Cradle. Today, Higgins is retired, enjoying the fruits of a long life of service to the public. According to Yahoo, Higgins previously worked as an FBI agent and Navy captain. And while much isn't known about Higgin's FBI career, we do know a little more about his other vocation. 
According to Glamour Path, Higgins first joined the Naval Academy in 1966. By 1970, Higgins was a supply office for the U.S. Navy. Five years later, in 1975, Higgins joined the U.S. Navy Reserve, which took him to Seoul, South Korea. In 2019, Barbara Corcoran partnered with the USAA and featured her husband in an ad meant to celebrate Navy veterans. "Today I'm honoring my dear husband and former Navy Captain Bill Higgins," Corcoran wrote via Facebook. "I'm so thankful for all of our Veterans' courage and service today and every day. Along with @USAA, I am supporting @opgratitude in honor of Bill and all our Veterans ... All my love to the Veterans here in the U.S. and abroad."
Three years prior, Corcoran posted a sweet photo of Higgins and their oldest child, Tom Higgins, in honor of Veteran's Day. "My husband, Captain Bill Higgins has served as a career officer his whole life and it remains his proudest achievement," wrote Corcoran via Instagram. "This is one of my favorite pictures of my husband and our son!"
Bill Higgins has a large family
Bill Higgins has been married twice in his life. Not much is known about the identity of his first wife, but their marriage did produce four children, per Superb Hub. 
However, by 1981, when he met Corcoran, Higgins was single and open to dating. Per Yahoo, Higgins first crossed paths with Corcoran in 1981 at a business conference. According to the former FBI agent, Corcoran was surrounded by people, so he waited until the crowd cleared out to introduce himself, instead of "being obnoxious and interrupting everybody." Within six months — and after initially turning down Corcoran's offer to spend a weekend together, which Higgins believes is what hooked her — he and Corcoran were dating and living together with his kids from a previous relationship. The couple married two years later in 1983. 
Higgins and Corcoran went on to have two children. Their oldest, Tom Higgins was conceived through IVF. "It took me 7 years of failed in vitro fertilization to finally give birth to my son Tommy at age 46," shared Corcoran to Facebook in 2016. "Kids... The absolute best treasure in life!" Higgins also has a daughter with Corcoran named Kate whom they adopted. During an interview with Inc., Corcoran shared that she used her real estate skills to help secure a baby to adopt. "Attracting moms who wanted to give you their baby was exactly the same as writing a good real estate ad," said Corcoran.