Andrew Walker Has A Family Connection To Fellow Hallmark Star Tyler Hynes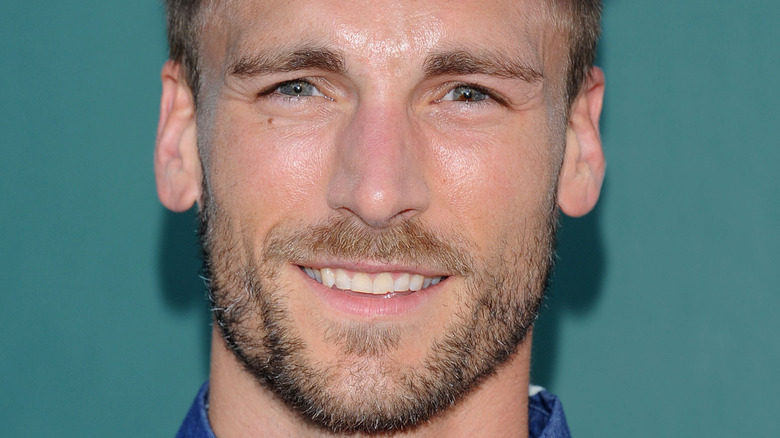 DFree/Shutterstock
There's a particular genre of magic known as the Hallmark Christmas Movies and one need look no further to tap into the spirit of the holiday season. Improbable meet-cutes? Check. Ridiculously hunky new neighbors? Check. A sassy New York woman tired of her corporate job and looking to settle down with a lumberjack? Double check. This treasure trove of make-believe love stories has launched several actors into stardom.
Lacey Chabert and Candace Cameron Bure hold the tie as Hallmark's Queen of Christmas for most film credits among the staples of the genre. Cameron Bure holds another record in the world of Hallmark stars as the richest among the bunch. While the channel is primarily known for being the most wholesome thing imaginable, it has its own history of scandals. We'll give you a hint ... one of the most notable ones involves Lori Loughlin. However, it's not all scandals and big paychecks. The Hallmark world can also be charmingly small, and two of the network's most popular actors, Andrew Walker and Tyler Hynes, are actually related through marriage. It's a very cute story, one that would make for its own adorable movie plot.
Andrew's wife, Cassandra, is cousins with Tyler Hynes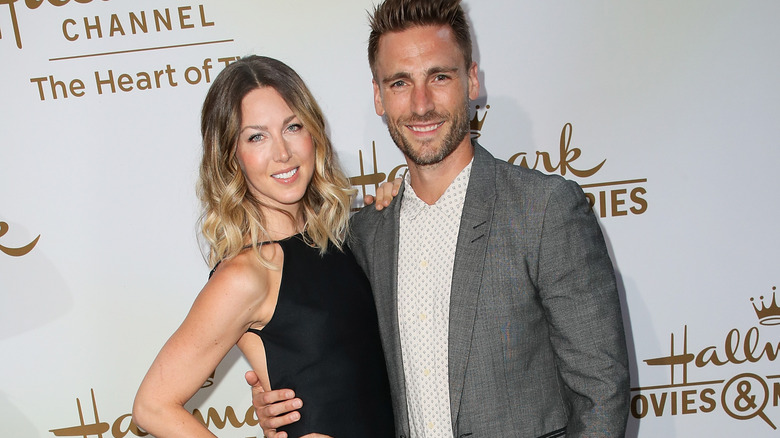 David Livingston/Getty Images
Andrew Walker, a Canadian staple of the Hallmark channel, married fellow Canadian Cassandra Troy in 2012. The two began dating around 2004, per Us Weekly, and have built a life and family since then. Troy dished about their early relationship on Instagram in January 2021. "In the first week we met (circa 2004!), we discovered each others love for nature," she wrote. "It started with a hiking trip in [Mont Tremblant] followed [by] countless small wilderness adventures, and some big big trips which are always centered around being in nature."
The two ended up eloping and Troy shared a throwback photo of herself in a white dress with Walker, standing in front of a city hall building on their big day. "Best decision I ever made was to marry you," she wrote on Instagram. Not only did they make the decision to marry, but they also launched their own business: A juicing company called Little West, so the household juggles a growing brand and acting schedules. Walker was happily married when he landed his first Hallmark movie in 2012, "A Bride for Christmas," per a later publication by Us Weekly. Since then, he's landed several Hallmark hits, but Walker isn't the only one in his family who does. Troy's cousin just so happens to be another one of the network's hunks, Tyler Hynes, making Hynes and Walker cousins by marriage.
Andrew Walker said working with Tyler Hynes was a 'dream come true'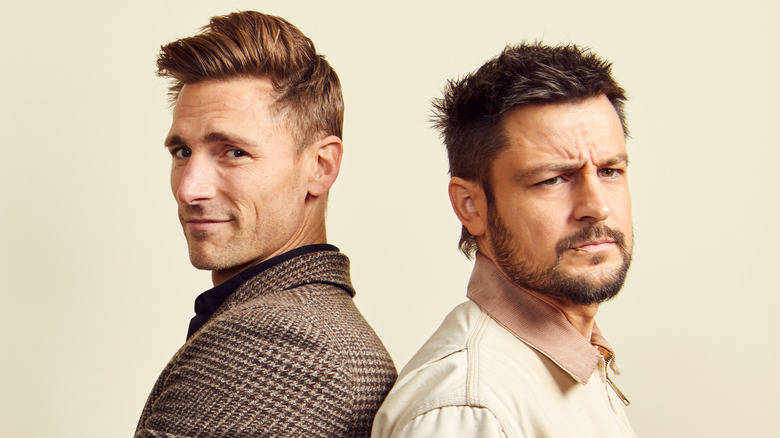 Emily Assiran/Getty Images
Andrew Walker and Tyler Hynes aren't just related through Walker's marriage to Cassandra Troy, Hynes' cousin — they've also worked on Hallmark movies together where they've played siblings! Walker, Hynes, and Paul Campbell appeared in "Three Wise Men and a Baby," and it was one of the greatest mashups ever on the holiday-loving channel.
"It was extremely hard to stay focused on set — to the detriment of our days, almost, we couldn't control ourselves. The laughter — the just genuine laughter — and happiness that we were feeling to be all together working on this movie," Walker told Us Weekly. "Tyler's my wife's cousin and to be on set with him after knowing him for so long — I've been with my wife for 19 years — and then we get to work with [Paul]. It's a dream come true." Since the three men played siblings in the film, it wasn't exactly the hardest thing to create a bond given their existing closeness.
Hynes agreed with Walker's sentiments when he spoke to ET about how much fun it was to film the movie with Campbell and Walker. "A chance to be able to spend every day with one of my close friends and one of my family members is as good as it gets," Hynes said. There was obviously a lot of organic bonding and friendship on set, and hopefully, there are more family projects to come!