Who Has Starred In The Most Hallmark Channel Christmas Movies?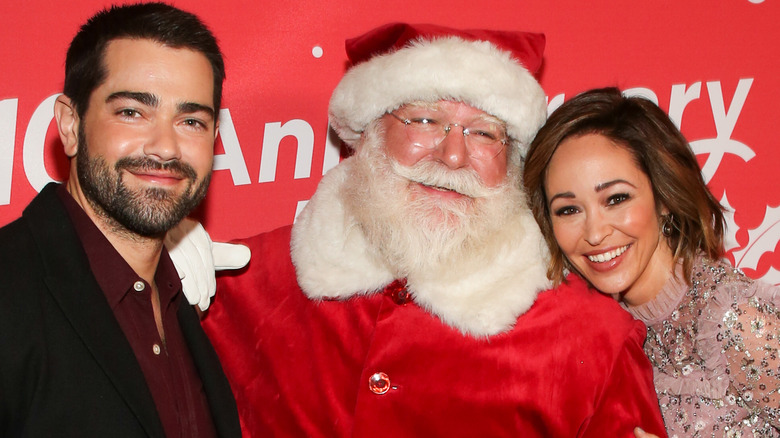 Paul Archuleta/Getty Images
There's no denying that the Hallmark Channel created a goldmine with its annual Christmas programming. It's so popular that other networks, like Lifetime, BET+, HBO Max, Netflix, and even Comedy Central, have been offering seasonal fare, with more than 160 new movies scheduled for the 2022 season, according to Entertainment Weekly. Like them or not, the holiday movie is here to stay.
Hallmark dominates the Christmas movie market, with 40 premieres scheduled for 2022 alone, according to Variety. Hallmark premiered its first original holiday movie in 2000, per E! News, and with its sister network, Hallmark Movies & Mysteries' 2006 hit "The Christmas Card," the company realized it could lean into its Christmas content, according to Vox. Its first "Countdown to Christmas" in 2011 established the channel as a "safe space, a feel-good space" in an increasingly cynical and edgy marketplace, as Hallmark's then-CEO Bill Abbott said (per E! News). Hallmark doubled down in 2013, premiering 12 new original movies over six weeks, and more have premiered every year since. Consistently providing pleasing holiday fare annually made Hallmark Channel the highest-rated cable network in the highly coveted 25-54 demographic for women during Donald Trump's tumultuous presidency, up until at least 2019, per The New Yorker.
That also means a bevy of opportunities for actors to appear — repeatedly — in these movies. Plenty of once-popular actors have been making their living on Hallmark. But which one holds the (gold) crown for starring in the most Hallmark Christmas movies?
There's a tie for Hallmark's Queen of Christmas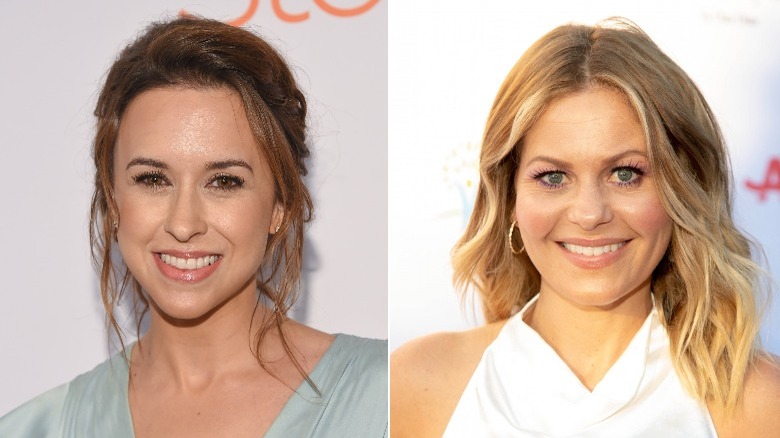 DFree & Eugene Powers/Shutterstock
Mariah Carey may be fighting for her "Queen of Christmas" moniker, but it's not hard to determine who's the "Queen of Christmas movies" — at least on the Hallmark Channel.
According to TVLine, five of Hallmark's leading ladies are vying for the top spot as of this writing — and there are two ties. Danica McKellar and Holly Robinson Peete tied for third place, with both starring in five movies each. McKellar made a new film each year from 2015 to 2021, per QC Approved. Peete's work wasn't always annual, and she often played secondary characters (being a Black actor on the extremely white network), but she still starred in five movies up to 2021. Coming in second place is "Two Weeks Notice" star Alicia Witt, who made seven Hallmark movies as of 2019.
First place is probably not surprising: Lacey Chabert and Candace Cameron Bure both had eight movies each as of 2019. Bure made a Hallmark Christmas movie every year since 2013, per Vox, while Chabert made one every year since 2012, except 2013, but she made two in 2015. As of 2019, Chabert has starred in 12 Hallmark Christmas movies, per QC Approved, and 2022's "Haul Out the Holly" premiered November 26. And now that Queen Candace is creating her Christmas reign over at Great American Family — taking several stars with her — she seems to have abdicated her claim to the throne to Queen Lacey, who Parade reports signed a multi-picture deal with Hallmark. She won't be going anywhere.
Hallmark's roster features tons of talent
As any fan of the network knows, the Hallmark Channel has quite a long roster of repeat performers. In addition to Candace Cameron Bure, Lacey Chabert, and the others, there are more familiar faces you see often on the Crown Media network.
Jessica Lowndes starred in seven Hallmark movies, according to PopSugar's 2021 list, which includes non-Christmas fare. Former "The Biggest Loser" host Alison Sweeney frequently pops up in Hallmark movies, per Us Weekly, as does Bethany Joy Lenz, Jen Lilley, Ashley Williams, Erin Krakow, and Kimberly Sustad. "[Hallmark is] fiercely loyal to their audience, which is why they use all the same actors," Kellie Martin, star of Hallmark's "Hailey Dean Mysteries," told Vox. "Their audience likes those people."
Hallmark doesn't only reuse the women who've appeared in their films. They have a variety of handsome male actors who make repeat performances, too. Among them are Luke Macfarlane, who has starred in nine Christmas movies for Hallmark so far, and his tenth, "A Magical Christmas Village," premiered on November 4. Brennan Elliott, who played the "Bachelor"-style host on Lifetime's soap "UnREAL," has appeared in 18 Hallmark movies so far, though not all are Christmas-themed. He also stars in the "All of My Heart" trilogyopposite Krakow. Andrew Walker began making Hallmark movies in 2012, according to Us Weekly, and has starred in 21 so far, including four in 2017 alone. Other male staples include Tyler Hynes, Ryan Paevey, Brendan Penny, Paul Campbell, and Niall Matter.