NSYNC To Receive Star On Hollywood Walk Of Fame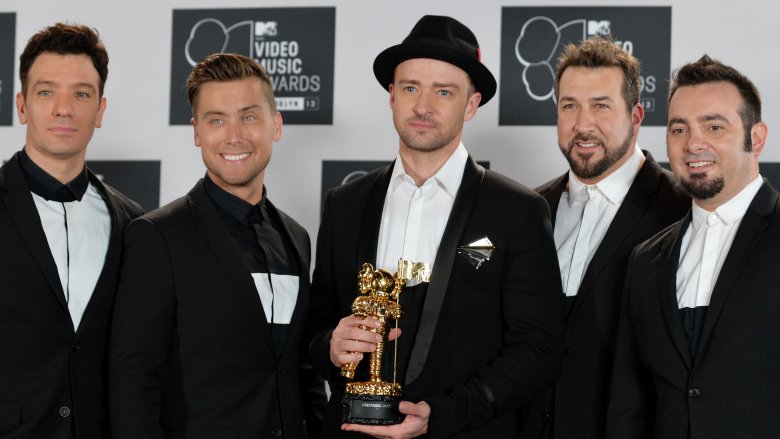 Getty Images
NSYNC is about to receive Hollywood's greatest honor.
The Hollywood Chamber of Commerce announced on Tuesday, March 20, 2018, that the popular '90s boy band will receive a star on the Hollywood Walk of Fame on Monday, April 30.
"It's official!" the former pop group, including Justin Timberlake, Lance Bass, JC Chasez, Chris Kirkpatrick, and Joey Fatone, revealed on their official Twitter account. "You all are invited to watch us get our Star on the Walk of Fame."
As the producer of the Walk of Fame ceremonies, Ana Martinez, released in a statement, "*NSYNC fans have been patiently waiting for their favorite group to set a date and we are announcing the date earlier than usual so they can start making plans to visit Hollywood and see *NSYNC."
"So happy I won't be tearing up any more hearts!" she later tweeted. "'Thinking of you' we felt the need to announce early so you fans could get your airline tickets!"
According to Entertainment Tonight, NSYNC first announced in 2017 that they planned to reunite at the event in honor of their 20th anniversary. However, an official date had not been set at the time.
"We're going to be getting our star on the [Hollywood] Walk of Fame this year at some point," Bass had told the publication. "We'll all be there! We just have to decide on a date. We're terrible at planning things."
He added, "We're five guys, so for us to make a decision about anything is really hard, so we just need to do it. It'll be fun to see everybody again."
The ceremony honoring NSYNC will begin at 11:30 a.m. PST near the corner of LaBrea on Hollywood Blvd. At the time of this writing, guest speakers have yet to be announced. Fans unable to attend the event can livestream it exclusively on WalkOfFame.com.
The "Bye Bye Bye" singers will be joining the ranks of other boy bands who have received this honor, including the Backstreet Boys, Boyz II Men, New Kids on the Block, and New Edition.