Jimmy Kimmel's Oldest Son Is Practically His Twin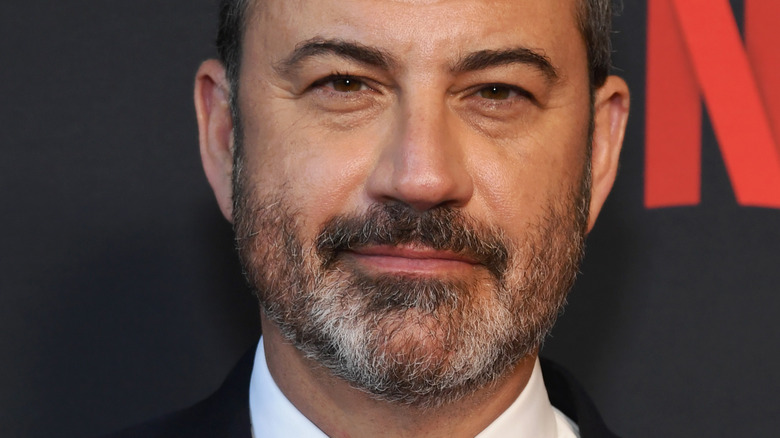 Jon Kopaloff/Getty Images
Jimmy Kimmel is best known for hosting ABC's "Jimmy Kimmel Live!," but many may not know that the talented comedian also has four children. Kimmel shares two young children, William and Jane, with his current wife, Molly McNearney. He also has two adult children, Katie and Kevin, from his previous marriage to Gina Maddy (via The U.S. Sun). While all of his kids have attributes similar to Kimmel, none compare to his second oldest, Kevin.
Kevin Kimmel was born in 1993 back when his father was still trying to make it into the entertainment industry. In those days, Kimmel's oldest children were often featured on-screen during the future late-night star's time on Comedy Central's "The Man Show." Unfortunately, their parents decided to call it quits in 2003 (via Associated Press). Although Kimmel and his former wife divorced, he still remained a loving father to both his eldest kids.
In the decades since his first marriage ended, Kimmel's children haven't appeared on television quite as often as their father, but they remain an active part of his life. In fact, as Kevin has grown into a man of his own, he continues to carry quite a physical traits of his famous father.
Kevin Kimmel looks just like his talk show host dad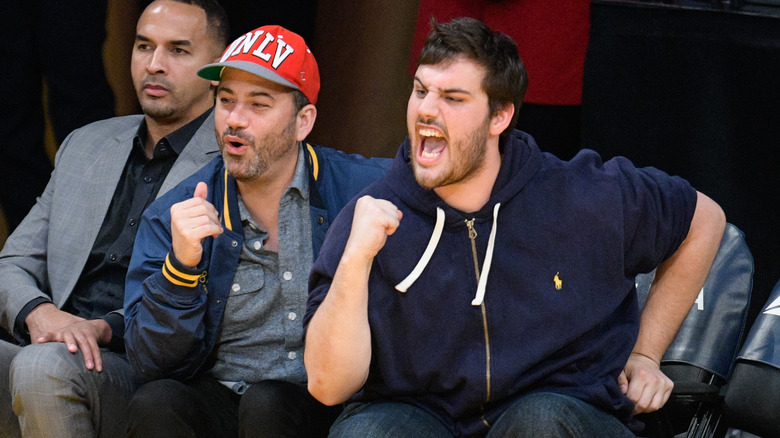 Noel Vasquez/Getty Images
It's still hard to tell which parent Jimmy Kimmel's youngest kids look like the most. However, there's no doubt that Jimmy's eldest son, Kevin Kimmel, is the son of the famous talk show host. All fans need to do is take one good look at Kevin's Instagram to see that he indeed looks just like his father. From their hairstyles to their expressions, they look decidedly similar.
There are only a few photos of the two on each other's Instagram, but when they do post pictures of one another it's like Kevin and Jimmy are looking into a mirror. In one Instagram photo, Kevin and his father sat courtside at a basketball game. In the photo, the two were reacting to a play on the court, and both responded in a scarily similar way. Both men had the exact same hand posed in a fist with mouths agape as they reacted to the play. As the saying goes, it truly was: like father, like son.
In another photo shared on Instagram, Kevin wished Jimmy a happy father's day as he posted a side-by-side photo of the two. In the photo, both men are wearing tuxedos, sporting a beard, and maintaining a similar hairstyle. If it weren't for the fact that Kevin is slightly taller than his father, it might be difficult to tell the two apart. Surprisingly, Kevin and Jimmy's similarities go beyond looks as well.
Kevin went into the entertainment industry like his father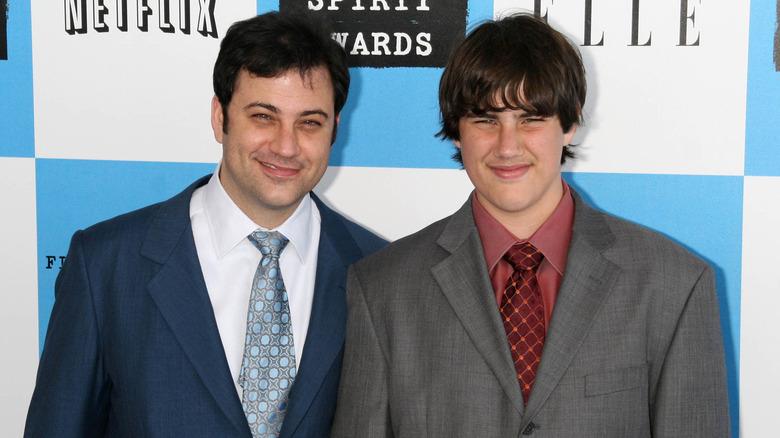 s_bukley/Shutterstock
Many children of celebrities have a leg up in landing a good career. Kevin Kimmel is no different and pursued various roles in the entertainment industry. He has appeared on a few episodes of "Jimmy Kimmel Live!," but doesn't seem to show any interest in following in his father's footsteps to become a talk show host. Still, he has a number of noteworthy credits to his name.
In 2004, Kevin began his career by acting in the Comedy Central series "Crank Yankers," per IMDb. He starred on the show for a year before beginning to work behind the scenes on a number of other shows. In 2001, the younger Kimmel earned his first credit in the sound department by working on an episode of "Survivor." He followed this up with a number of sound department credits, including work on "Last Comic Standing," "Big Brother," and "Tosh.0."
Kevin also worked as a production assistant in 2013 and 2014 for the shows "Tubbin with Tash" and "The Meltdown with Jonah and Kumail." Since 2014, Kevin has gone into different ventures like music and YouTube (via Instagram). Like his father, Kevin also took on the comedic world in 2021 when he joined a medieval comedic group. The group's Instagram bio explains their bits as a "comedy series set in 1287 England that follows a screwball group of friends as they navigate life in the Middle Ages." The video sketches provide a comedic spin on what that era of history was like. 
Kevin married his wife, Nicole, in September 2022 (via Instagram).