The Rumored Reason Jimmy Kimmel's First Marriage Ended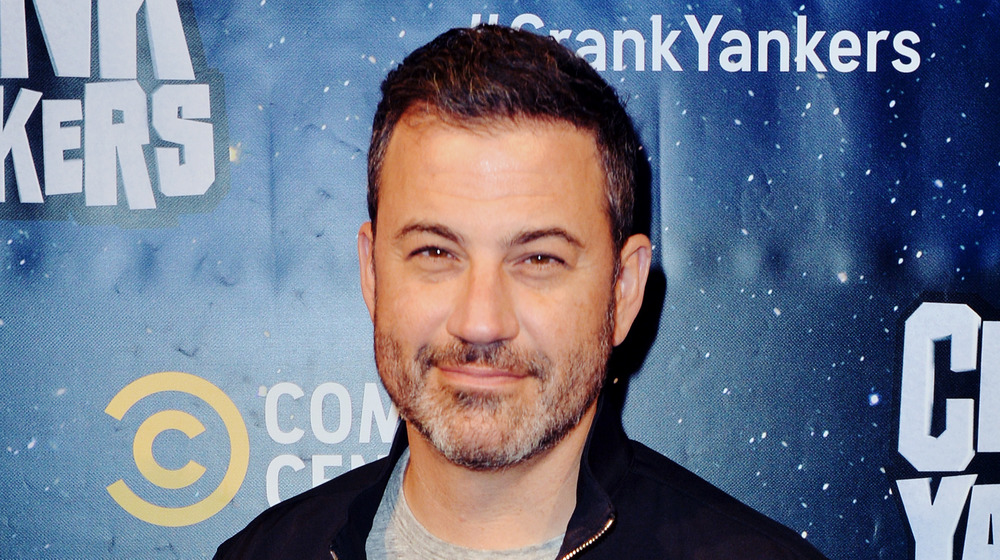 Jerod Harris/Getty Images
Jimmy Kimmel didn't have to go very far outside his day-to-day life to meet his current wife, Molly McNearny. The talented writer met Jimmy while she was working on his show, "Jimmy Kimmel Live!," according to People. They reportedly worked together for a few years before they started dating — because both of them were in other relationships. But by 2009 they both found themselves single so they gave their relationship a shot. The couple tied the knot in 2013 and had their daughter, Jane, in 2014 and son, Billy, in 2017.
McNearny isn't Jimmy's first wife, though, and there's a bit of drama surrounding that relationship. The host was previously married to Gina Maddy-Kimmel for 14 years. The couple shares two children, Katie and Kevin. They reportedly met during college at Arizona State University, according to Amo Mama, and wed in 1988. Katie was born in 1991 and Kevin in 1993, but as Jimmy's star began to rise, his marriage started to collapse. The question is — was there more to it than just growing apart? There's definitely speculation.
Jimmy Kimmel's relationship with Sarah Silverman may have overlapped with the end of his marriage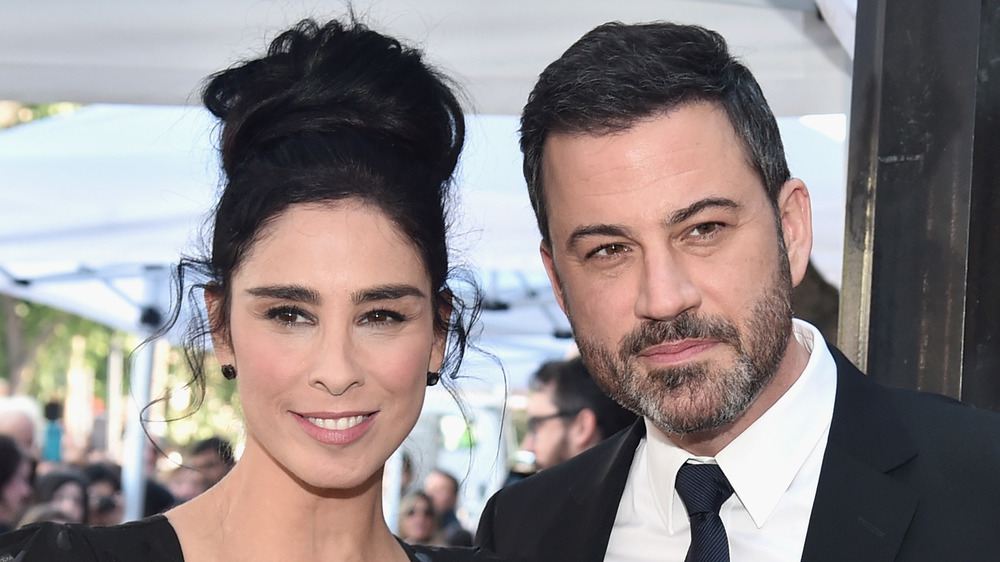 Alberto E. Rodriguez/Getty Images
Jimmy Kimmel and his ex wife, Gina Maddy-Kimmel, divorced in 2003 after more than a decade of marriage, according to The Associated Press. The split came just as Jimmy was hired by ABC to host his own late-night talk show, "Jimmy Kimmel Live!" While there wasn't an official statement on the divorce, due to the couple being low-key (aka not famous) at the time, there's been speculation that Sarah Silverman had something to do with it.
There was some apparent overlap in Jimmy's relationship with Silverman and the end of his marriage to Gina, according to FOX News. The two knew each other for years prior to dating, having run in similar comedy-related circles. A source told FOX News at the time that the relationship was "one of the worst kept 'open secrets' in Hollywood" back then and Silverman would reportedly talk about her "boyfriend" when she wasn't supposed to refer to him as her "boyfriend."
The comedy couple ended up openly dating from then until 2009 when they decided to just be friends — which is when Jimmy gave it a shot with McNearny, whom he's still happily married to. As for his relationship with Gina, HuffPost reported in 2012 that the two were still not on good terms, but time and the fact that their kids are all grown up now have potentially moved them past the drama.
What Gina Maddy-Kimmel is up to today
Despite speculation surrounding the split from well over a decade ago, Jimmy Kimmel and his first wife Gina Maddy-Kimmel have seemingly left all of that in the past. Sharing two adult children, social media posts of the late-night talk show host and his ex reveal that they both spend time with their kids. The family gathered in September 2021 to celebrate their daughter, Katie Kimmel, tying the knot with musician Will Logsdon, per People.
Gina has kept out of the spotlight since her time with Jimmy, but she did work in costuming for special events and television projects for a time. Designing various historical garments inspired her to create a vintage sleepwear line — Maddy James — in 2014. She shared her passion for styling and glamor of a bygone era with others in a Kickstarter campaign. The project was a success, but seems to have wrapped up in production since, as the site and Etsy shop are no longer active.
It also looks like Gina found love again with a man named Chris Jones. In 2021, she posted a photo on Instagram with her partner to celebrate their anniversary. "18 years with this guy. Looking forward to our next adventure," she wrote in the caption. Keeping active on social media, Gina often shares moments from her travels, pictures of her family, and snaps of her cats.