How Jimmy Kimmel Got Tricked Into Hosting A Late-Night Show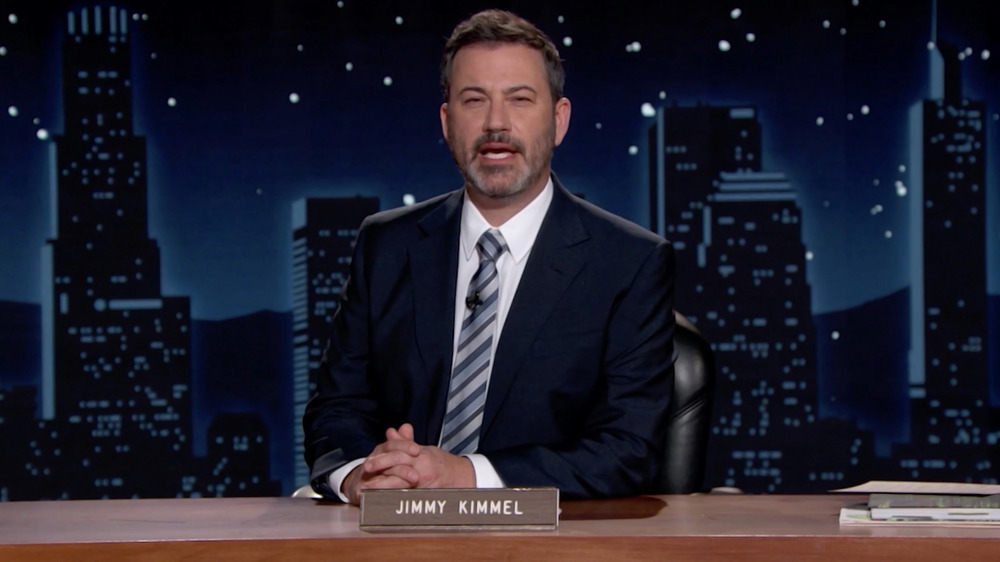 Getty Images/Getty Images
Jimmy Kimmel may be a staple of late-night television now, but that wasn't always the case, and that certainly wasn't the life he saw for himself. Growing up, Kimmel actually idolized David Letterman but didn't exactly want to follow in his footsteps. 
In a tribute to the host, Kimmel wrote in Time in 2015, "Every school night, I watched with the kind of simmering fervor described in newspaper profiles of teens who run away from home to fight for ISIS. First period started at 7:35 AM, but Dave was more important than sleep," Kimmel wrote. "On the day I turned 16, I blew out candles on a Late Night birthday cake. I had 'L8NITE' vanity plates on my first car. Dave smoked cigars, so I smoked cigars."
Still, though, Kimmel just didn't think that was his future. He even told an audience at SXSW, per The Hollywood Reporter, in 2015, "My goal was never to host a late-night talk show. My goal was just to keep watching a late-night talk show. It never occurred to me that anyone other than David Letterman or Johnny Carson would have a late-night talk show."

Of course, Kimmel landed his own late-night show in 2003, Jimmy Kimmel Live! However, he basically had to be tricked into it. 
Jimmy Kimmel tried to skip out on the meeting that landed him his late-night job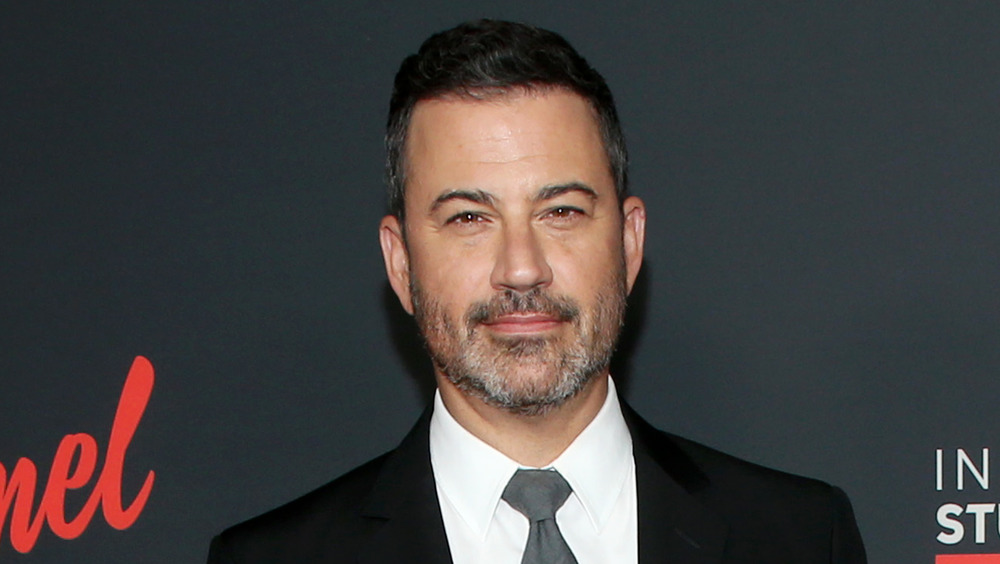 Phillip Faraone/Getty Images
ABC President Lloyd Braun was looking for a host to fill a late-night slot back in the early 2000s after failing to convince David Letterman to come to ABC. According to The New York Times, ABC was pretty set on hiring Jon Stewart but Michael Davies, a former ABC executive, floated Jimmy Kimmel's name past Braun and suggested he check him out.
At this point, Kimmel didn't have any experience in stand-up comedy, though he'd been appearing on Comedy Central — on Win Ben Stein's Money and The Man Show. Plus, Kimmel wasn't looking for the job.
ABC courted Stewart but quietly researched Kimmel on the side. Braun invited Kimmel for a meeting without telling him anything about a late-night hosting gig — and Kimmel tried to skip out. Kimmel told The Hollywood Reporter in 2016 that he was under the impression that ABC was considering a variety show that they might want him for, but not a late-night show of his own. "My agent said 'you have to go.' I said, 'just tell them I'm not interested but thank you.'"
Alas, Kimmel did, indeed, go to the meeting.
Braun was impressed by Kimmel immediately and offered him the late-night job over Stewart, a decision that surprised many, including Kimmel himself. "It happened so quickly," Kimmel told The Hollywood Reporter after getting the job offer. "It seemed like there was no thought put into it."

And well, the rest is history.