The Real Reason Jimmy Kimmel Is Taking Time Off From His Talk Show
Phillip Faraone/Getty Images
It takes a lot of natural talent, hard work, and plenty of long hours to rise to the top of the late-night talk show host game. Just take a look at Jimmy Kimmel, who has been the host of Jimmy Kimmel Live! since 2003.
"As much as Kimmel the entertainer comes across as a subversive prankster, the real-life Kimmel could win the title for the hardest-working man in show business," according to a 2014 Success article. Along with hosting his "weeknight show, he's the hands-on executive producer, runs Jackhole Productions, and seldom turns down an opportunity to help a charitable organization." Beyond that, "[h]e's a perennial awards show host" — for instance, he'll be " hosting the Emmy Awards for the third time" in September 2020, according to People — and is also an "actor and voice actor whose work includes twice voicing Passive-Aggressive Smurf on the big screen."
While Kimmel pointed out to Success that it's "great to have downtimes," he also admitted that he "almost never ha[s] them." And when you find out that he's involved in so many pursuits, it's not hard to see why he has trouble carving out time for himself and his personal life. However, that's exactly what he's decided to do by making an unexpected decision.
Jimmy Kimmel will be spending his summer with some VIPs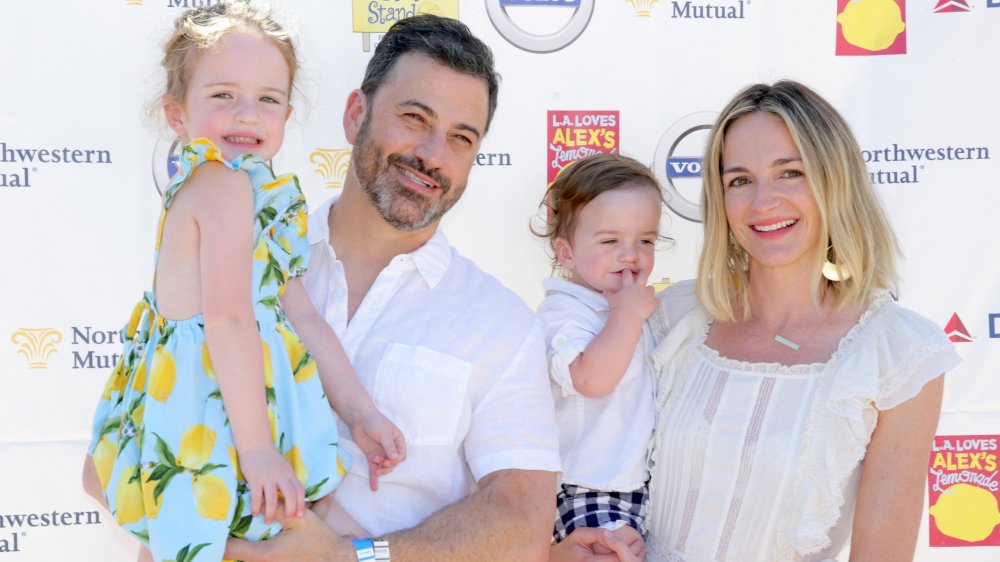 Rebecca Sapp/Getty Images
Even the "hardest-working man in show business" needs to take a break sometimes. And that's what Jimmy Kimmel decided was his priority for the entire summer of 2020. In a June 18, 2020, clip from his show, the host made an announcement regarding his schedule.
"Tonight is my last new show for the summer. I'm taking the summer off to spend even more time with my family," he said. He also emphasized that this decision comes after "almost 18 years" and "3,130 shows." Yeah, that certainly makes it seem like he deserves a break.
The host even denied that there were any other motivating factors, saying, "There's nothing wrong — my family is healthy, I'm healthy — I just need a couple of months off." Indeed, Kimmel wants to spend more time with the important people in his life: his wife Molly McNearney, and his children, Jane and Billy.
Kimmel also noted that, aside from a brief, two week break, the show wouldn't be taking any time off. Instead, a "cavalcade of very kind and capable people will be filling in for" him in order to guest host the show. Who might that be? Well, maybe Matt Damon, who made a mask-wearing, robe-donning appearance in the clip. Apparently, he's been waiting around (or creeping around?) in Kimmel's spare bedroom for three months waiting for this opportunity! We'll have to wait and see if he gets the shot he's been aiming for.