Eddie Redmayne: Inside His Life And Career As A Hollywood Star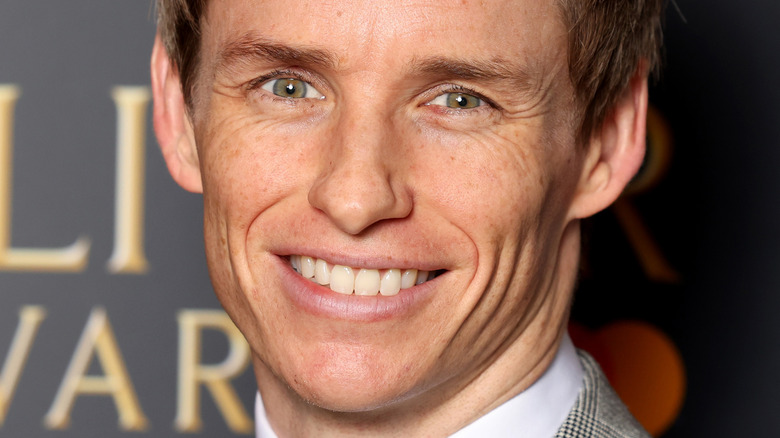 Tim P. Whitby/Getty Images
Eddie Redmayne is quite the accomplished actor for a guy who celebrated his 40th birthday in 2022. After landing a bit part in a West End production of "Oliver!," the dashing Brit cut his teeth in English TV and films before making his mark in the States. In 2011, Redmayne found his breakout role in "My Week with Marilyn," playing a production assistant who falls in love with  Marilyn Monroe. The following year, he starred as Marius, the rebellious naïf in the movie musical, "Les Misérables," and his career has been hitting high notes ever since.
Redmayne earned an Academy Award for his heart-rending portrayal of physicist Stephen Hawking in the 2014 film "The Theory of Everything." His acclaimed turn as "The Danish Girl" came soon after that, nabbing the actor a second Oscar nod. "Harry Potter" fans know Redmayne as Newt Scamander — a role he played in three films — in the billion-dollar franchise "Fantastic Beasts and Where to Find Them."
In 2021, the Tony and Olivier Award winner gave an "electric" performance in a London revival of "Cabaret." He picked up a Golden Globe nomination for his take on a real-life serial killer in 2022's "The Good Nurse." In an interview with GQ, Redmayne said he just rolls with the punches. "I have no grand plan," he admitted. "I'm just winging it." This is your inside look at the life and career of one of Hollywood's most talented and disarming stars.
He credits his parents with his acting success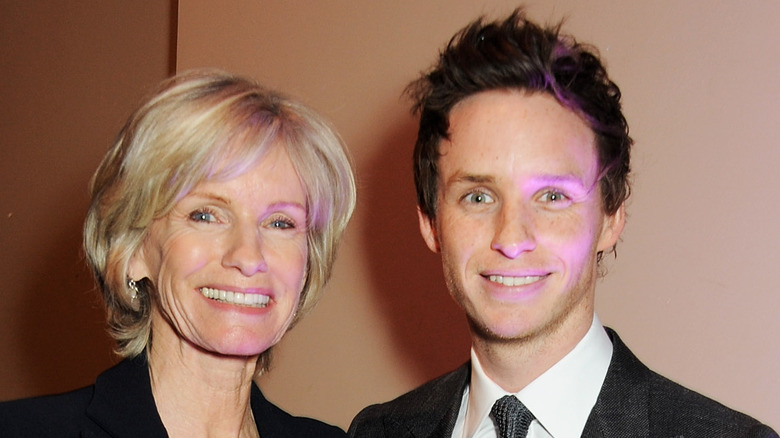 Dave M. Benett/Getty Images
Eddie Redmayne grew up in Chelsea, West London. His father worked in banking and his mom (above) had her own relocation business. "I don't come from a family who were massive theater fans or film or music fans," he told Willie Geist on "Sunday Today" in 2022. His parents encouraged all five kids to pursue their passions. "I loved music and singing and acting at school," Redmayne added. "Anything I had an interest in or my brothers had an interest in, they supported."
Redmayne attended the prestigious Eton School, alongside fellow classmates Prince William (also his rugby teammate) and "Loki" star Tom Hiddleston. He studied drama at Jackie Palmer Studios Stage School from the time he was 10. After performing with the National Youth Music Theatre, he landed his first professional gig at age 12 in a West End production of "Oliver!" directed by Sam Mendes.
"I was workhouse boy number 40," Redmayne said in 2009. "It was such a minor part that I didn't meet Sam Mendes. But his name remained firmly on my CV for a long time." In 2004, the actor won acclaim for his role as Jonathan Pryce's gay son in the U.K.'s first production of Edward Albee's play "The Goat, or Who Is Sylvia?" In a 2014 interview with Women's Wear Daily, Redmayne shared, "Albee came and hung out, and he was pretty inspiring. And that whetted my appetite for doing new plays and working with writers."
Eddie Redmayne was drunk for his first big audition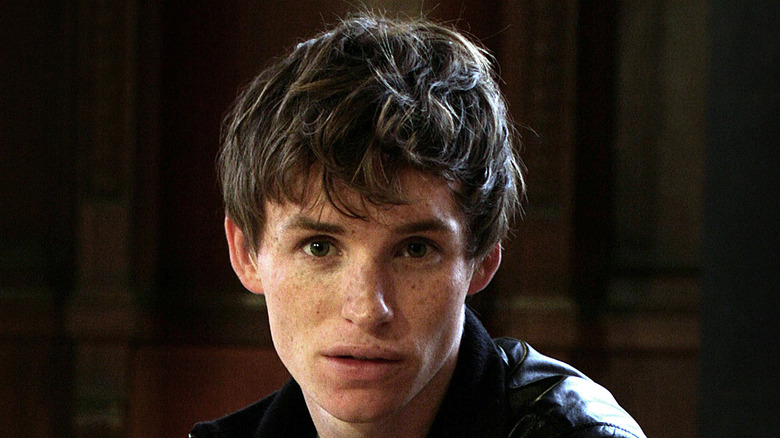 Martin Godwin/Getty Images
Eddie Redmayne's first major role was in an all-male production of Shakespeare's "Twelfth Night," playing Viola opposite Mark Rylance. "Because I was at an all-boys school, I played a lot of girls' parts as a kid," he told Out Magazine. When he was called in for a final audition with the "Waiting for the Barbarians" star, Redmayne was polishing off a bottle of wine with a friend. Redmayne said they put him in a skirt and had him "improvise Shakespeare." 
Fortunately, the drunk actor aced the read-through with Rylance. "I woke up the next day, the whole thing was some sort of hungover dream. But I got the part, so that was wonderful," he said. That job led to roles in films and TV series. Redmayne starred as Angel Clare, the titular character's idealistic husband in Tess of the D'Urbervilles, an English mini-series based on a novel by Thomas Hardy.
Redmayne said, "For me what was most interesting about Angel Clare in the book was that he has an arrogance and a kind of moral high ground which I think to a Victorian readership wouldn't have been so extreme." Redmayne had smaller roles in two projects about Queen Elizabeth. He appeared in the 2005 TV series "Elizabeth I," which stars Helen Mirren. He also played Thomas Babington in 2007's "Elizabeth: The Golden Age," with Cate Blanchett.
The star had to fight for his role in Savage Grace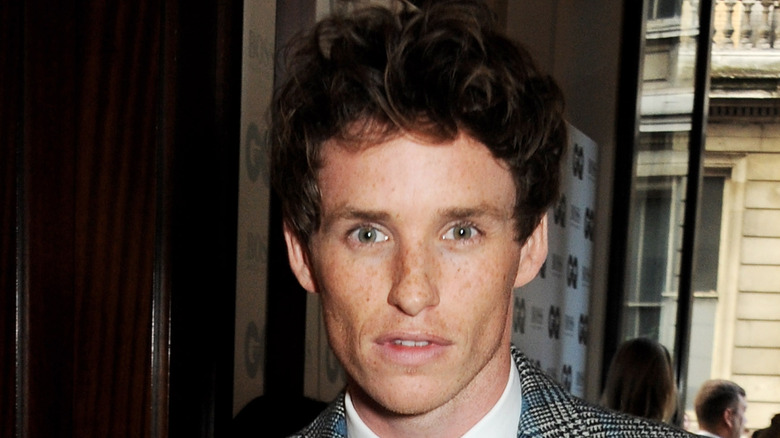 David M. Benett/Getty Images
Eddie Redmayne's first American film was 2006's "The Good Shepherd," playing Angelina Jolie's son in the big-budget Hollywood production. "That remains the most amazing but terrifying moment of my life," Redmayne told The Telegraph about living in a hotel and being whisked to the set in a blacked-out car every morning. Paparazzi were constantly flanking the streets, clamoring for a shot of Jolie or Matt Damon. "You walked in and there were huge sets and I could just see money everywhere," he said.
Ironically, in his scenes with Jolie, the camera was right in front of him. "All that money and, actually, it is just about what you do with your face," Redmayne concluded. The following year, Redmayne was cast as the son of another Oscar winner, playing Julianne Moore's repressed gay son and lover in "Savage Grace." "It's one of those scripts that you read and you become sort of embarrassingly protective of it, like, 'Please don't let anyone else get this!'" Redmayne told Interview Magazine in 2011.
Before filming began, the financing fell through, and he was about to lose the part to another actor. Redmayne flew to New York, and fought his way into the room to audition with the "Dear Evan Hansen" star. Redmayne explained, "Julianne Moore looked at me and she said, 'Oh my God, you've got freckles, you've got reddish hair. You sort of — You even look like my son.' And I've never been more grateful for something."
The actor is a Tony winner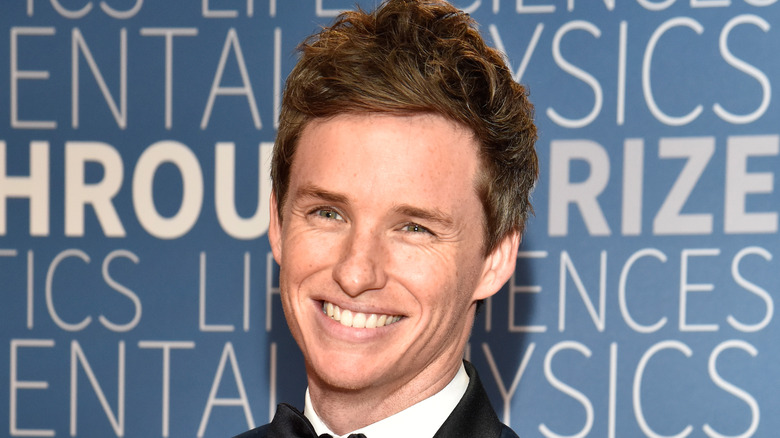 Tim Mosenfelder/Getty Images
In 2010, Eddie Redmayne returned to the stage, making his Broadway debut in John Logan's critically acclaimed play "Red," picking up an Olivier and a Tony Award for his performance. The actor, who is severely colorblind, plays Ken, a young art student alongside Alfred Molina as abstract expressionist painter Mark Rothko. Ahead of the show's London premiere, Redmayne, who studied art history at Cambridge, said, "I don't want to be irritating about it, but this is the dream job."
After that, Redmayne took on the role of Jack, a stonemason who helps to build England's Gothic Cathedral in "The Pillars of the Earth," a campy Starz mini-series set in 12th century England. The series, which also stars "Deadwood's" Ian McShane, earned Golden Globe and Emmy nominations. Speaking to Reuters, Redmayne described Jack as "a passionate guy and he has an extraordinary innate talent," who "kind of grows into this kind of extraordinary human being."
In 2011, the actor starred in "Hick," a dark comedy about a Nebraska teen – played by Chloë Grace Moretz — in search of a better life. In an interview with The Sunday Times, Redmayne, who plays Eddie, a reckless cowboy, admitted it wasn't one of his best movies. "The aspiration is always to make a great film and I don't think I've made many of those," he said. Pointing to "Hick's" abominable 5% score on Rotten Tomatoes, "in which I played a Texan meth addict pedophile," that definitely tracks.
My Week with Marilyn was a career turning point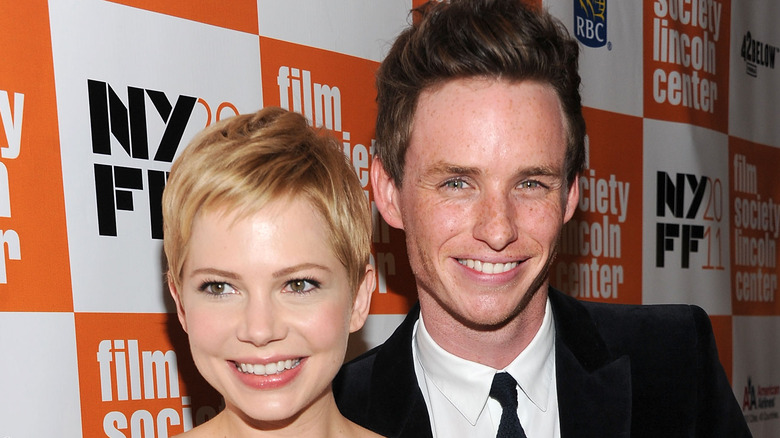 Dimitrios Kambouris/Getty Images
"My Week with Marilyn" is a 2011 film about the making of "The Prince and the Showgirl," a 1957 movie which starred Marilyn Monroe, played by Michelle Williams (above), and Sir Laurence Olivier, portrayed by Kenneth Branagh. While "The Fabelmans" star and the "Belfast" actor both received Oscar nominations for their portrayals, some said Eddie Redmayne walked away with the film as a production assistant who falls for the Hollywood icon.
"I believe the heart of the film, and the cleverest stroke of all, is Eddie Redmayne as Colin Clark, someone few of us will have heard of," wrote David Thomson for The New Republic. There are probably few who haven't heard of him now. Speaking with Interview Magazine at the time, Redmayne explained he was intrigued by the character who ended up being a gopher in the film industry. "He'd grown up surrounded by people like Vivien Leigh and Laurence Olivier and Margot Fonteyn, who were friends of his parents, but he wasn't intimidated by their fame."
The rising star added about the film, "What's amazing is this whole movie is about how she [Marilyn] was going through this incredibly desperate, dark time, and was a nightmare from all accounts — and yet when you watch 'The Prince and the Showgirl,' she has this lightness and frivolity and this kind of sexy effortlessness." Reportedly, shooting the 1957 film was a nightmare. The project was marred by clashes between the two polar opposite stars with very different agendas.
With Les Misérables, a movie musical star was born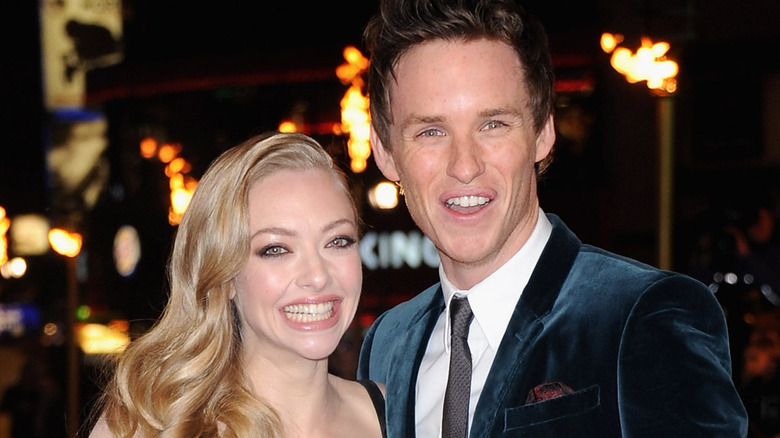 Stuart C. Wilson/Getty Images
Eddie Redmayne plays Marius, the romantic lead in the 2012 film "Les Misérables," which stars Hugh Jackman, Russell Crowe, and Amanda Seyfried (above). When he learned his "Elizabeth I" director was at the helm, he immediately wanted in. "When Tom Hooper started auditioning people for that film, half of Hollywood came running out of the musical theater closet to express their undying love for that piece," Redmayne told Vanity Fair.
At the time, Redmayne was on location in North Carolina shooting "Hick," so he shot off an audition tape dressed as a cowboy singing Marius' emotional solo, "Empty Chairs and Empty Tables." Many movie musicals record the actors lip-syncing to pre-recorded tracks, but "Les Misérables" was among the first to film actors singing live. "Very few people had done that on film before, so it was this great leveler," Redmayne explained. "It meant that everyone had their own levels of anxiety, which we were playing with together."
Redmayne also played an English soldier in the BBC's mini-series "Bird Song," a story of forbidden love set against the backdrop of World War I. "Birdsong is a piece that doesn't just analyze carnal love, but all types of love; whether it's sexual love, passionate love or emotional love," he told Inside Media Track. If all this wasn't enough, Burberry launched a new ad campaign featuring the actor alongside "Suicide Squad's" Cara Delevingne. Naturally, GQ's Best Dressed Man of 2015 rocked it!
Eddie Redmayne is an Oscar Winner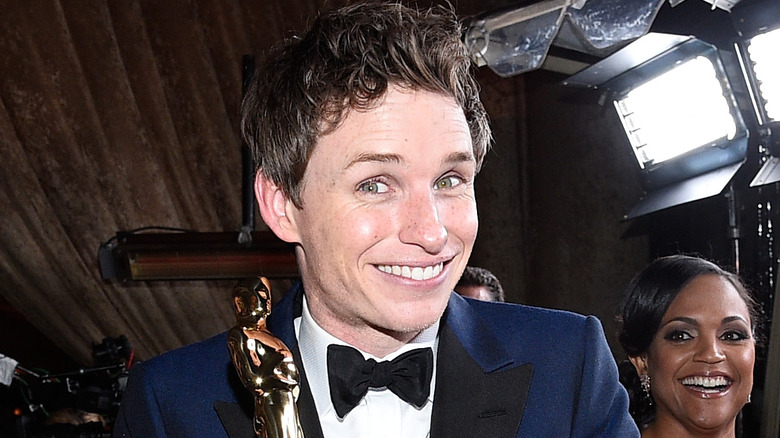 Kevork Djansezian/Getty Images
The 2014 film "The Theory of Everything" changed the entire trajectory of Eddie Redmayne's career. Once he signed on to play ALS-stricken theoretical physicist Stephen Hawking, he told Vanity Fair, "It was one of those moments of overwhelming elation that about three and a half seconds later turned to excruciating fear." The actor, who spent time with Hawking before shooting the film, knew the famed author would see the finished product. "It made me kind of grip a situation in a way I hadn't before."
Redmayne spent months preparing for the role, studying the principles of physics, getting to know Hawking's family, and meeting with patients at a London neurology clinic to understand everything he could about the man and his affliction. "Some need a short runway to take off and others need a long runway," he told GQ in 2022."I need quite a long runway." Redmayne also worked with a choreographer, who helped him condition his body to become more taut rather than more flexible.
"I had to train my body like a dancer but learn to shorten muscles instead of stretch them," he explained. In 2015, Redmayne won the Oscar for his performance in the film. Accepting the trophy, the awestruck recipient said, "Please know this, I am fully aware that I am a lucky, lucky man," as he dedicated the award to the Hawking family and everyone around the world who has ALS.
The Oscar winner calls filmmaking 'nerve-wracking'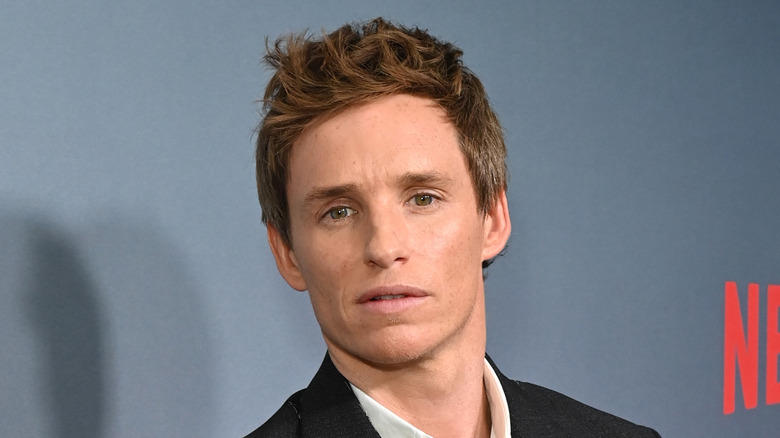 Bryan Bedder/Getty Images
Eddie Redmayne has always had a bit of a chip on his shoulder, because he never attended drama school. "You constantly feel like a fraud, not having a piece of paper saying you graduated from somewhere," he told Backstage in 2015. He believes that's why he's more uptight than other actors on set. "Everything about filmmaking is nerve-wracking," he told Out Magazine. "You're supposed to be at your best when you're most relaxed, and yet everything about being on set is unrelaxing."
On the heels of "The Theory of Everything," Redmayne sat down for a conversation with Jennifer Lawrence for Interview Magazine. "The Hunger Games" star asked him if he gets embarrassed before shooting major meltdown scenes. "I'm just one gigantic ball of rancid fear and self-consciousness," he replied. "I'm entirely fueled by fear, so the fact that I knew it could be a catastrophic disaster made me unable to sleep, and made me work quite hard."
It all paid off in the end, but with success came public scrutiny. After winning the Academy Award for best actor at age 33, Redmayne said he felt the pressure of having to live his life in the spotlight. Speaking to Out Magazine at the time, he said, "People are just asking relentlessly: 'How does it feel?' And you are trying to come up with an answer and can't because there is a part of you that is going, I actually have no idea. I'm just trying to keep my head afloat."
The Danish Girl won praise and criticism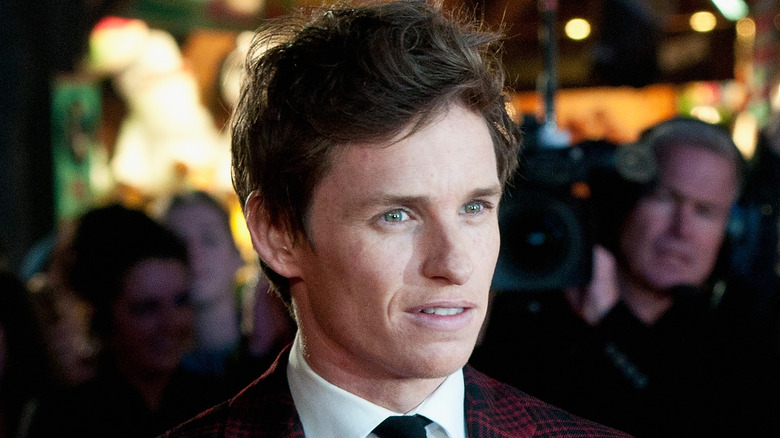 Eamonn M. Mccormack/Getty Images
In 2015, Eddie Redmayne went from one Oscar-nominated role to another, with his stunning turn as "The Danish Girl," which also stars Alicia Vikander. It's the story of Einar Wegener, a Copenhagen artist believed to be the first person to have gender confirmation surgery. Tom Hooper approached him with the script when they were working on "Les Misérables," but Redmayne never thought the project would be greenlit.
"I found it profoundly moving," Redmayne revealed to Out Magazine. "It felt like it was a piece about authenticity and love and the courage it takes to be yourself." The actor had discussions with trans leaders before he signed on, and, as you probably expected, some had reservations. "As a trans woman, I don't think that if and when they make a biopic of my life I would want a cisgender man playing me," said British trans activist Paris Lees. "But if anybody's going to do this justice, then I'm happy it's Eddie."
Redmayne received a second Oscar nomination for his performance in the film that sparked a firestorm of controversy. In a 2016 interview with Second Nexus, "I Am Cait" actor Jen Richards explained that casting cisgender men as trans women sends the wrong message. "When you cast Matt Bomer, Eddie Redmayne, or Jared Leto [as trans women], you are saying that a trans woman is a type of man." In 2022, Redmayne told The Sunday Times, "I made that film with the best intentions, but I think it was a mistake."
Eddie Redmayne is a devoted husband and father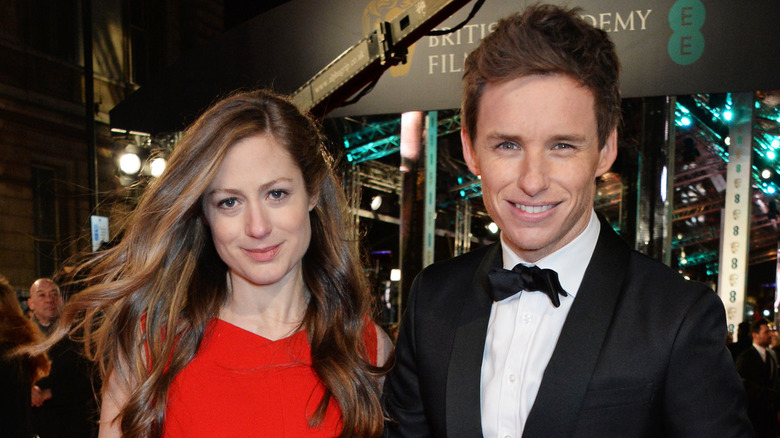 David M. Benett/Getty Images
You don't often see Eddie Redmayne making tabloid headlines, because he's a happily married family man. The actor met Hannah Bagshawe at a charity fashion show when they were teens. "I saw Hannah across the room at a party afterward and she was very beautiful and very funny, and she loves the arts and theater just as I do, so we became friends," Redmayne told the Daily Mail in 2015. More than a decade later, the friendship turned into something more.
In a 2016 interview with TimeOut, Redmayne said he felt fortunate their attraction is so strong. "It's also wonderful having a shared history and friends, even though we didn't get together for 15 years." After tying the knot in a small ceremony in Somerset, England, Redmayne and the antiques dealer didn't waste much time starting a family. In 2016, they welcomed daughter Iris, a few weeks past her due date.
The proud papa joked on "The Ellen DeGeneres Show:" "Iris appeared in the world and I gave her a stern talking-to." After son Luke's birth in 2018, Redmayne kept his sense of humor. "I have two little children — Iris is now 2 ½ and Luke is 8 months. So, honestly, life is about trying to keep the children alive. But they're wonderful," he told People. On the couple's first wedding anniversary, Redmayne said, "It's been extraordinary." As he accepted his Olivier Award in 2022, the duo looked as happy as ever.
The actor 'loved' playing Newt in Fantastic Beasts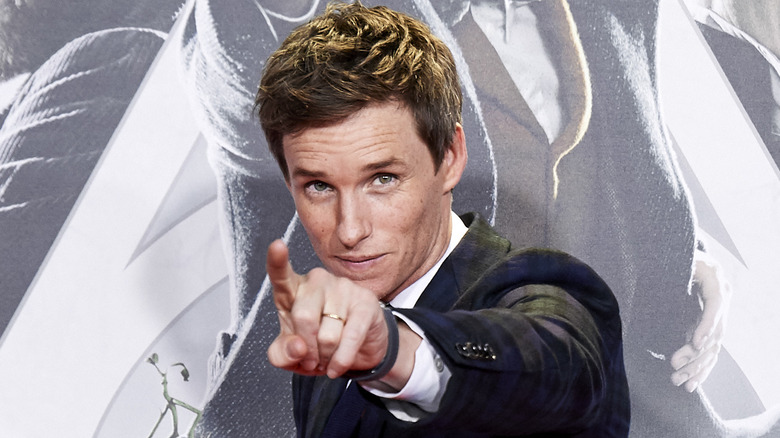 Carlos Alvarez/Getty Images
Eddie Redmayne made it to the A-List, but 2016's "Fantastic Beasts and Where to Find Them" catapulted him into the stratosphere. According to producer David Heyman, Redmayne was the only choice to play magizoologist Newt Scamander in the spin-off prequel to the "Harry Potter" film series. "He's smart, funny, utterly British, and immensely sympathetic — even as an outsider more comfortable with his beasts than with people," Heyman said.
Redmayne reprised his role in the billion-dollar franchise in two sequels, starring alongside Katherine Waterston, and later Jude Law and Johnny Depp. "I love Newt, I loved him as a character from the second I read it," he told Vanity Fair in 2022. "He was eccentric, he was unique, he had extraordinary empathy, and he was passionate." In a 2022 interview with GQ, the Oscar winner explained how much being a part of the Wizardly World has meant to him.
"When I entered that world, I knew I was joining a machine that was so much bigger than me," he said. "It's given me a huge amount and I've loved working with some of the best, most joyful actors in the world." Unfortunately, box office returns for the sequels were less than fantastic. 2018's "The Crimes of Grindelwald" didn't fare as well as the original, and it's no secret "The Secrets of Dumbledore" bombed in 2022. As of November, 2022, it's unclear if there will be a  "Fantastic Beasts 4."
The actor sizzled in a London production of Cabaret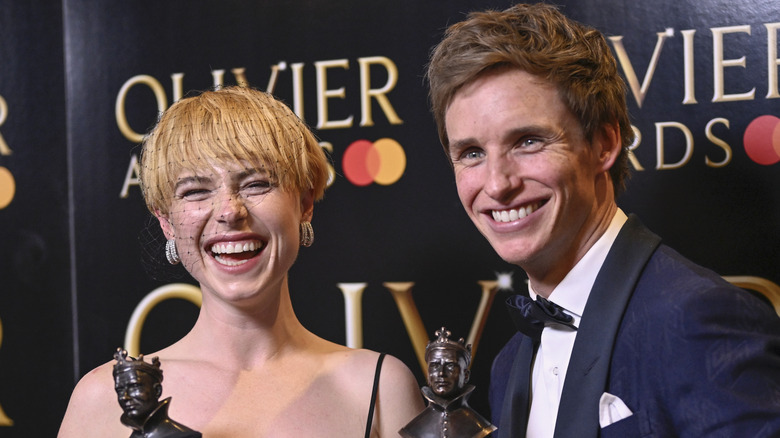 Gareth Cattermole/Getty Images
Eddie Redmayne likes to push himself out of his comfort zone. His role in Aaron Sorkin's 2021 film, "'The Trial of the Chicago 7," the story of seven people on trial for the uprising at the 1968 Democratic National Convention, was the perfect opportunity. The actor wasn't familiar with his character, Tom Hayden, the late anti-war activist and former California legislator, before starting his research. "He [Hayden] was an extraordinary man," Redmayne told Screen Rant in 2020.
"He did many things; he worked within the system and outside of it at moments." As for an English actor retelling a seminal moment in American history, Redmayne said, "There were just so many elements of this film — even though they were very specific to American culture at a very specific moment — that remain universal." Later that year, the "Red" actor returned to London's West End, playing the Emcee in a revival of "Cabaret."
Starring alongside Jessie Buckley (above) as Sally Bowles in one of the hottest shows of the season, Redmayne won raves as the androgynous nightclub host and received a second Olivier Award. It's a role often played by gay actors, and Redmayne's casting received some backlash. Joel Grey won a Tony Award and an Oscar for originating the role. Alan Cumming won a Tony as well. Speaking to The Sunday Times, Redmayne said, "Of all the characters I've ever read, this one defies pigeonholing. I would ask people to come and see it before casting judgment."
Eddie Redmayne was 'thrilled' to play to a notorious serial killer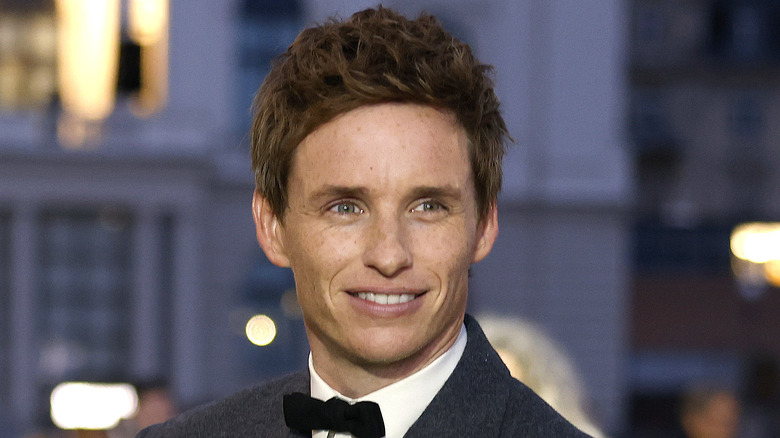 Remy Steiner/Getty Images
In 2022, Eddie Redmayne took on one of his darkest roles to date. "The Good Nurse," based on the 2013 book by Charles Graeber, tells the true crime story of Charles Cullen, a New Jersey nurse who murdered 29 patients and may have killed hundreds more. Jessica Chastain plays the titular role of Amy Loughren, a fellow nurse who befriends Cullen and discovers he's secretly injecting patients with lethal drugs.
"It was never a part I necessarily would've felt that I was born to play — America's most prolific serial killer," Redmayne told A.frame with a laugh. "But [director Tobias Lindholm] saw something in me, and I'm thrilled he did." Redmayne learned about both sides of Cullen by talking to the real Loughren. "She loved this man and he saved her life. And he was kind and gentle, and empathetic, and then, he was this other human being who was someone unrecognizable," Redmayne added.
Neither the film nor the book reveals the motive for the killing spree. "I didn't feel the need for the why," said Redmayne, who received a Golden Globe nomination for his portrayal. The two leads, who had been working for years to make the film together, share a similar process. Redmayne explained, "You do as much detective work as you can, and then you throw all that away and then just try to play opposite someone."