Madonna's Kids Call Her An Unexpected Nickname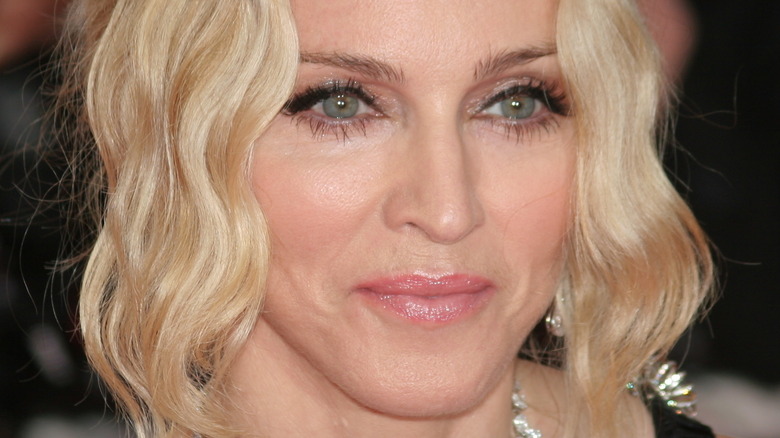 Denis Makarenko/Shutterstock
Most music fans around the world know Madonna as one of the most accomplished musicians of her era. From hits like "Virgin" and "Crazy for You" to "Live to Tell" and "Papa Don't Preach" (via Billboard), the Queen of Pop has certainly earned her place in the music history books.
Beyond the spotlight, Madonna is also the mother of six children. As noted by People, Madonna has two biological children (Lourdes and Rocco) and four adopted children (David, Mercy, Stella, and Estere). If that seems like a houseful to you, it definitely helps that her kids are fairly spread out in age. Madonna's oldest daughter, Lourdes Leon, was born in 1996, and her oldest son, Rocco Ritchie, followed four years later. In 2008, Madonna also adopted David, a young boy from an orphanage in Malawi, Africa. Subsequent trips to Malawi spurred Madonna to later add three more children to her family, including Mercy in 2009, and twins Stella and Estere in 2017.
Madonna is so devoted to her children that she had each of their first initials tattooed on her wrist (as shown on her Instagram account). However, it seems that there's one tattoo her children aren't likely to get, and that's the word "mom." This isn't because Madonna has a bad relationship with all of her children, though. Apparently, at least one of the singer's children uses an entirely different nickname to refer to her, and it's one that fans might not expect to hear.
Madonna's son David has a different nickname for his mother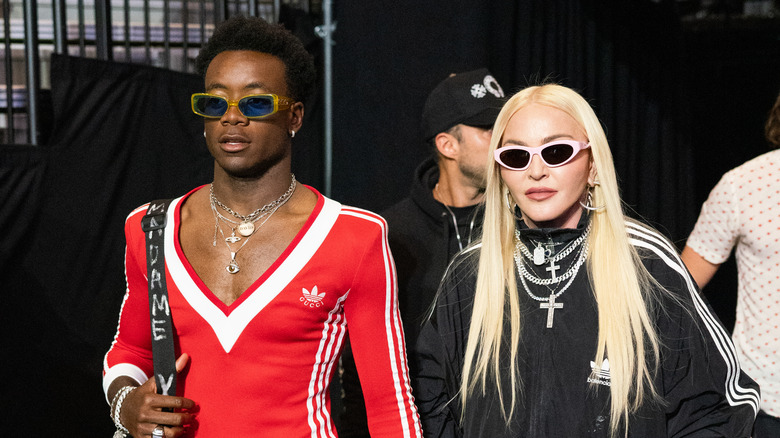 Cassy Athena/Getty Images
In July 2022, Madonna posted a video to Instagram of her son, David, dancing with her youngest daughter, Estere, in the kitchen. Toward the end of the video, David can be seen addressing Madonna's fans. After referring to her fans as "M-Gang," David then refers to his mother, whom he points out is sitting at the head of the table, as "M-Dog." It certainly isn't the first parental nickname that would come to mind, but Madonna appears to find the moment amusing for the brief second that the camera is turned to show her.
In a 2015 interview on Today, Madonna described her experience as a mother and said, "The more kids you have, the more responsibilities you have, the more you have to really be ... aware of time, time management and juggling lots of balls in the air." Luckily, it looks like the star has no trouble making time for her children and capturing the little moments, even telling People in regard to her 2017 adoption of Stella and Estere, "Sometimes I would just close my eyes and just think, 'Why isn't my kitchen filled with dancing children?' There's so many children that need a home."
Daughter Lourdes seems to call Madonna by a more conventional nickname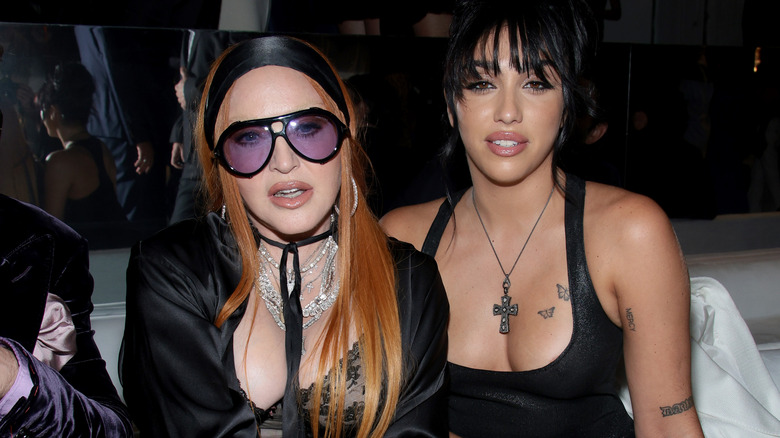 Dimitrios Kambouris/Getty Images
Based on interviews that Madonna's eldest child, Lourdes Leon, has done over the years, it would seem as though David's nickname for her isn't a 100% consistent thing among children in her household. In fact, if previous interviews are any indication, it looks like she just calls Madonna the more conventional "Mom" or "Mommy." 
For example, in a 2006 interview, Madonna explained to Out magazine (via Today) that Lourdes was interested in figuring out who was gay and who wasn't, saying, "[Lourdes] is really obsessed with who is gay. And she even asked, 'Mom, you know they say that you are gay?' And I'm, 'Oh, do they? Why?' And she says, 'Because you kissed Britney Spears.'"
Similarly, in a 2015 interview on "Ellen" (via New York Daily News), Madonna discussed Lourdes' going away to college at the University of Michigan and shared, "I'm always so happy when she calls me and she says, 'Mommy, I miss you,' or 'I need you to rub my head.'"
Whether she's "Mom," "Mommy," or "M-Dog," it seems clear that Madonna will always be her children's number one fan.