What We Know About Trevor Lawrence's Wife, Marissa Mowry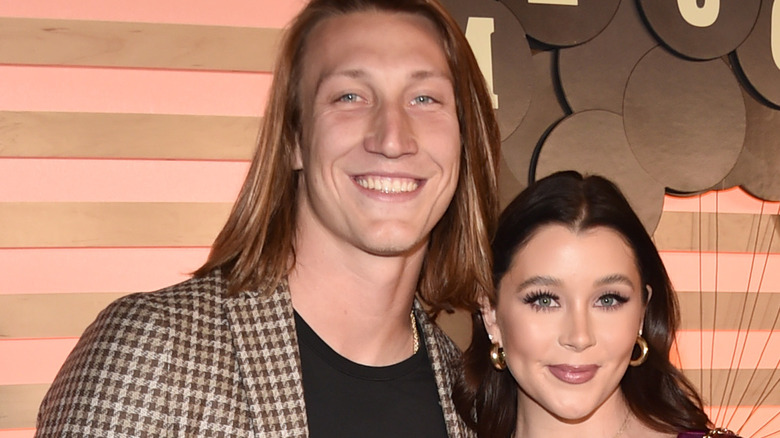 Alberto E. Rodriguez/Getty Images
Trevor Lawrence's football career got off to a rather charmed start. In just a few short years, the young athlete racked up a ton of accomplishments. While still in high school, where he threw over 10,000 yards, Lawrence was dubbed Georgia's 2017 high school football player of the year, per the Atlanta Journal-Constitution. Years later, after a successful stint at Clemson University, Lawrence became the number 1 overall NFL Draft pick — the first Clemson athlete to achieve the feat (via Clemson University). And even though Lawrence hasn't quite lived up to the hype of his pre-NFL days since joining the Jacksonville Jaguars (via Sports Illustrated), he still has plenty of time to cement his football legacy.
With that said, a fulfilling life involves more than just work. Fortunately, Lawrence's personal life seems to be going pretty well. Not only did Lawrence find an incredibly gorgeous wife in his high school sweetheart Marissa Mowry — whom he married on April 10, 2021, per Southern Bride — but she's so much more than just a pretty face! 
Marissa Mowry is an event planner
Trevor Lawrence may have a four-year $36 million football contract with the Jacksonville Jaguars, per Marca, but that hasn't stopped his wife Marissa Mowry from pursuing her own dreams. Mowry, who first met Lawrence when they were in the fifth grade, is an event planner who works for Love, Gigi Events, which specializes in weddings, baby showers, and more. Based on the brand's Instagram account, Mowry joined the Jacksonville, Florida-based company in 2021. "We are thrilled to announce our newest Event Designer, @marissa_lawrence. We are so excited to have you a part of the LGED family! Welcome to the team! Let's make some magic," said the caption of Mowry's introductory post. 
Prior to joining Love, Gigi Events, Lawrence threw small soirées such as "parties and engagements" for her friends. "I'm so excited to take my skills to a larger scale and partner with Love, Gigi in helping make dreams come to life," shared Lawrence (via Love Gigi Events). She added, "Events have allowed me to bring joy to those closest to me and now I'm honored to be able to do this for a living." According to Bustld, Mowry put her event planning skills to good use when she and Lawrence planned their own wedding.
Marissa Meyer is a former athlete
Marissa Mowry has proven herself to be an incredibly supportive partner for Trevor Lawrence, often posting celebratory pictures about her husband's games to Instagram. However, Mowry once had her own celebration squad, as she is a former athlete who played for Anderson University's soccer team, per Anderson University.
In 2020, Mowry posted an emotional letter about leaving the world of soccer behind, which was influenced by the pandemic. "This has been a hard one to start," wrote Mowry in the Instagram post. "How do you say goodbye to something you've known your whole life, something you've poured so much into, something you love. I've played this sport since I was 5. It has grown me, shaped me, taught me, challenged me. It has given me SO many amazing memories and introduced me to so many amazing people." 
Mowry also credited God with helping get her through school. Continuing, Mowry said: "I will miss this game so much. The beautiful game. I've worn this jersey with pride and joy, but now it's time to say goodbye and start the new season that the Lord has prepared for me."