The Reality Of Dakota Fanning's Life Growing Up In Hollywood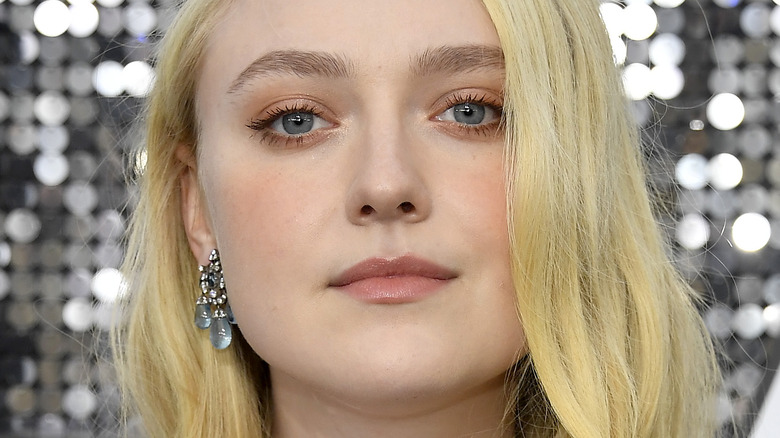 Frazer Harrison/Getty Images
Many child stars have a certain precociousness about them, which is perhaps why they get cast in the first place. But Dakota Fanning transcended mere precocious behavior as a youngster. "I handled myself the best that I could and was professional, but I was also a kid," she once said in Nylon. "I've found that anybody who takes what they're doing seriously or seems to be a caring person gets called an old soul."
That wise-beyond-her-years attitude presumably inspired a recurring "SNL" sketch called "The Dakota Fanning Show." In it, Amy Poehler played Fanning in a talk show format wherein the actor speaks on topics seemingly way too mature for her young age. "I'm sure it's hilarious. I just haven't seen it," Fanning said in Town & Country when asked about the segment. Which is not to say that Fanning can't laugh at herself. She exhibits a great sense of humor and self-awareness in interviews. And why should she dull her shine?
It comes as no surprise that Fanning was able to escape the fate of so many child actors, either fading into obscurity or becoming fodder for tabloids. Boasting an incredible resume and a slew of awards and nominations, the former child star and shows no sign of slowing down. Let's take a look at the actor's life growing up in Hollywood — something tells us this star is not, in fact, just like us.
Dakota Fanning's parents were successful athletes
In the small town of Conyers, Georgia, Dakota Fanning's parents were kind of a big deal, but not in the world of show business. Per Baseball Reference, her father, Steve Fanning, was a minor league baseball player, and her mother, Heather Joy Arrington, a successful tennis player. When Dakota was growing up, her father had moved on to a job in sales and her mother stayed home to care for the family, but sports remained very important in the Fanning household.
Dakota's parents didn't pressure her to pursue acting, but they did hope she would excel in athletics. Alas, Dakota was not particularly interested in taking that road. "I would be disowned if I said I didn't like sport. My mom would be like, 'How could you say something like that?!' It's true, I do like it, I just can't play because I don't have the drive or passion to be a professional athlete. Or the talent... let's be honest," the actor told Marie Claire. While she may have not followed in her parents' footsteps, she sure did inherit their tenacity and work ethic. "I have the sports drive," she said in The Guardian. "It's in my blood; I can't help it.
Dakota Fanning's big break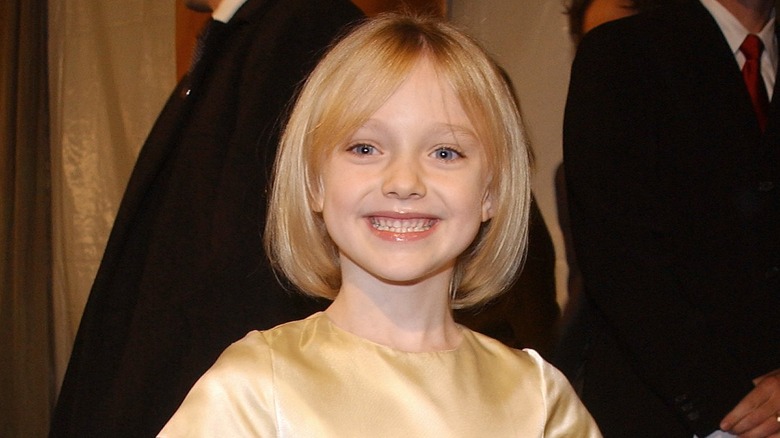 Vince Bucci/Getty Images
Dakota Fanning's breakout performance arrived in the 2001 film "I Am Sam," a role she played when she was just 7 years old. But her professional acting career began a few years earlier. Like many other young stars, she got her start in commercials, appearing in an ad for Tide when she was still in kindergarten. It turned out she was a natural actor.
As Fanning told Queen Latifah for Interview, "When I was about 5, my mom took me to this playhouse where you study and do a play at the end of the week. At the end, the head of the playhouse came up to my mom and said, 'Have you ever thought about getting her an agent? Your daughter is the only one who actually tried' ... we waited three months, then went to an open casting call at an agency in Georgia. I got three commercials in 10 days."
Fanning, of course, went on to act alongside some of the biggest names in Hollywood, and she got a taste of that in her commercial work as well. One of her first gigs was a lottery spot that featured the legendary performer Ray Charles. Looking back on that once-in-a-lifetime experience, she said in Interview, "I'm on the piano bench with him, and he's singing 'Georgia on My Mind' in a big ballroom." 
Dakota Fanning got good at handling rejection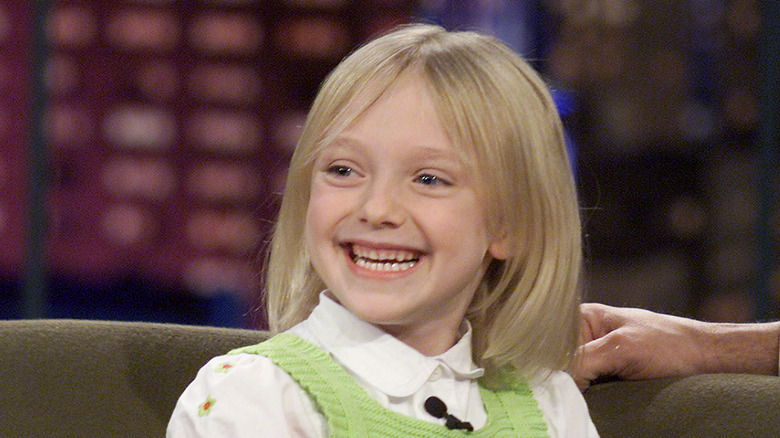 Kevin Winter/Getty Images
Acting is a cutthroat business, and Dakota Fanning learned this at a very young age. However, her level-headed attitude sure worked in her favor, as it allowed her to take rejection in stride. "I was always able to decipher what mattered from what didn't," she told The Guardian. "I would go on so many commercial auditions and I would hardly ever get them, because they would always pick the girl with the really long hair. I had short hair and was different looking. And I would say, 'You know, they probably just really wanted someone with brown hair, or longer hair.'" We'd be willing to go out on a limb and say that there are actors three times her age who do not possess that degree of chill.
Getting used to the ups and downs that come with getting turned down for roles was one thing, but the intense amount of scrutiny that comes with being a celebrity was an entirely different animal. Still, she handles it with grace. "I feel like I have to defend my life, and then it's like when you hear someone overly defending you're like, 'Oh they must be overcompensating for something.' So you're walking this line of defending yourself, but not too much, because I don't have anything to defend," she said in an interview with Freddie Highmore for Variety's "Actors on Actors" series.
The Fanning siblings' rivalry was real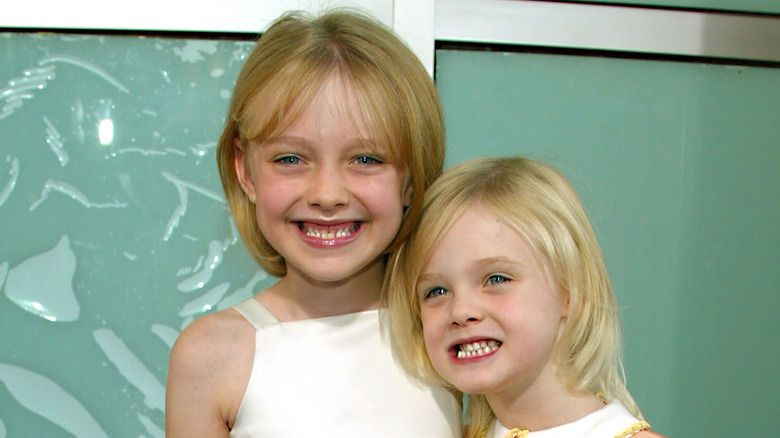 DFree/Shutterstock
For siblings just four years apart pursuing the same professional endeavor, Dakota Fanning and younger sister Elle Fanning were not particularly close growing up. "There are a few years where you're both experiencing such different things; age nine and 13 – nothing in common; 12 and 16 – we didn't know what to do with each other," Dakota told Marie Claire.
But there seemed at times to be more than that affecting the sisters' relationship. Elle told Net-A-Porter that she didn't get a role on "Friends" that she auditioned for; Dakota later landed a role on the hit sitcom. "I was like, 'I'm boycotting the show, I'm never watching this again.' Then my sister was on it and I refused to watch the episode," Elle said. But true to her pragmatic fashion, Dakota makes a point of keeping show business out of family business. She said to Marie Claire, "[W]e don't talk about [acting] that much. We have our own separate relationship with what we do. We've never felt the need to get into it."
And whatever rivalry might have been going on their younger years seems to have dissipated. In 2017 when asked by Elle magazine to name an actor she'd like to work with, Dakota said, "My sister. We'd love to not play sisters but everyone says we look so alike – we don't see it – so maybe it'd be hard." In 2021, the Fanning sisters launched their own production company, Lewellen Pictures.
Dakota Fanning befriended her A-list co-stars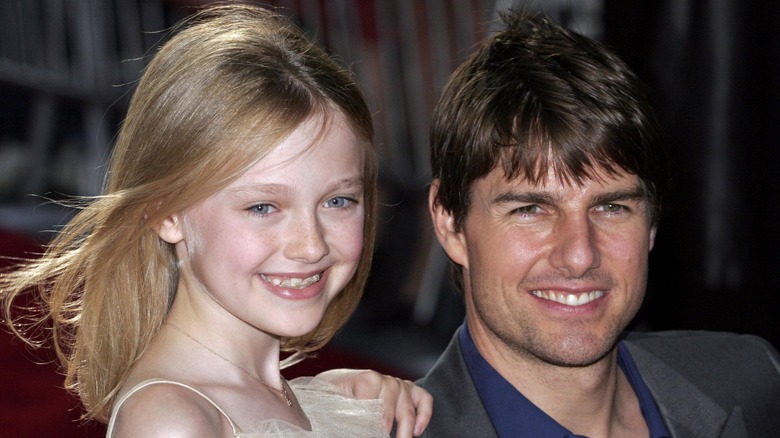 Everett Collection/Shutterstock
Dakota Fanning has shared the screen with many Hollywood greats. Her first movie role was opposite Sean Penn, which is pretty impressive for a 7-year-old. She went on to work with venerated A-listers like Emma Thompson, Denzel Washington, Ewan McGregor, and Robert De Niro. And per The Scotsman, she's knitted scarves for many of the Hollywood veterans she's acted alongside, including Tom Cruise.
Fanning and Cruise hit it off when they starred together in 2005's blockbuster "War of the Worlds." Fanning told Andy Cohen on a 2016 episode of "Watch What Happens Live" that Cruise has sent her a birthday gift every year since she was 11. When asked what kind of presents Cruise springs for, Fanning answered, "It's usually shoes." We should all be so lucky.
Maverick isn't the only star who has gifted Fanning with something lavish. Steven Spielberg, with whom Fanning worked on the 2002 sci-fi series "Taken" as well as "War of the Worlds," actually paid for her 21st birthday trip to Las Vegas. A source shared with E! News, "It was something he promised when they filmed 'War of the Worlds.' Apparently they've kept in touch and he followed through with his promise." This girl sure makes a lasting impression.
The valuable lessons Dakota Fanning learned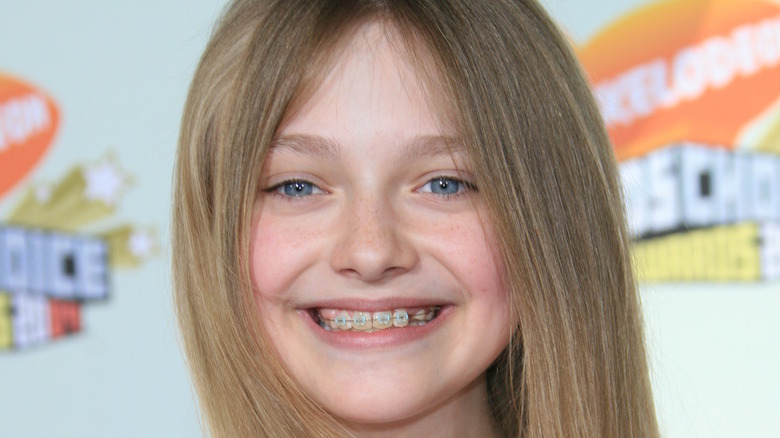 Joe Seer/Shutterstock
Having entered show business at an age when most of us were learning how to write our own names, Dakota Fanning has learned a lot throughout the years. Working among established actors for sure had an influence on Fanning. On a 2016 episode of "Watch What Happens Live," she said that while working with Denzel Washington in "Man on Fire," she learned a lot from his ad-libbing. "I had to stay really in the moment," she shared. Fanning no doubt got a chance to flex her ad-lib skills again when she and Washington reunited for 2023's "The Equalizer 3."
In preparation for her role in "The Secret Life of Bees," the actor learned quite a bit as well, but not simply about acting. Along with studying up on beekeeping and the Civil Rights Act, Fanning participated in a mock discrimination exercise orchestrated by the film's director Gina Prince-Bythwood. The idea was for Fanning to understand what life would have been like for her and co-star Jennifer Hudson in a small town drugstore in 1960s South Carolina. "[E]veryone started really discriminating against us. We got into this whole argument. It was really eye-opening," Fanning told Queen Latifah for Interview.
But one of Fanning's most valuable lessons came not from Hollywood, but from simply watching her own mother in action. "Seeing my mom be a stay-at-home mom, I saw the strength in that; in choosing to dedicate her life to being the best mom," she shared with Marie Claire.
Dakota Fanning's most controversial role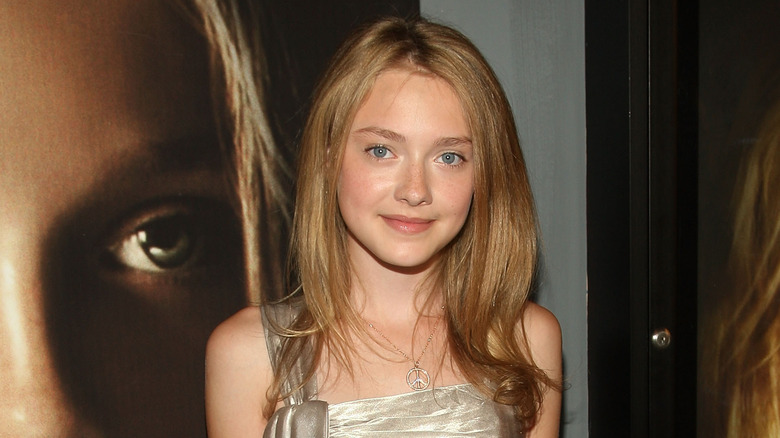 Stephen Lovekin/Getty Images
In 2007, 12-year-old Dakota Fanning starred in the indie film "Hounddog." The film was a shock to fans who were used to seeing Fanning in movies such as "Charlotte's Web" and "The Cat in the Hat," as her character in "Hounddog" dances around in her underwear, wakes up next to her naked father, and is raped by a teenage boy. There was even a petition circulating in an effort to hold the filmmakers accountable for what was perceived as exploitation of a minor.
But Fanning, with the support of her mother and her agent, did not agree with the backlash. She even suggested that her peers should see the movie with their parents citing its educational value. "I'm going to be a freshman in high school in September, and I think it would be irresponsible of my parents not to let me know of things that happen and to try not to get yourself in uncomfortable situations," she told Reuters.
The ever-mature Fanning went a step further and chided those who took issue with her role in the film. "There are so many children that this happens to, every second," she told The New York Times. "That's the sad part. If anyone's talking about anything, that's what they should be talking about."
Dakota Fanning's high school life was fairly normal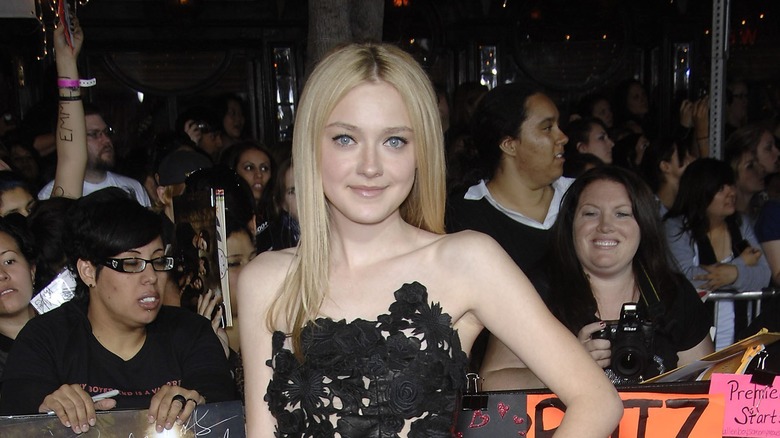 Everett Collection/Shutterstock
Due to her demanding work schedule, Dakota Fanning was homeschooled for much of her young life. But that changed during the filming of 2009's "The Twilight Saga: New Moon." Fanning began attending Campbell Hall Episcopalian High School when she was 13, and she was over the (new) moon when chatting about it with Queen Latifah in Interview in 2008. While she may not have gotten into tennis or baseball like her parents, that's not to say she never got into sports. She joined her school's cheer team and sure seemed to enjoy the experience. "It's so much fun. I get to be the flier, too, which is the one who's on top of the pyramid—so I get to do all the fun stuff," she said. She also seemed delighted at the traditional high school student experience of it all. "I made some really good friends. Cheerleading helped because I met them all over the summer, so I knew people when I first went to school...It's so normal."
In 2009, Fanning even took an interview with Entertainment Weekly over the phone in the middle of a school day. "I'm hiding from any teacher that would see me on my phone right now," she said. In addition to being a cheerleader, Fanning was also crowned homecoming queen not once, but twice. Okay, maybe her high school experience was not so much normal as it was kind of stellar. But what else would we expect from Miss Fanning?