How Many Times Has Chevy Chase Been Married?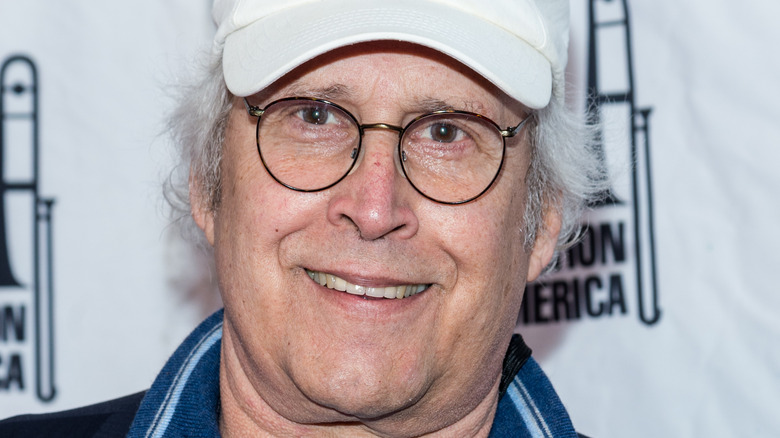 Mark Sagliocco/Getty Images
Controversial comedian Chevy Chase has one of the longest-lasting marriages in Hollywood. He and his wife Jayni Luke have been married for over four decades, having met on the set of the comedy film "Under the Rainbow" in 1981. "I was walking behind her one day and I said, 'Is that your real color hair?' and she couldn't care less about me," recalled Chase in an interview with PBS (via Rare). Luke said she wasn't looking for a romantic relationship with anyone at the time. "[Chase] flirted with me and pursued me. But I didn't take it seriously," she told Barbara Walters. "Then one day, I made a rather flip remark to him and I looked and thought that he was rather hurt by it. And I said, 'Oh, I think there's a nice guy there.'"
The couple married in the spring of 1982 and went on to welcome three children together: Cydney, Caley, and Emily. In his profile for People magazine in 1983, Chase — who has openly struggled with unhealthy drug and alcohol use — credited his wife for changing his life. "She got me right out of the doldrums I'd been in for three years," he said, noting that with Luke, there was "no smoking of pot, no drugs, no drinking." The two celebrated 40 years of marriage last June. And while it's clear that Chase has found the love of his life, this isn't the first time the "Saturday Night Live" alum has been married.
If you or anyone you know is struggling with addiction issues, help is available. Visit the Substance Abuse and Mental Health Services Administration website or contact SAMHSA's National Helpline at 1-800-662-HELP (4357).
Chevy Chase has been married three times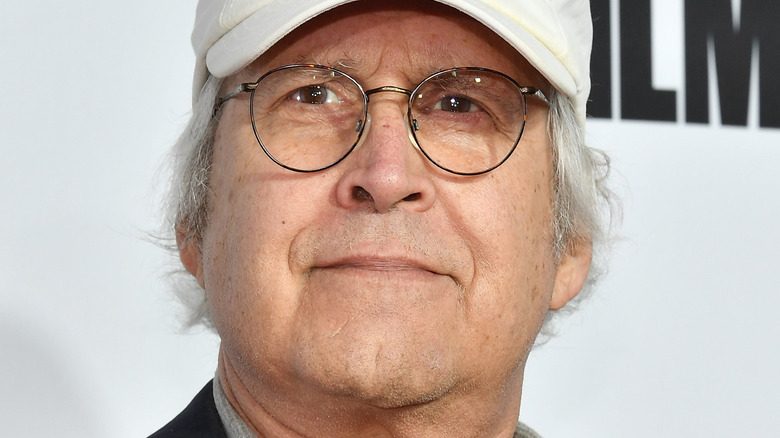 Dia Dipasupil/Getty Images
Chevy Chase has been married before — first to Suzanne Hewitt, whom he married in 1973 and divorced in 1976. The two met at a rock concert where Chase and his band Chameleon Church were performing; he was 25 at the time, while Hewitt was only 19. According to his biography "I'm Chevy Chase... and You're Not," Hewitt became pregnant with Chase's child, but she agreed to terminate her pregnancy on the one condition that Chevy marry her. The pair eventually parted ways after Hewitt allegedly ran off with another man. "She had an affair and simply left," Chase told author Rena Fruchter. "That was the end of that."
The same year he divorced Hewitt, Chase moved to California where he then met his second wife Jacqueline Carlin, an actor known for her roles in "Thank God It's Friday" and "Bronk", per IMDb. In his biography, Chase said that his relationship with Carlin played a major role in his decision to leave "Saturday Night Live." The two married in December 1976 and divorced four years later, with Carlin reportedly receiving $400,000 as part of their divorce settlement, according to UPI. Looking back on their separation, Chase told People, "A separation is so painful. I really didn't have a carefree bachelor life. Mostly, I moped." Carlin passed away in July 2021 after a year-long battle with cancer, per Legacy. She was 78. 
Who is Chevy Chase's wife, Jayni Luke?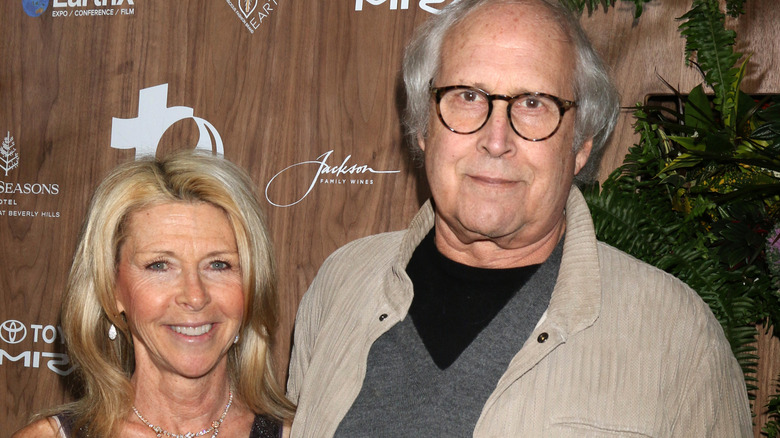 Kathy Hutchins/Shutterstock
Jayni Chase (née Luke) is an environmental advocate and activist. In 1988, she founded the Center for Environmental Education, which provided resources and educational programs in K-12 schools in the U.S. and is currently operating out of Unity College. She's the author of "Blueprint for a Green School," which was published in 1996 by Scholastic, and has written a few pieces about environmental topics for the Huffington Post. Moreover, Jayni has served in a number of green organizations and received numerous awards for her decades-long work on environmentalism. She was granted an honorary master's degree in environmental studies by The Antioch New England Graduate School, and was given the "inaugural Hugh C. Lane Jr. Award of Excellence in Environmental Education" in 2018, per The Post and Carrier.
Born in Los Angeles, California on August 24, 1957, Chevy Chase's wife also had a brief stint working in the entertainment industry. According to her IMBD page, Jayni worked as a production coordinator on the 1981 film "Under the Rainbow," where she and Chevy first met. She also worked as a location secretary on the 1983 classic "National Lampoon's Vacation," which starred her husband and Golden Globe-nominee Beverly D' Angelo. Currently, she and Chevy reside in Bedford, New York with their family.