Inside Chevy Chase And Beverly D'Angelo's Relationship Today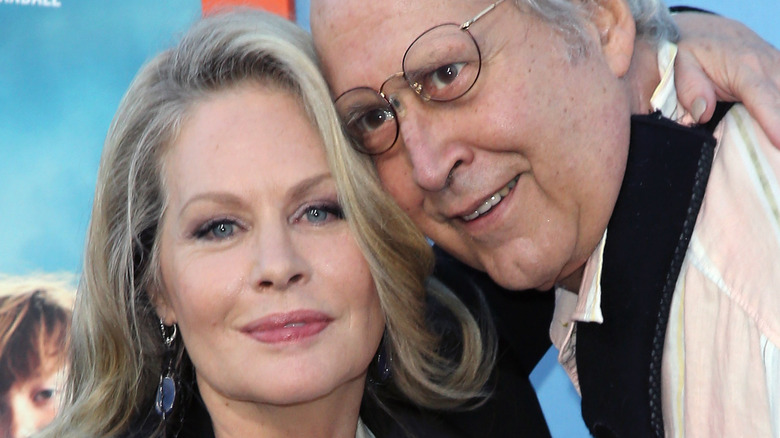 David Livingston/Getty Images
Over the years, a ton of "National Lampoon" movies, which were produced by National Lampoon magazine, have graced the big screen. However, none have been more popular than the "National Lampoon's" Vacation films, the first of which premiered in 1983, per IMDb. The string of comedies followed the zany Griswold family as they embarked on various cross-country (and international) excursions. And while many different actors have taken on the roles of the Griswold kids, Chevy Chase and Beverly D'Angelo — the family's patriarch and matriarch — are permanent fixtures (and let's be honest, the best part) of the franchise. 
"National Lampoon's Christmas Vacation" is probably the most popular film of the franchise, which can likely be attributed to D'Angelo and Chase's ability to rib off one another. "That shot on me and Beverly [watching their Cousin Eddie empty his RV's septic tank] wasn't in the script, but it turned out," shared Chase with DailyNews.com. "I said 'Yeah, you checked our (toilets), honey?' That's one of my favorites right there."
In 2015, the onscreen couple reprised their roles as Mr. and Mrs. Griswold in the latest (though possibly not final "National Lampoon" Vacation film), simply entitled "Vacation." During the film, Chase and D'Angelo take a back seat as their son, Rusty Griswold (Ed Helms) embarks on his own family vacation, per IMDb. Despite their scaled-back roles, it's clear that onscreen, they're still a match made in heaven. But what about offscreen?
Chevy Chase And Beverly D'Angelo go way back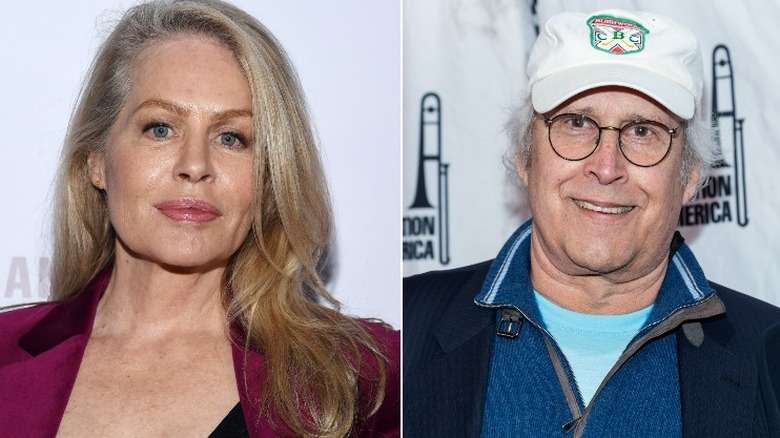 Mark Sagliocco/Getty & Amanda Edwards/Getty Images
Chevy Shade and Beverly D'Angelo go way back so it's not all that surprising that they're friends. Their bond is deeper than most due to the storms they've weathered together. "Because not only is my friendship with Chevy Chase tried and true, and when I say tried, I mean tried," shared D'Angelo with AV Club. "We've gone through so many things together. We tried to do a TV show a couple of years ago. It was a nightmare. I was so mad at him when we were shooting the pilot." However, once things were done, she was like happy to go back to "loving him." That's a long-term friendship."
However, their stellar chemistry also helped to cement their bond (and also helped keep them employed). "Ellen and Clark [Griswold] are born out of the chemistry that Chevy and I have," shared D'Angelo with Fox News. "It's not like we slip into those roles, but there's something about our brains that makes it very easy to go into." A few films into working together, D'Angelo received a very important title. "By 'European Vacation.' I inherited the role of Chevy whisperer," shared D'Angelo. "So it would be a weird dynamic. Like nobody would want to say, 'Chevy, move over there' or 'Chevy, do this or do that' because it's Chevy. You know what I mean?" she continued about Chase (who's been known to be a bit shady).
Chevy and Beverly are still friends today
It's rare to see Hollywood friendships span multiple decades. However, Chevy Chase and Beverly D'Angelo have proved to be long haulers in the whole friendship biz. Recently, Chase and D'Angelo caught up with each other at Steel City Comic Con, located in Pittsburgh. D'Angelo posted a super cute snapshot of the pair embracing to her Instagram. "Together again... @steelcitycomiccon with @chevychase!" she captioned the photo. Chase also documented their outing. However, Chase's posts included Christie Brinkley, who played Ellen Griswold's rival within the "National Lampoon" universe. "The Three Amigos..." he captioned the Instagram photo.
Back over on D'Angelo's Instagram, she gave the fans a little backstory about her and Brinkley's onscreen feud. "For comedy's sake, National Lampoon's Vacation presented Christie and I as rivals for Clark Griswold's affection," shared D'Angelo on a picture featuring all three.  "And, as they say, hilarity ensued! But in real life, I know that all women have been subjected to the challenge of sexism, and we need to support each other. Share your experience and what you've learned. Build each other up," wrote D'Angelo.