Is The Ultimatum Scripted?
Netflix
Netflix has had a series of hit reality tv shows including, "Love is Blind" and "Selling Sunset." And now, "The Ultimatum: Marry or Move on" can be added to that list. The show, released in 2022, skyrocketed to Netflix's top ten most watched and dethroned "Bridgerton" for the top spot, per Deadline.
"The Ultimatum" put relationships to the test, with each couple having someone ready to tie the knot and another person who wasn't ready to commit. One of the couples, Hunter and Alexis, decided to get engaged before they were truly able to begin the experiment of dating someone else. Alexis shared with US Weekly her reasoning for joining the show. She explained, "So going through this cool experience, not only will we get to watch it back, we'll get to share it with our kids one day because it was a great experience for us." While there were a lot of amazing experiences for the couples, there was also a lot of drama.
When people started to develop feelings for someone other than their partner on the show, chaos arose. The drama between the couples and the arguing that went down became so dramatic that people began questioning if the show was real. ScreenRant reports there have been several reality shows that have been staged. So, it's no wonder why people started to doubt if these couples were authentic. Do they really love each other? And is "The Ultimatum" scripted overall?
The Ultimatum is authentic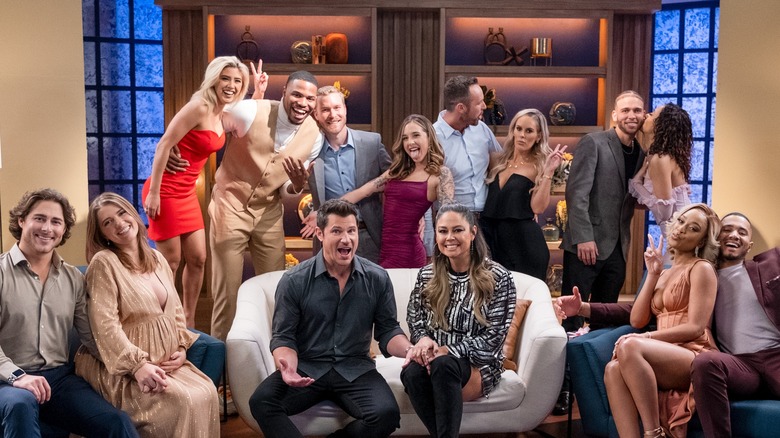 Netflix
Reality shows are known to have drama that keeps viewers entertained. "The Ultimatum" was no different as it put couples to the test in an unconventional way. As intriguing as the show was, many speculated it was scripted. However, producer Chris Coleen put those rumors to rest (via E! News).
The Cinemaholic revealed that many producers from Netflix's "Love is Blind" worked on "The Ultimatum." Both shows involve romantic connections and an individual's journey to find love. According to Life&Style, speculation that "Love is Blind" was scripted was denied by one of the contestants' siblings. Melissa Cuevas, whose brother was on the show, took to social media to answer fan questions and denied the show was ever fake.
Similarly, "The Ultimatum" producers have tried to keep their show as authentic as possible. According to E! News, Coleen and fellow producers recruit individuals for the show via social media. He shared, "We obviously do everything that normal casting teams do in terms of being out on social media, but also, we really do try to dig deep into the community and talk to people and go out to the community groups and bars and anywhere you can go in this time." Coleen shared that the recruitment process determines whether the couples are authentic to what the show is about. The potential couples are interviewed, and producers even speak with their loved ones to truly ensure the couples are, in fact, credible.
Contestants claim producers surprised them on The Ultimatum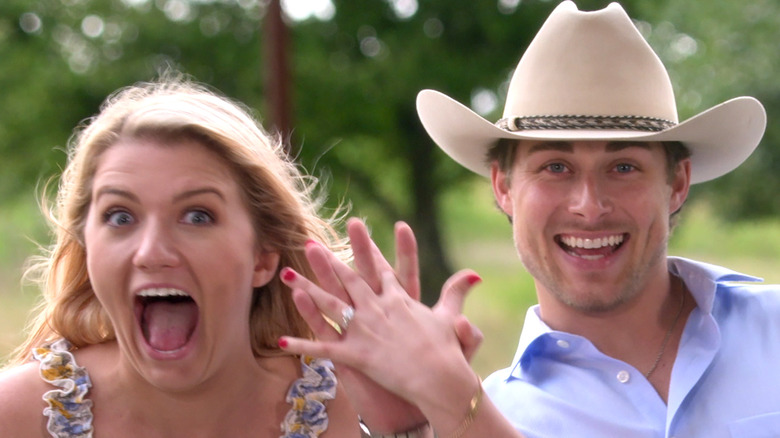 Netflix
Drama, heartbreak, and arguments draw interest to a reality show, and "The Ultimatum" had all three. Some contestants from the show have shared their experiences and revealed they were some shocking surprises.
Jake Cunningham, who had a love triangle on the show, claims he had no idea there would even be an ultimatum. According to Buzzfeed, Cunningham said, "But [it wasn't] until the first interviews that we actually found out, 'Hey there's an ultimatum to be given' And that was a big shocker to us! A lot of us didn't even know there was an ultimatum or that marriage was anything to do with the show." Nathan Ruggles and Lauren Pounds, another couple, confirmed on a podcast they too had no idea what the show was about (via TikTok). According to the couple, producers actually chose Ruggles to issue the ultimatum.
Like many reality tv shows, "The Ultimatum" tried to guide couples into what to say and how to act. Madlyn Ballatori and Randall Griffin were one of the couples exploring a new relationship with one another. Ballatori shared a post on Instagram where Griffin was pretending to be a producer. He acted, "Let's talk more about your love. Not so much with your ex, but with the one you have now ... maybe a kiss ... let's get it done." In the end, reality shows are reality shows. Some moments are authentic, and other moments can be a little questionable.