Here's What Martha Stewart Really Looks Like Without Makeup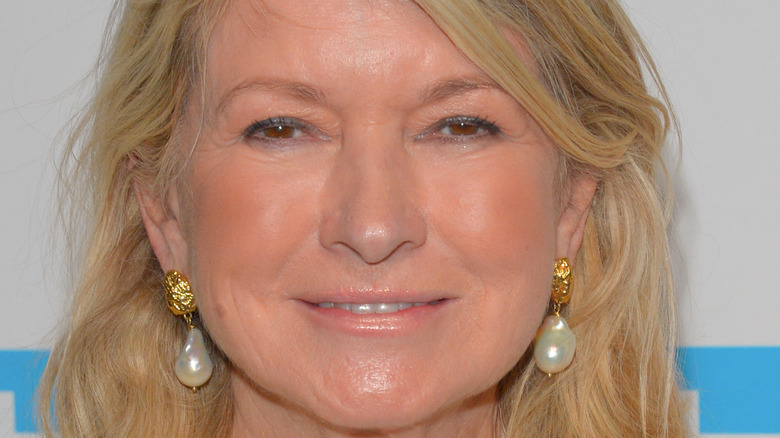 Ron Adar/Shutterstock
Martha Stewart is simply thriving and has been for ages. She's a multi-faceted businesswoman who has embarked on a variety of roles. From modeling to babysitting, Stewart is a true entrepreneur and can do it all. The well-known celebrity chef even had a stint on Wall Street. ​​"It was not until I left Wall Street that I discovered my true entrepreneurial bent. I loved ideas. I loved building. I loved creating," Stewart previously wrote (via Insider). "I loved making things that would enhance everyday living. And I loved making money as a result." Since she embraced her ability to create, she has taken over in more ways than imaginable, especially since the launch of her culinary empire.
Despite all of her success, the New Jersey native didn't find her true calling until she started releasing books about entertaining. In the following years, the businesswoman released "Martha Stewart Weddings," "Martha Stewart Christmas," and "Martha Stewart Gardening." To date, she has released 99 books, according to her website, all of which have impacted the lives of many. Undoubtedly, Stewart is a household name who has become a favorite among fans from all different areas who admire her for her ability to be open about many different aspects of her life. From her felony charges to her beauty routine, no topic is off the table when it comes to Stewart. 
With her hectic schedule, it's no wonder that opting for makeup-free days isn't a big deal for the star who's developed a reputation for keeping it real.
Martha Stewart is a natural beauty
Martha Stewart has been an open book as of late and has found yet another way of connecting with her expansive fanbase. One of the main things that fans adore is her down-to-earth approach to beauty. During the COVID-19 lockdown, Stewart decided to show off her beauty and glowing skin in a pic shared on Instagram in April 2020. In the post, she reminisced about her beauty team during the height of the pandemic and shared that she has thought about her glam squad "daily." 
She continued by warning her followers to hold off on attempting to resolve any treatments until it was safe to see the pros again. "I warn all of you to not attempt frivolous 'fixes' during this time," Stewart said, before going sharing a bit of advice with her followers. "Apply masks two or three times a week! If you can find Cbd [sic] masks and serums use those. Watch your diet – baking is fun but too many cookies, Too many cakes – Careful!!," she explained. In another post, Stewart appears fresh-faced as she prunes the hedges in her garden.
In an interview with the Wall Street Journal in 2020, she revealed that she isn't bothered by aging. "I don't pay any attention to age at all ... I have a very strong constitution and I just don't think about it." Stewart hasn't steered us wrong yet, so if she is giving advice on embracing natural beauty, we'll take it!
Going makeup free isn't an issue for Martha Stewart
Martha Stewart has enjoyed a life in the spotlight, becoming one of the most widely recognized and trusted faces in the culinary business. The choice to not wear makeup isn't an issue for Stewart, despite this constant media attention. In fact, she may see the choice as a luxury due to her lengthy skincare routine and decadent lifestyle. The "Very Good Things" author proved as much when she posted an iconic poolside thirst trap to Instagram in 2020. In the picture, Stewart is relaxing poolside with a sultry pout, with her glowing skin as the main focus, and fans couldn't get enough. However, it wasn't until she shared a cheeky recap video that the culinary queen spilled the tea on her beauty routine.
"So you want the tea on how I create my perfect selfies?" a voiceover says while Stewart poses in front of her poolside selfie. "First, project fabulous," she says while blowing a kiss. "Next, only conceal where needed. Being effortless is key."  Makeup or not, it's clear that the 81-year-old knows how to turn heads with her radiant beauty and it's clear that she's more radiant than ever. "Don't take shortcuts. I think that's the secret to good skin — no shortcuts," she shared with Woman's Day while promoting her partnership with Clé de Peau. Perhaps it's about remaining carefree that keeps the lifestyle icon looking fresh as ever!