Inside Ross Lynch And Jaz Sinclair's Off-Screen Romance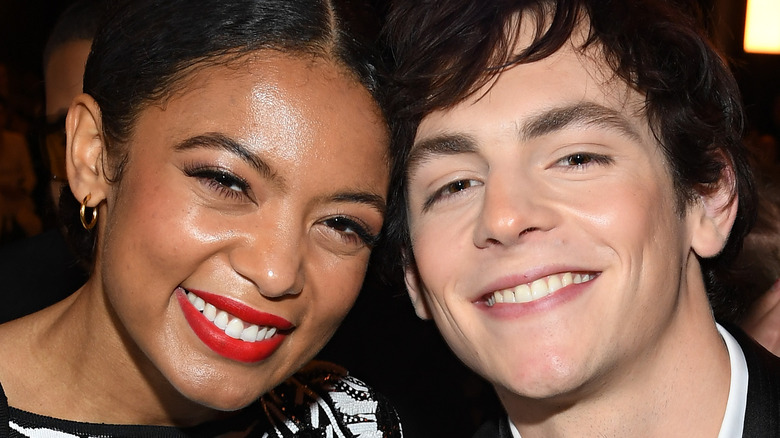 Pascal Le Segretain/Getty Images
On-set romances happen quite a lot. Take Kristen Stewart and Robert Pattinson, and Angelina Jolie and Brad Pitt, for example. But they don't always last or end well; there is a rule about canoodling with your co-workers for a reason. However, for Ross Lynch and Jaz Sinclair, their relationship has outlasted the show they met on and the tough times of the pandemic — and the two are still going strong.
Recently, Lynch went viral for his habit of taking his shirt off during gigs with his band, The Driver Era (aka him and his brother Rocky Lynch). But he's made a name for himself for more than just that. He starred as Austin Moon on Disney Channel's "Austin & Ally" and played a lead role in the DCOM "Teen Beach Movie." Not to mention his original music with his family band R5 and then his current duo, The Driver Era. His role as Harvey in "The Chilling Adventures of Sabrina" was a departure for him in the TV realm, and it was the first big role for Sinclair. So it's fitting that the show brought the two of them together. 
Ross Lynch and Jaz Sinclair met on the set of 'The Chilling Adventures of Sabrina'
As Insider reported, "The Chilling Adventures of Sabrina" started filming in the early spring of 2018. It was an adaptation of the darker comics that were inspired by the 1990s comedy series, "Sabrina the Teenage Witch." The two shows have a similar character list, but the circumstances and story are very different. Ross Lynch played the role of Harvey, Sabrina's first love interest, and Jaz Sinclair played the role of Roz, Sabrina's best friend. The two end up starting a relationship on the show after Sabrina and Harvey call it quits.
While appearing on the "Zach Sang Show" in 2021, Ross Lynch shared that he first met Jaz Sinclair in Vancouver during a sexual harassment seminar, because it was the first time the whole cast was all in the same room. In 2019, when rumors were running rampant about the two being an item, Lynch told Entertainment Tonight, "Jaz is like my closest friend right now," and said she was part of a few actors who "hit it off" when meeting. And by April of 2019, Lynch told Cosmopolitan that the two of them shared a musical passion. "I actually wrote a song with Jaz Sinclair way early on. Like, when we first booked the show," he said.
They confirmed their relationship in 2020 and Ross Lynch and Jaz Sinclair are going strong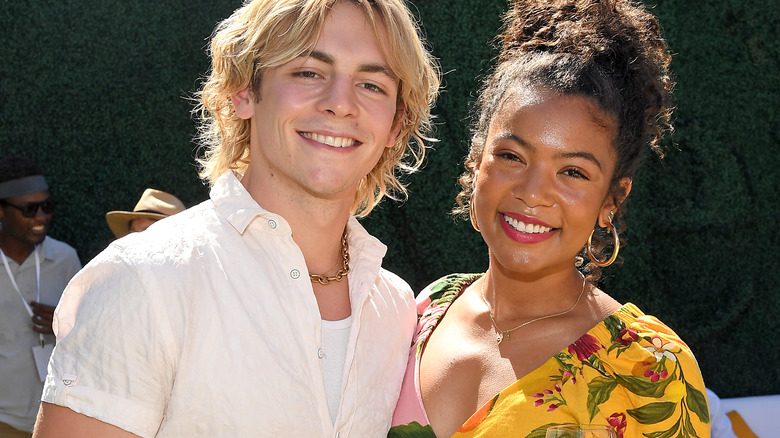 Charley Gallay/Getty Images
In April 2020, Ross Lynch posted an Instagram that confirmed what people suspected all along: They were a couple. But aside from that confirmation, the post was actually the result of unfortunate internet outrage over their relationship. "Yo guys, whoever is being hateful to jasmine and I's relationship (especially on a race basis wtf) can take a step back," he wrote. "We are both extremely happy. Thanks." Unfortunately, when the rumors of their dating began, their relationship received outrage and criticism because Jaz Sinclair is Black and Lynch is white (via AceShowbiz).
Despite some hate, the two have shared their relationship consistently on social media. In June 2020, Sinclair posted a sweet video of Lynch doing Sinclair's hair. "Get you a mans that does it all," she captioned the video. In December 2020, Sinclair shared a touching birthday post to Lynch, writing, "I never knew that love was a thing that chooses you until you wandered into my life. You're my best friend and favorite person." In 2021, Lynch told Zach Sang that Sinclair is "probably the smartest woman" he knows. Their relationship seems healthy as well; Lynch said that Sinclair pushes him to be better through "pleasant expectation" but not through pressure. "It's like reassurance to believe in yourself," he said. As for if they're still together, J-14.com reported that Sinclair posted a video of Lynch dancing to her Instagram stories on October 9, 2022.